Before you think you have made a terrible mistake by booking a family camping vacation – remember everything you love about the great outdoors.
The wind in your hair, fresh coffee every morning overlooking idyllic views, and the smell of breakfast in the morning can seem a far cry when the kids say they are bored.
So what now?
Some of the best camping activities for kids are those that capture their imagination and keep them busy during the day, and we all know the odd treat doesn't hurt them either!
This article will guide you through 9 of the best camping activities for toddlers.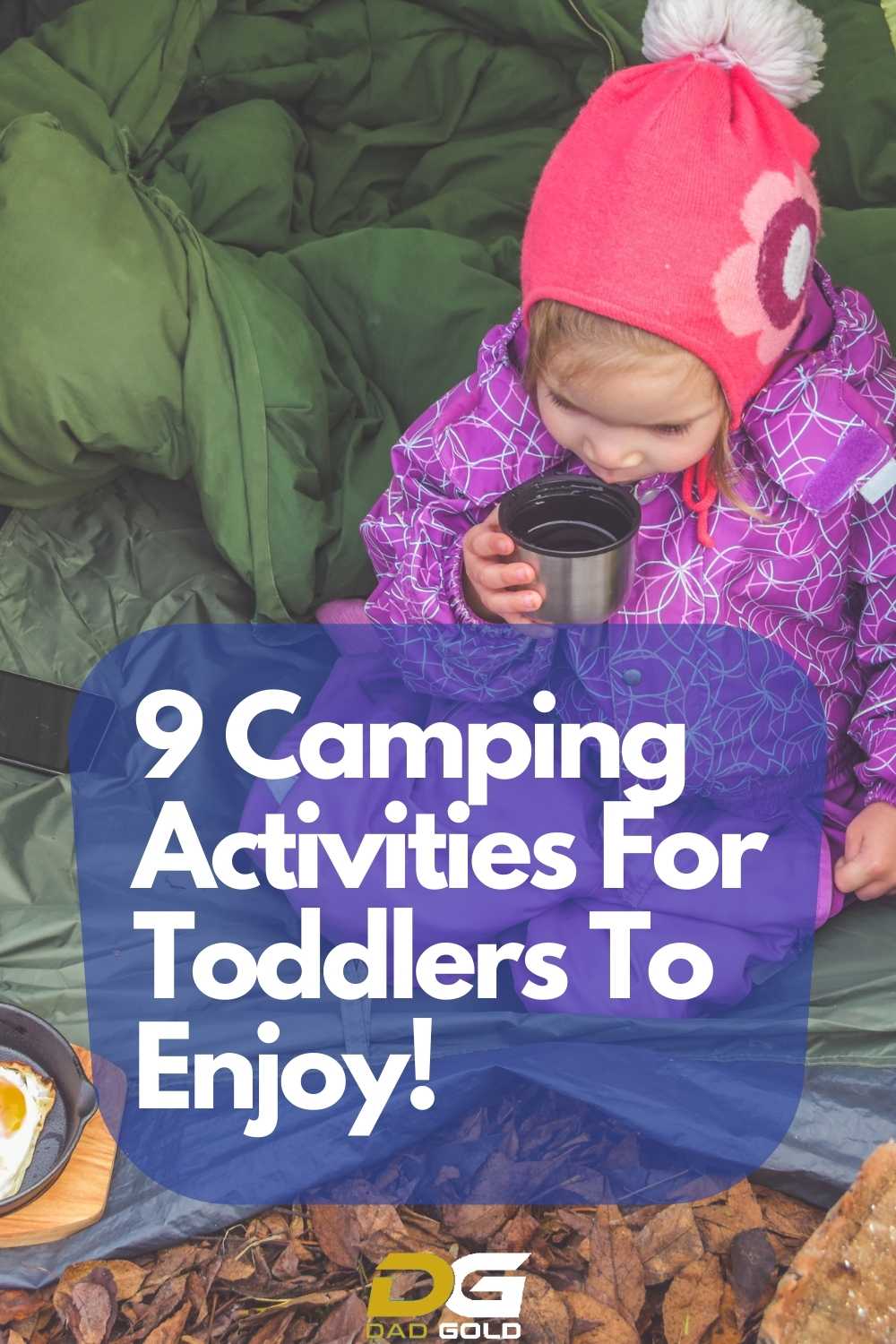 ---
Camping…? With… Toddlers….?
I know – crazy, right?? But think about it, once they have finally crashed out in their little camp beds, the evening is yours. Wine, beer, or pink lemonade; the beverage time with your spouse is yours for the taking.
In the midst of not forgetting their favorite teddy, absolutely do not forget some essentials that will allow for fun camping activities – ones that are sure to make your vacation memorable for all the right reasons!
---
The 9 Best Camping Activities For Toddlers
---
Scavenger Hunt
What better way to while away the afternoon than to go hunting! One of the great ideas out there, and by far the most popular, your toddler will love spending time in and around nature hunting high and low for fun clues, and a scavenger hunt game is a great place to start.
The best part is, if only mom or dad knows where the clues are, the whole family can make a day of it by searching high and low and is high on the list of fun activities.
What I love about ideas like this is that they are an easy concept; they get the family and your toddler outside in the fresh air, you can explore your surroundings together, and the prize is totally up to you!
The Family Treasure Hunt Game is an award-winning and affordable great choice to take with you on your camping vacation.
---
Bird Watching
Bird watching is a very camping-themed activity. Let's face it, you are already surrounded by nature, so why not turn it into a fun game?
Keep your toddler on their toes by spotting beautiful birds, and you are sure to get them hooked.
Even when you don't have the binoculars to hand, you can even get to know our feathered friends by type in passing as you stroll or play.
They may need help to use them as they will need to focus on ensuring they can see clearly before you begin.
Bird watching is a relaxing and easy pastime, and I haven't met a toddler who doesn't see the fun side in picking out their favorite.
Kids love to make choices on their own, and if they enjoy camping, they will undoubtedly enjoy what bird watching can bring.
---
Stargazing
Stargazing and camping are best friends. Both are huge fans of the night sky, which we don't usually get to see when we are snuggled up inside our own homes.
What we fail to realize is that a whole world awaits us if we venture out and explore it, and doing so during a family camping vacation is no exception.
This is a classic activity that teaches you as much as it teaches your toddler – so it is an exciting camping idea, especially if you happen to spot the ISS!
Camping with kids can be challenging at times, especially if you are trying to capture their attention.
We use our telescope on fun camping weekends and from the luxury of your own backyard, so if you make a purchase, make sure you use it frequently, for the night sky is always changing as the year and seasons do.
---
Board Games
If you find the idea of sitting around a campfire a little tedious with nothing to entertain the kids, then think about seriously investing in some board games.
Toddlers have many choices available, but one of the most popular is the classic game of Snakes and Ladders.
Going camping needn't be sleeping and walking alone – so break up the day by packing some alternative ways to amuse the family!
Nothing says family time like gathering around a board game for fun, and I chose this woodland-themed game to keep in theme with your camping trip.
---
Make S'mores
Derived from camping and adored by thousands worldwide, S'mores have become a staple luxury past time when families gather around the campfire and are a great way to get sharing and caring!
Making S'mores is so much fun for all the family, especially toddlers who love to get gooey and eat yummy treats.
If fires aren't your thing and you would rather keep the flame small and manageable, you can always look to buy your own special S'mores set complete with forks.
We purchased this set last summer because we quite like the idea of just spending evenings down at the beach.
They are perfectly compact, and you can take them anywhere with you.
---
Rainy Day DVD and Hot Chocolate
We go camping to get away from technology.
I know it's all around us and can sometimes be overwhelming, but not as overwhelming as those disastrous camping weekends where the rain pours and pours, and there isn't much else to do in the evenings other than huddle in your tent and wait for morning.
We first purchased our own mobile DVD player to accompany us on a camping vacation near Christmas.
We all had chocolates with marshmallows, snuggled together under our blankets, and watched Home Alone, and it really was one of the best nights we had as a family.
---
Bring A Paddling Pool!
Some days are just about the sheer joy of playing outside and of the finer things in life, particularly during a vacation; you can use your own equipment that allows your little ones to remain close by.
This will let them have their fun, and you be able to either join in or sit 'poolside' and enjoy a coffee.
These paddling pools are small and can easily be transported. They also don't need that much water, just enough to see a fun activity come to life and is an absolute must for any camping vacation list.
---
Go On A Nature Walk
A fun game our family likes to play is called – Name That Bug!
You don't have to venture far for this one, so if an hour is all you have, it is enough time to play with your toddler with their very own Bug Kit!
I'll let you into a little secret – kids love any bugs. Big, small, hairy, slimy; you name it. They will pick them up and inspect them and ask you a thousand questions relating to what they see.
As a fun camping trip addition, you should make sure you include this because your kids will love it as much as you will love seeing the excitement glow on their faces as the fun develops.
Turn this into an even better camping game by inspecting them with a magnifying glass and make their creepy-crawly features come to life even more!
---
Stories By Torchlight
At the end of the day, when you are all feeling slightly frazzled and need to wind down for the inevitable bedtime, think about what stories by torchlight can do for you all.
It is an easy camping activity to end the day and make it even more of a fun family idea; torches are very effective.
You want to order one that is waterproof and durable, for you will use it a lot and, like all these ideas, can be used on your next camping trip as well.
Don't let the torch fun stop at storytime – you can use them for playing all sorts of games!
---
Kids Camping – Making Your Activities Glow In The Dark!
Stand out from the crowd by thinking outside the box on camping ideas. Remember, we are not always blessed with perfect weather conditions, so it is useful to have one activity covering all conditions!
These activities will help to bring up a toddler a little easier when it comes to vacation.
Oh, and HAVE FUN!
Good luck!