Ahoy, me hearties. All hand hoy and avast ye! Here I serve ye up the best Pirate toys for toddlers!
Let's save the pirate lingo for September 19th, shall we? Nonetheless, one undeniable thing is that pirate jargon and stories make life a bit more adventurous and fun.
DadGold Recommends…
LEGO Duplo Jake and the Never Land Pirates Treasure
This LEGO Jake and the Never Land offers a great opportunity to develop your toddler's construction skills too!
"There was an old pirate…who swallowed a fish, a bird, a map, some gold, and even a whole pirate ship!" – goes one of Jennifer Ward's most loved verses. It really does pull kids in. They'll want to know what happened to the old Pirate, and why he swallowed all those things.
As you and your little one catch up on such bedtime stories and brush up on your pirate lingo, don't forget the most important accompaniment – toys.
Besides spicing up the story and using them to play pretend games, toys will help your toddler visualize events. That's an essential part of the child development process.
But with so many options to choose from, how do you pick just one or two pirate toys for 2-year-olds or 3-year-olds? Since you're here, we thought we would narrow down your options to just 5 of the best pirate toys for toddlers.
This is our ultimate list based on plenty fun research.
---
---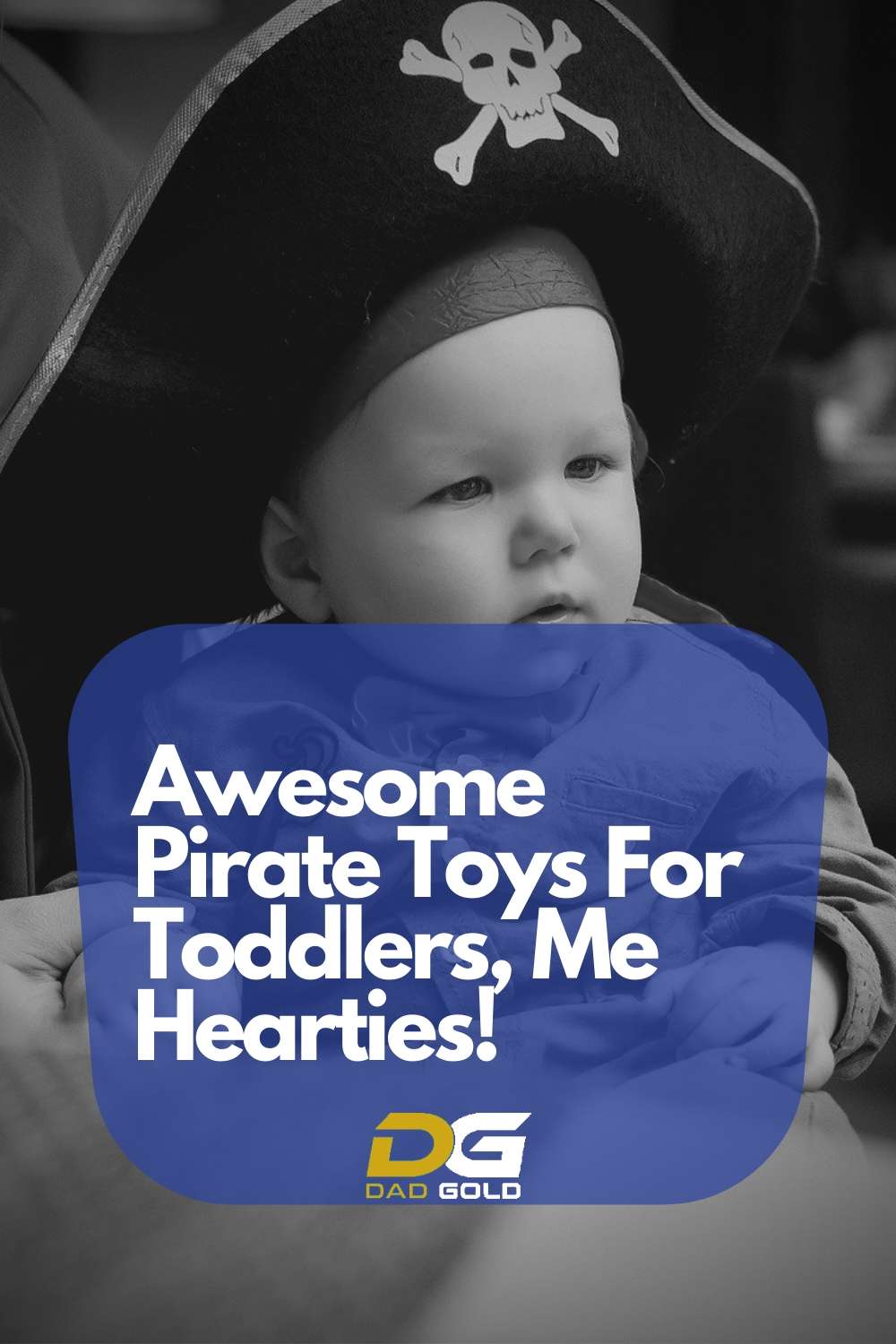 ---
Best Pirate Toys for Toddlers: Review and Buying Guide
---
LEGO Duplo Jake and the Never Land Pirates Treasure
Toddlers aged 2+ will love constructing this DUPLO Pirate set!
The beauty of Jake and the Never Land Pirates is that it makes toddlers go bananas; unsurprisingly so.
Between the heroic Jake, feisty Izzy, cool animations and tons of sensational musicals, there's plenty to like about this Disney Junior show. And now you can bring Jake, Izzy, and the Never Land Island to your living room thanks to this LEGO set.
The set includes a buildable island complete with a treasure chest, lifting bridge, palm tree, and slide alongside Jake and Izzy figures. Use them to bond with your baby as the two of you build Never Land Island, then help Jake and Izzy to find buried treasures (gold doubloon) and hide them in the treasure chest.
You can rebuild the island in many different ways. To make everything magical, LEGO included magic pixie dust that your toddler can use to make Jake and Izzy fly.
Overall, the LEGO 10604 Duplo makes a great toy for teaching 2 or 3-year-olds some building skills. That is what makes it one of the best pirate toys for toddlers.
Reasons to Buy the LEGO 10604 Duplo Jake and the Never Land Pirates Treasure
Allows you to build the island in many different ways. There's a slide that goes straight to the sea.
Bricks are well-built for duration.
Great for toddler's basic building skills and role play
Never Land Island is sufficiently big to fire imagination. It measures 5 inches high, 5 inches deep, and 8 inches wide. The characters are realistic too.
Easy and fun for kids in the 2 to 4 years age bracket to assemble
---
Playmobil Floating Pirate Ship Toy For Toddlers
From 18 months, your toddler will love this Playmobil Pirate toy with characters!
For toddlers, bath time should always be sailing time. With Playmobil's 1.2.3 Pirate Ship, you and your baby can sail the high seas, steer your pirate ship, and fire water through the front-facing cannon.
With colorful decorations and a pirate flag, this ship is both a play tool and something for your child's imagination. It comes with two figures, a treasure and a parrot.
When the crew isn't firing jets of water through the cannon, it will be out searching for treasures.
The best part? Your child can use the ship in the water and when out of the bath. It works best in the water, though, because of the rotating wheels and water-firing cannons.
Reasons to buy the Playmobil 1.2.3 Pirate Ship.
Eye-catchy colors make it one of the best pirate toys for 2-year-olds and 3-year-olds.
It comes as a full set that contains a ship, pirate figures, cannon with a red firing button, parrot, and treasure.
Rotating wheels make it easy for toddlers to push and steer the ship
It doesn't have small parts that your child can lose or swallow
It can be used indoors and outdoors
---
Little Tikes Anchors Away Pirate Ship
Spark your Toddlers imagination with the Little Tikes Pirate ship!
Want to encourage your pirate-loving child to play outside games more? Use the Little Tikes Anchors Away Pirate Ship to entice him/her to the outdoors.
This toy also features in our top picks for sand and water toys too.
The water table is packed with plenty of pirate-like features, from a ship laced with a pirate flag to a water-firing cannon and everything in-between.
Measuring 40 by 29 by 38 inches, the playset is big enough for three or even four kids to use simultaneously. That interaction and creative play are significant to a developing child. And it gives this set a huge selling point, placing it up there among the best pirate toys for toddlers.
So what do the kids (and you, of course) get? First, there's a huge pirate ship that floats when the set is filled with water. There are two ways of adding water: by pouring it into the crows' nest using jars or simply using a pump.
The ship has two pirate figures. Anyone of them can be a commanding captain and take a position at the top of the mast, towering above everything else.
Some spinners create waves or currents, you know, to make it more realistic. The water cannon and anchor add some spice to the already fun set!
Kids can squirt water using the cannon and raise or lower the anchor using a cranking handle.
Considering its height, it would be accurate to say that Little Tikes Anchors Away Pirate Ship is one of the best pirate toys for 3-year-olds. If your toddler is younger, they may find it a bit too high for their height.
Reasons to buy the Little Tikes Anchors Away Pirate Ship
Many kids can use it at a time.
In addition to the ship, pirate figures, the package includes a squirting shark and several other playthings and accessories (like a bucket, scooper, strainer, and boat). The downside (or fun side – depending on how handy you are) requires assembly.
One of the most realistic pirate sets for kids
It's generally an outdoor toy but can also be used indoors
Plenty of activities for a child to do using this toy
---
Little Tikes 2-in-1 Pirate Ship Toy For Toddlers
Your toddler will love wheeling this 2-in-1 Pirate ship around the vast Ocean of their bedroom!
What's better than having a pirate playset? Having a pirate playset that comes with its own riding toy! That's precisely what Little Tikes is offering with this 2-in-1 Pirate Ship.
Rather than having a ship that floats on water, you get one that has wheels, so that your child can ride it or simply push it.
It's one of the best pirate toys for toddlers who can't play with water for one reason or another (like catching a cold easily). Included in the set are figurines, a cannon, pirate flag, and anchor.
The deck hatch is also a storage for all the accessories that come with the toy. And since it won't be in the water, you can even add your own to make it more fun.
Reasons to Buy the Little Tikes 2-In-1 Pirate Ship.
It's a 2-in-1 toy; i.e., your child gets a ship that he/she can ride
With a height of roughly 9 inches (floor to seat), it makes one of the best pirate toys for 3-year-olds
Very sturdy and durable. Can support two kids without breaking
Forces the child to push forward using his/her legs and torso, which will provide some good exercise for your child
It can double up as storage for other play toys
---
Toomies Pirate Ship Bath Toy
This Pirate ship toy is perfect if your toddler is going through a phase of hating bath time!
Kids hate bath time. Okay, maybe not all of them, but a good majority are never thrilled about it. Unless, of course, there are some toys in the mix.
And what's a more fitting toy than a pirate ship? This pirate ship from Toomies.
Made for toddlers who are at least 18 months, this ship is an ideal pick if you're looking for pirate toys for 3-year-olds or 2-year-olds. Suppose the water cannon, spinning wheel, and squirting octopus do not bring a 'saily' feeling, perhaps Pirate Jake and his dingy will.
The ship's deck has several colorful toys that make a mast.
When he is not having fun in the bubbles, Captain Jake can sit atop the mast and get a bird's eye view of everything.
While his big front canon is always ready to ward off oncoming danger with splashes of water, the playful octopus watches the sides and sends intruders away with quick squirts.
That ability to enhance play is what makes the Toomies Pirate Ship Bath Toy one of the best pirate toys for toddlers. And it gives you a chance to bond with your baby during bath time.
Reasons to Buy the Toomies Pirate Ship Bath Toy
Designed with bright, attention-grabbing colors
Cannon, octopus, and spinning wheel add to the fun by splashing water
It doesn't use batteries and is safe for toddlers who are over 18 months of age
Your child can use it in and out of the bath
Well-built for durability
---
Are These Pirate Ship Toys For Boys or Girls?
It doesn't matter! These pirate ship toys are for all toddlers and young kids.
Girls can be pirates too, right?
---
Fancy Taking on a Task to Build a Pirate Ship For Your Toddler?
Take a look at this YouTube video for an awesome DIY pirate ship for your yard! Good luck if you decide to build one of your own!
---
How Imaginative Play Helps With Toddler Development
It's nice to know the toys that you should buy for your toddler. What's even better is knowing why you should buy them. Generally speaking, they encourage imaginative play, or what is commonly called role-playing.
Most adults don't understand just how important imaginative play is, so here are a few benefits:
Develops and improves the social skills of a toddler through interactive play. This is more so when there's an adult (who has well-developed social skills) involved. And if you are their parent/guardian or basically someone who is in the child's life, then it turns into an awesome bonding session as well.
Boosts language development. When playing with adults, children will pick up new vocabulary and lingo by listening to the adult(s). When they are among other children, they will experiment with language freely. Either way, they will boost their language development. So don't be so surprised when your child picks up some new pirate lingo a few days after gifting him/her with a pirate toy.
Enhances physical exercise. All the walking, arranging, and pushing that comes with role-playing is almost enough to keep a child physically healthy.
Leads to emotional development. Kids use imaginative play to express, and by extent, understand their feelings – both positive and negative feelings. By doing so, they figure ways of working through difficult emotions and enjoying pleasant ones.
Last but not least, imaginative play boosts creativity. Children sharpen their minds every time they imitate what they saw on a TV show or what their friends are doing. That's how they gain new knowledge and even increase their cognitive abilities.
That is to say, get your child the best pirate toys, and they will serve him/her in every aspect of his/her life.
---
Conclusion
So there you have it, Captain! The best Pirate toys for toddlers, yarrr…
Whilst we are discussing Pirate related toys, don't forget the following:
Toddlers love imaginary play, so get involved and me their first mate.
Good luck, and enjoy!