Army toys, fire station toys, police toys. Those are my son's top choices regarding role play-type toys.
He cannot get enough police-related toys! In this post, I will run through my top 5 picks if you are looking for toy police cars for toddlers.
Let's begin with my recommended option. Here it is:
DadGold recommends…
Little Tikes Cozy Coupe Tikes Patrol Police Car
These Little Tikes cars are infectious fun! Heck, I want to be able to fit in one of them! For toddlers, it is the first big car toy they can move. This toy police car is perfect for your toddler!
I recommend this simply because these Little Tikes cars have so much playtime! Honestly, my son played with his for hours, days, weeks, and years! It was an excellent investment.
Let's list of look at the best toy police cars for toddlers list.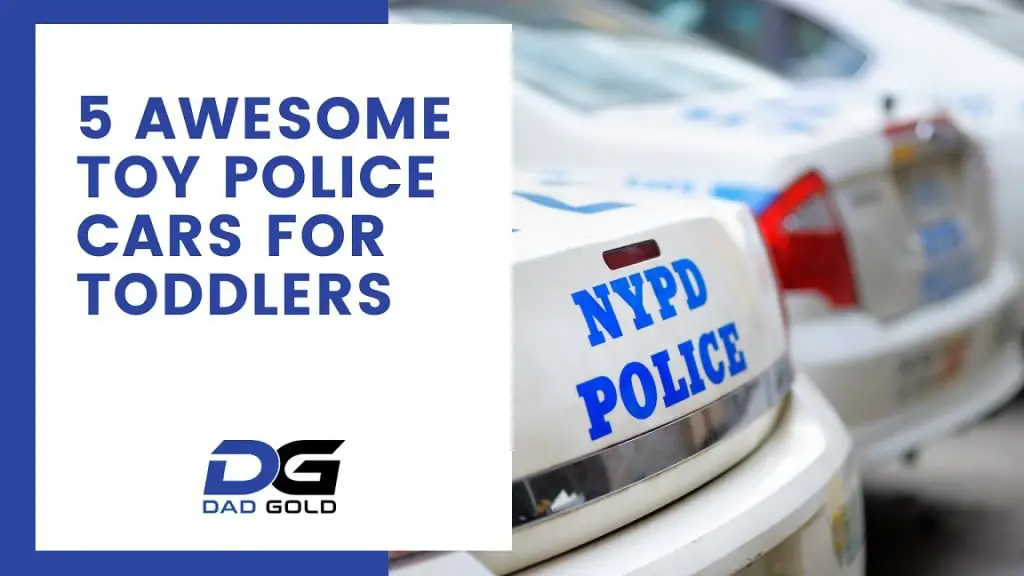 ---
5 Awesome Toy Police Cars For Toddlers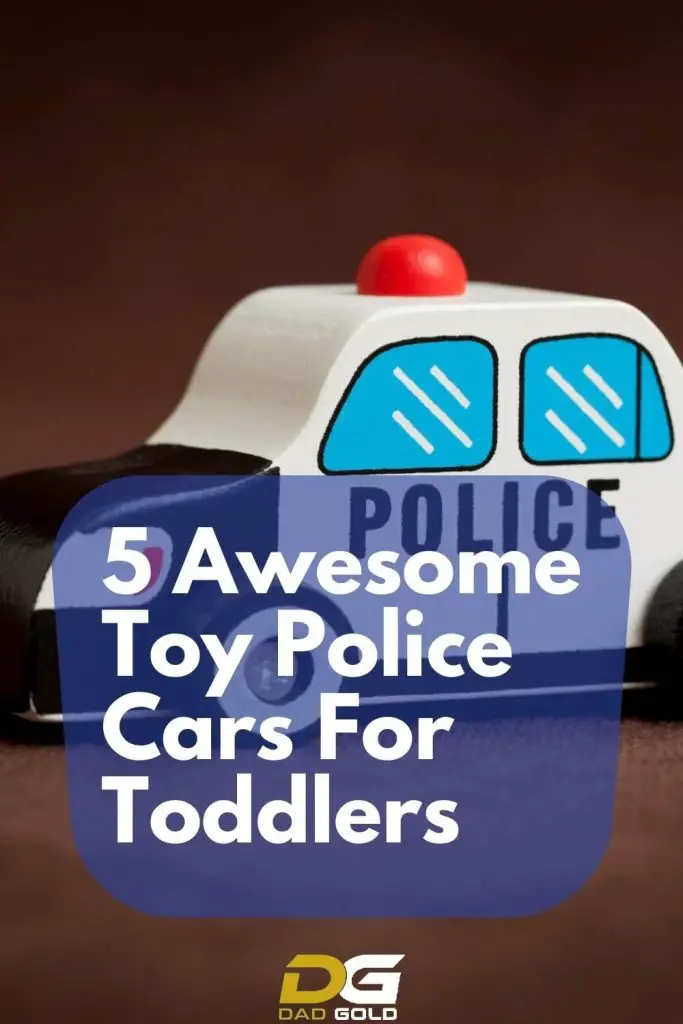 ---
1. (Most Fun) Little Tikes Cozy Coupe Tikes Patrol Police Car
This Police Patrol ride-on toy will make an excellent gift for your toddler. It is the best toy police car for toddlers!
My son had a Little Tikes car, and it lasted him years! It was the classic red and yellow coupe. He loves any steering wheel toy, and I think this toy kicked off that obsession!
Reasons why your toddler will love this toy:
It has a working door and a working horn that creates a new world of imagination and play. The clicking sound of son my clicking the ignition off and back on will stay with me forever! This kind of toy encourages gross motor skills and active play.
Kids love the working door and foot-to-floor movement. It's easy for kids to start and stop. Your toddler will feel empowered that they can make this car move forwards and backward! Just be careful of breakable items nearby. I learned the hard way.
It has a large steering wheel and wheels that turn 360 degrees making the toy easy and fun to move for your toddler. Another definite perk to this new series is the parent push handle and a newly designed floorboard, which prevents your child's leg from getting caught under the car.
Manufacturers Minimum Recommended Age: 18 Months
---
2. (Cheapest) VTech Go! Go! Smart Wheels Police Car
The Smart Wheels police car by VTech creates imagination adventures through the toy's appealing features, such as the light-up switch that triggers excellent sounds and fun-loving songs for your kids as they race around.
Additionally, it has a wide variety of colors for your toddler. This toy is not just friendly but also affordable.
It is the cheapest toy police car for toddlers on this page!
Reasons why your toddler will love this toy:
The electronic play will entertain your toddler with a switch that triggers fun-play melodies, songs, and phrases on the toy cars, engaging during role play.
It triggers imaginative play where your kid can race to a rescue operation and arrest bad guys with imaginative play. Since the toy police cars for toddlers are sized for little hands, it allows them to race the car around your home!
It will help to activate early learning since the vehicle introduces itself and keeps repeating letters such as 'P' and other sing-along songs. The expandable playsets respond with different music, sounds, and phrases at every SmartPoint location. This is sold separately.
This police car has a mechanical megaphone that wiggles to improve fine motor development that will amuse your little one.
Manufacturers Minimum Recommended Age: 36 Months
---
3. (Most Educational) Take Apart Police Car For Toddlers
My son loves a take-apart toy! He had at least 5 of them at one stage, including an awesome take-apart digger toy!
If you haven't heard of STEM (Science, Technology, Engineering, Mathematics) toys, you should be getting these for your toddler. This take-apart police care is perfect!
It is the most educational toy police car for toddlers.
Reasons why your toddler will love this toy:
It comes as a comprehensive set with a step-by-step guide, powered drill tool, and other 38 pieces to build a police car and rescue police truck. Your toddler will love to interact with the power drill.
It works great; your toddler will enjoy using the remote control to move the police car over 80 feet. The remote control moves the car pretty slowly, but I guess it stops things from being smashed, right?
Endless fun; the aesthetic appeal and the realistic police sirens make these vehicles look just like the real thing. It makes your toddler do something for themselves, especially those who like to imitate their parents!
It is educative. Take Apart toy is a great learning tool for hands-on skill sets. It is a perfect gift for creative builders. My son loves the logic of rebuilding the truck using the assembly instructions and converting the electric drill into a remote control. The whole process of drilling and assembling creates hours of quiet and creative play.
Manufacturers Minimum Recommended Age: 36 Months
---
4. (Most Energetic) Police Car Ride on Wiggle Car
The Lil' Rider Wiggle car is pure energy and fun for toddlers.
I have added this on for one awesome reason, not just because it is an excellent police car toy for your toddler! It will give your toddler some exercise because they need to be moving fast to get the Wiggle Car moving!
It is an excellent cause-and-effect toy! They move, and the car does too.
Reasons why your toddler will love this toy:
It offers an excellent ride for your toddler. The wiggle car doesn't have buttons or switches like other toys. It provides effortless operation, and kids can play anywhere they want as it is suitable for outdoor and indoor rides.
They provide miles of enjoyment for children, for it is made from durable plastics and uses inertia and centrifugal force to propel, making them last longer with minimal maintenance.
The driving mechanism of this toy car allows the kids to be more focused on enhancing their thinking capability. The toy's involving and creative riding style improves your toddler's coordination as they grow.
Manufacturers Minimum Recommended Age: 24 Months
---
5. (Most Interesting) LEGO DUPLO Town Police Station
I love DUPLO! These sets are cool, and the regular DUPLO sets are cool too. This time, we are going to look at the Town Police Station. Not only will your toddler love playing with the police care, but they will also love playing with the station too!
Stacking the connecting blocks to create houses requires kids to use their imaginations and practice skill.
Reasons why your toddler will love this toy:
Most interesting; assembling his toy is just the start! Once your toddler builds this set, their imagination takes over, and they will love to have the bad guy commit a crime like stealing the police doughnuts and have the police chase him. Pre-schoolers will love creating endless stories far beyond what the set's assembly outlines.
It enables your toddler to associate play with real-life occurrences by using role-play characters, accessories, and decorated bricks to have fun. While playing, your toddler learns about the police and how they help us in situations like apprehending lawbreakers.
It has realistic features such as building blocks for a toy police station with a jail cell, a toy police car with flashing lights, and a siren.
Manufacturers Minimum Recommended Age: 24 Months
---
Conclusion
If you are looking for toy police cars for toddlers, you cannot go wrong with the 5 excellent options on this page!
Each of the toys has been picked for its merits. I am big on choosing the right toy! In today's 'throw-away' society, I value picking the right toy instead of just buying a ton of them in the hope that he loves just one!
Police toys also encourage independent play for your toddler!
So, get your toddler to become the controller of the police car. You never know, it could be the start of their career in the force…
Good luck!