Do you know somebody who has or is about to have a new baby?
You want to buy them something that will accompany them into this new life they are about to discover.
Their sleep pattern will change, their body will be different (but still beautiful!), and the hormones that have ravished them for these nine months will continue to do so for a while yet.
Will all that in mind, where does that leave you, the gift giver? You want to offer her something that she will find great use from, but you don't know where to start.
Here is where I come in, with my ultimate guide to the best 10 non-baby gifts for new moms.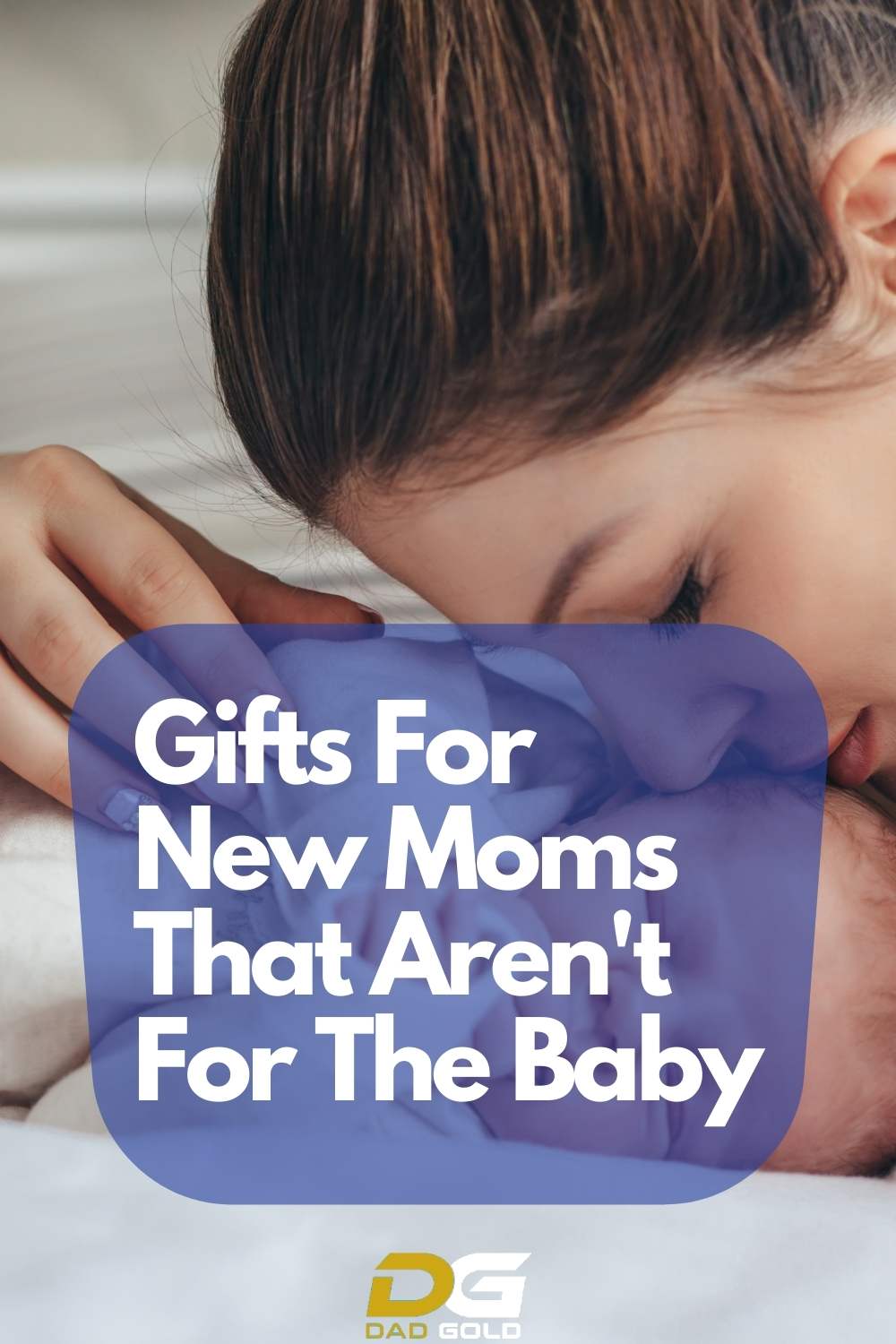 ---
Those First Few Weeks Are… Zzzzzz
Ask any new mom, and they will categorically tell you that having a baby is both one of the best yet hardest jobs they have ever done.
Of course, any difficulty is replaced quickly by the notion that you have a beautiful newborn, but that doesn't take away the change in both body and mind regarding a new lifestyle readjustment.
Moms are not used to being moms yet – and every woman I have spoken to knows that the journey certainly doesn't stop the moment you give birth.
Everything is new, and it takes time to get your head around being responsible for another human being, so with all that in mind, a gift is most definitely not on the list of priorities for any mom.
Having a new baby means sleep, sleep, and more sleep, when you can, for however long you can manage.
---
10 Gifts for A New Mom That Are Not Baby Related
Of course, when a baby is born, the attention mostly diverts to their little cute faces. Everyone, and rightly so, will want to have a cuddle and a coo, and those are beautiful moments.
Whilst you spend your time at one with the new arrival, your sleep-deprived friend or relative is sitting nearby wondering what she will eat that day, when she will start to feel normal again, and wondering what time of day it is.
If I can offer you one token of information, the best gift you can give the new mom in your life is the gift of remembering her own well-being during these frazzled yet fuzzy times.
With that in mind, let my ultimate list of best gifts help and inspire you.
---
An Amazon Kindle
Kindles are absolutely amazing devices. When they first came out, people were slightly taken aback by their concepts (what are these things?!), but now, they have taken our hearts by storm.
What is great about them is that you can keep it on you at all times without the bulkiness of a book. Not only that, you are literally carrying around a device that has the capability of housing millions of books!
As well as books, mom can read the newspapers curled up and comfortable in her own home without having to worry about nipping to the shops with a newborn, so really good for those tired days where you still want to be in touch with the world.
Kindles are great gifts for new parents, and I am certain they will make good use of them.
---
A Spa Day At Home
There are some fantastic options when it comes to bringing the spa to your home. Although they may not have all the time in the world, there is always time to relax for an hour in the bath whilst the baby naps or being cared for by a family or friend, and this mustn't make anybody feel guilty.
After all, if mom doesn't take care of herself, she can't take care of others.
---
Self Care Subscription Box
A self-care subscription is very similar to a spa box, but it also includes some additional luxurious items that mom will love and will also use to chill out after a hard day of being a mom!
These boxes are put together with one goal in mind – to relieve stress! Trust me, as a new parent, anything that relieves stress is ok in my book.
TheraBox has a beautiful and really well-thought-out box available. It includes mindfulness activities and some real treats, and the value of the items is a lot more than the cost of the box – making it a winner in my eyes!
They are 'Curated by therapists to increase happiness & reduce stress' it sells itself.
---
Diaper Tote Bag
Oh, how handbags change when you become a parent. No longer do moms skip out of the house with keys, purse, and phone.
And yes, I know this is a gift guide for non-baby-related gifts… but of all the gift ideas on this page, this is actually a real help to all parents.
New parents need to consider diapers, creams, wipes, bottles, and spare clothes as well. That is the beauty of these tote bags! A diaper-carrying weapon in a new mom's arsenal!
Lekebaby has a great range, but this is by far the most popular, and I think it's because it doesn't look like you are carrying half your baby's belongings around with you.
I love that it just seems like a cool bag.
---
An Instant Pot Cooker
To live well, it's imperative to eat well. Sadly, with juggling new motherhood, there may not be much time to chop, stir, fry, or roast a good meal for you to keep your energy and vitamins topped up.
That is where a slow cooker comes in!
Help them make sense of it all, and these truly are the best way to do that. Slow cookers literally mean you can throw anything and everything into one pot and trust that it will cook itself. At the end of the day, you have something warm, filling, and healthy waiting for you, and you've done the bare minimum to get it.
---
Post-Partum Bath Salts
I hate to break it to you, but childbirth sucks. You see in the media all these celebrities giving birth and the glorious time they have, but real life is messy and painful and can leave the body exhausted.
It isn't comfortable to sit for a while, and scars may need to heal.
Bath salts will enable mom to unwind and take it easy for a little while.
I personally bought two packs for my friend because these salts are so incredible, and she used them so quickly she actually treated herself to a pack as well.
Soothing and kind for any postpartum body!
---
Thermos
Have you ever let your coffee go cold? You lose your cup; you forget it's there, or you get busy doing something else.
Well, now imagine you are a new mom, and you can't even recall whether it is day or night, let alone where you put your caffeine fix.
Fear not! One of the best gifts you can give is a Thermos.
Seems crazy, right?
This is such a simple gift idea that has the ability to change the course of any new parent's life by just being there and keeping warm.
Also, great if you need a pick me up on the way to the store.
When I had my son, the house was scattered with cups of coffee, all half full (I'm an optimist), but either lukewarm or cold. It is totally soul-destroying when you have such little energy to get up and make something for yourself because your focus is no all about the baby, and I would have loved for someone to buy me one of these.
Mom will appreciate any help she can get, and you may like to know that a gift like this would go down so well.
---
A Bath Robe
It's 2 am, the baby is crying, you need to jump out of bed and see to him/her, and in your half-awake/half-asleep state, you shiver as you soothe or feed.
One thing's for sure – you want to feel cozy.
She may appreciate a brand new bathrobe.
---
Mom Necklace
The moment a woman finds out she is pregnant, she wants to nest.
Everything becomes sentimental, from those tear-jerking adverts on the TV to certain songs she may hear on her journey to motherhood.
Why not continue the sentiment with a beautiful new mom gift like this necklace? I don't know a soul alive who would not love to receive such a special and thoughtful gift which they can keep for always.
---
A Water Bottle
Drink, drink, and drink. It is so important for new moms to keep hydrated, especially if they are breastfeeding.
Water gives lots of natural energy, so a reminder like this will be something they really need.
Ensuring you have all the h20 necessary will keep the face, body, and mind as clear as possible with a newborn!
You might laugh as you think this doesn't sound much like the sort of gift you initially had in mind, but I can assure you, water is the foundation of life, and after owning one of these, I can guarantee within a few days she would be lost without it.
---
Why Buy A New Mom A Gift?
Absolutely everything changes when you have children, and becoming a new mom means they will make little use of their time to self-care.
There will be diapers everywhere, there will be new routines, and it won't be easy.
Even in the middle of the night, when their baby is wide awake and singing (or screaming), new moms need to know that you have their back.
---
Conclusion – Thinking Outside The Box
The more you think outside the box, the more chance you will have of really making a difference to the new mom in your life.
Many people would go for a baby-orientated gift – it is easy to find gifts like this, but let's not forget that mom also needs stuff in her life that makes being a mom a little easier.
Whichever gift you choose, know that the personal reason behind it – is love.
Good luck