If you think kids are incapable of experiencing anxiety, you can think again.
In fact, we live in times where anxieties amongst young children are at an all-time high (over 7% of kids have been diagnosed with anxiety in the US).
Stress and anxiety affect kids in ways they cannot understand. Bringing up a toddler is already tough enough, but it is more of a challenge if you throw anxiety into the mix!
Thankfully, there are many ways to help kids relieve stress and self-regulate their worries, diverting them to fun and useful activities that urn up the excess energy that anxiety creates.
Sometimes kids need soothing. So let's take a look at some toys that will help toddlers with anxiety.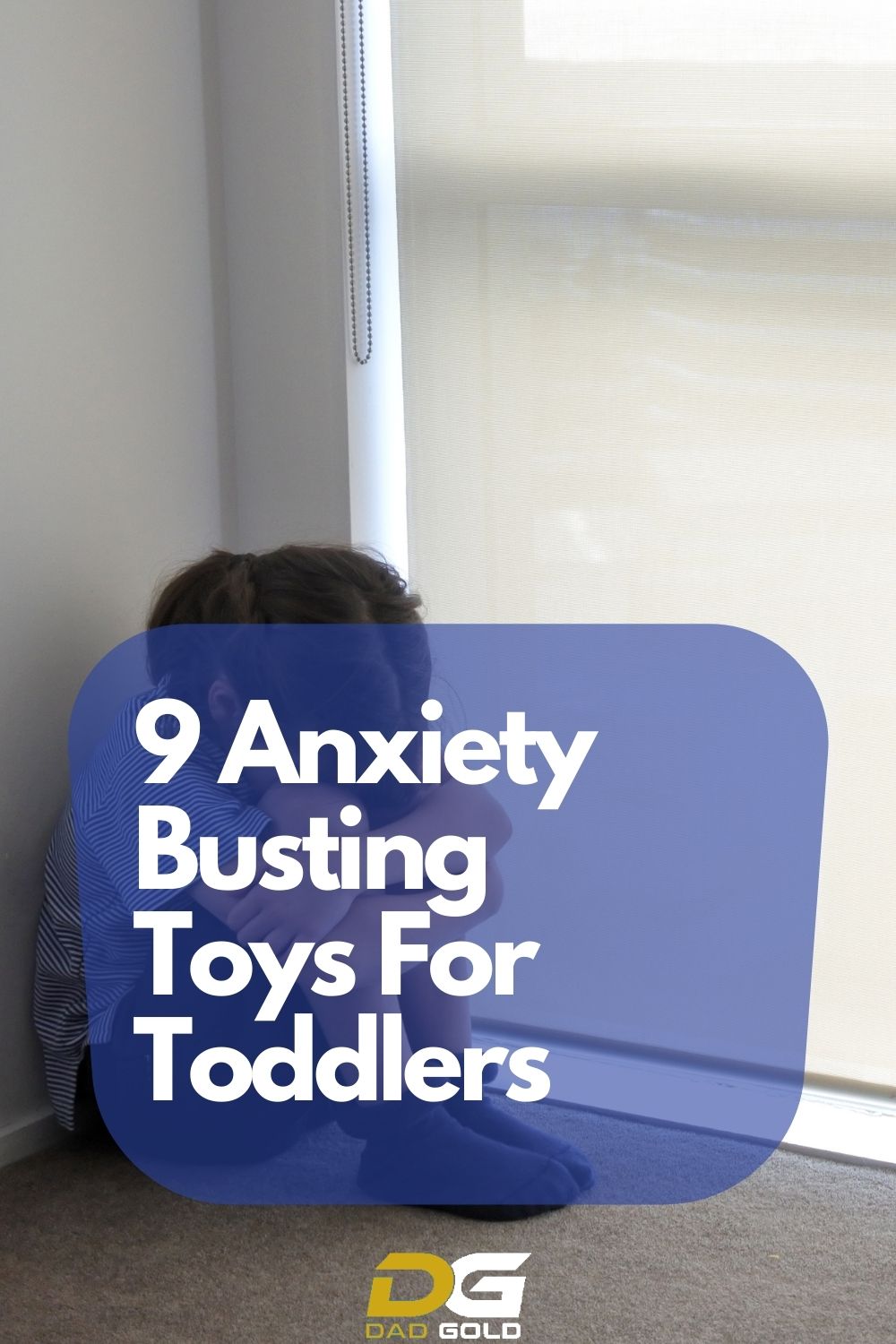 ---
How Can Toys Help Children With Anxiety?
Anxiety stems from the worry of the future or things being or feeling out of your control. As adults, we recognize these thought patterns and reduce them greatly by trying things such as finding a therapist or learning helpful ways to keep anxiety at bay.
A successful strategy in gaining control of anxiety is the art of distraction. I find the perfect way to help kids cope is to introduce them to toys and provide them with tools to make small yet subtle changes in how their worries are presented.
It's wise to remember here that different products suit different toddlers, so try a few in the hope you can calm their nerves and meet their needs.
I've also put together a list of the best calming toys for your toddler, so check that post out for additional ideas!
---
9 Toys To Help Soothe Toddler Anxiety
Knowing there are copious amounts of toys or sensory toys out there to help your child relieve stress or anxiety is a tremendous help to parents. When anybody feels anxious, all we as caregivers want to do is find calming ways to focus and learn to cope with how they are feeling.
The good news is, you don't have to worry about the price the way you think you might.
I have carefully compiled a list of known and proven toys to help calm children and help put an end to their anxious fidget. If you were to provide your child with one or two of these items, you would provide them with the tools to change the way they deal with their worries, and they will slowly re-shift their focus and self-regulate.
---
1. Stress Balls
Stress balls are pretty self-explanatory. At a very reasonable price, they sit tight in the hand of those feeling overwhelmed and work to reduce anxiety within the individual.
These are another toy popularly used in school environments. Using them, including children with autism, pent-up energy or uncertainty in given situations can be focused on squeezing these stress balls.
These are small enough to keep in rucksacks or bags, so if you are out and about and your child needs a moment to expel anxious thoughts, these can help get rid of them fairly instantly.
---
2. Push Pop Bubble Toy
I don't know anyone who doesn't love popping things! These toys are incredibly satisfying and therapeutic, and you may find your little one sat for hours on end just casually whiling away their time having fun on these!
This is a type of sensory toy, so when playing with them, you become more aware of what you are doing and how it feels whilst doing it. That can be as comforting as a low humming sound.
Repetitive toys like this can numb worrying thoughts.
---
3. Trampoline
This trampoline is strong and sturdy, a great, self-contained, bouncy toy that is safe for use in the garden for our toddler. You can also use it indoors!
Fitness and energy are good friends, and any child would love to let off some steam on their very own trampoline.
Whilst it isn't small like other items on the list, they are still a huge help in just having a positive time out – a break from the norm to reset the body and mind.
---
4. Pod Swing
Hands up, who has ever seen a pod swing.
Nobody?
These are absolutely perfect for the home and for your little one cocooning themselves within its safe and snug perimeters for some quiet time. They can be hung in any doorway and are like having your own little corner of the world, a safe place if you will.
If you are in any doubt, take a look at the reviews. Pod swings are perfect for freeing up some pace as you can take them down if they aren't in use, and in using one, your toddler can feel a more soothing self emerge.
---
5. Snuggle Sheet
Snuggle sheets work to reduce anxiety and increase calm. When children or adults feel uneasy, all we want is a hug! These wrap children up safely in bed and allow them to feel that balance of security and free movement.
Your little people will appreciate the calming effect these have come bedtime and are especially helpful if they struggle to sleep.
---
6. Doodle Pad Mat
Magical doodle pad mats are awesome fun for those children who like to be creative but don't necessarily want to sit still and officially focus on a singular drawing or piece of paper.
These mats may be used indoors or outdoors and at such a reasonable price, which is really worth the investment.
When children are at such a young age, they are constantly learning about the world around them, and sometimes it can get a bit too much.
This is a great tool for distraction and a fun way to calm.
Also – these mats are ideal for practicing those fine motor skills.
---
7. Play Foam
Floam is awesome. We have got through several packs in our home over the years, and I have lost track of the number of times I myself have been lost in my own world molding and stretching this incredible sensory toy.
Ranging in colors, children can create, mold, roll into balls, and play until their heart's content. Once they reach any little hand, I assure you they have a calming and soothing effect on any anxious mind.
---
8. Noise Cancelling Headphones
Stress often comes from too much stimulation, and although technically not a toy, these noise-canceling headphones are a GODSEND if your toddler finds it's all a bit too much sometimes.
These types of products are often used by kids and adults with autism because hearing something familiar or canceling the noise out around you can make somebody's 'edge level' come down several notches.
The best thing about these is that You can take them anywhere, and as they are for kids, they do come with a maximum noise level which isn't very high at all, so they can't have anything streaming too loudly in their ears, which would have a detrimental effect.
---
9. Warm Up Plush Toy
Who doesn't love feeling warm and cozy? A little fact about anybody who suffers from anxiety is that they tend always to feel cold. The constant stress and worry of fight and flight leave our bodies needing comfort, and what better product than a warm-up plush toy.
This is a personal bestseller and can be put in the microwave for a minute or two and given to your child to snuggle up to in bed.
---
Conclusion – These Toys Help – But You Also Need Medical Intervention
I hope some of these toys have got your attention, and you never know – you could grab the attention of your child and take them to a calming place of security.
You must get your toddler some help if they suffer from anxiety. These toys will help, but receiving the correct medical treatment is extremely important.
Good luck!