The mere thought of traveling with my toddler used to bring me out in cold sweats. Gone were the days where I could strap him into his car seat, and he would immediately fall asleep.  Boy, I miss those days.
Now, he needs entertaining. But how? How could I entertain him AND drive?
Here, I take a look at the best car seat toys for toddlers. These toys will remove some of the stresses of traveling with a toddler!
And you won't have an unhappy and (frustratingly) audible passenger. Light relief from a toddler who is demanding your attention…
The good news is that there are tons of toddler toys for road trips on the market. The bad news is that you will need weeks, if not months, to browse through most of them before you get your hands on the best car seat toys for your baby. Of course, unless you're on this page, then your work is reduced to choosing between just six of the very best. Heck, you can even get all of them!
---
Best Car Seat Toys for Toddlers Reviews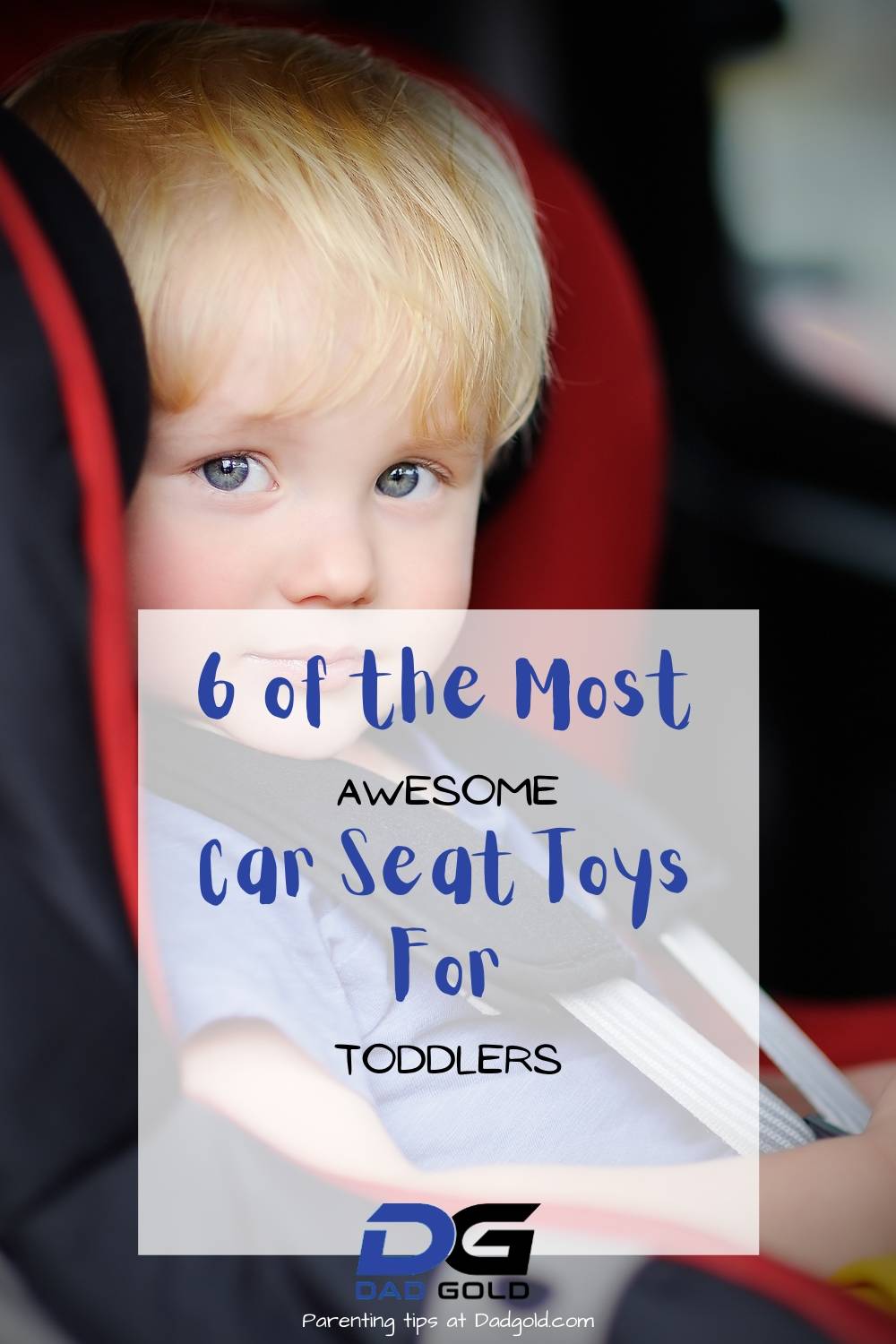 ---
VTech Turn and Learn Driver
This colorful toy will get your cute little driver tooting with every turn you take. Designed in the shape of a car dashboard, it features an adorable dog character that moves back and forth when the toddler turns the steering wheel. And that's not even the best thing about the toy.
Best Features
3 play modes: your toddler can switch between driving, animal, and music modes. Whatever the choice, he/she will get entertaining sounds that will keep him/her engaged.
Educational: more importantly, the 3-mode feature helps the child learn the various aspects of driving, nature, and music. For one thing, your toddler will be introduced to steering, shifting gear, using the mirror, braking, and even traffic lights. When those cease to entertain, he/she can switch the signal lever to music. There are over 60 melodies, songs, and phrases to learn, not to mention the many built-in animal sounds. That's what makes the VTech Turn and Learn Driver one of the best car seat toys for toddlers – because it helps in speech, language, and cognitive development.
Imaginative play: in addition to cognitive development, this handy toy packs lots of features for pretend play. At the very top are 5 icons with images of varying cars and animals. When your toddler is not picturing him/herself in a particular type of car, he/she will probably be "petting" an animal or turning the steering wheel while shifting the pedal and trying the brakes. Whatever the case, this kind of imaginative play is a solid building block for creative thinking.
Easy and safe to use: every single piece on this plaything moves with ease. Equally important is that there are no small or removable parts that can cause a choking hazard.
Powers easily: two replaceable AA batteries are included for powering up the entire set.
Any Deficiencies?
The one thing that could improve is usability inside the car. VTech didn't design it to be installable in a stroller, so you have to be creative when attaching one. Otherwise, it's an awesome indoor and outdoor baby toy. 
---
Beloved Belonging Kids Travel Tray
How about getting your tech-savvy toddler this car seat tray organizer? It has a large tablet holder; you know if your little one wants to be the next Steve Jobs. Alternatively, you can put your iPad in that holder and let your kid play with his/her other toys. And there can be plenty of them!
Best Features
Supports unlimited toys: the beauty of this particular unit is that it's a travel tray – kind of a surface for holding toys. That means you can carry your child's house toys to the car and let him/her play with them as you drive or enjoy the ride. It will remain steady thanks to the added quick buckle and securing straps.
Animal-branded surface: it's more than just a tray because on the surface are images of a few animals, including rabbit, bat, cat, giraffe, and fish. At the very least, your toddler will learn how to identify animals.
Pockets: in addition to the large surface where your child can place toys, the Beloved Belonging Kids Travel Tray has pockets on either side. You can throw in a water bottle, your phone, snacks, crayons, painting pads, extra toys, and whatnots.
Foldable: the best part? You can fold and carry the tray, together with everything inside. It has 3-inch reinforced walls and zippers that keep everything safe. Talk about portable entertainment for your little one and convenience for you. You can pack it while in the house and then unfold it when you get to the car or plane.
Waterproof construction: the BPA-free material used to make this tray cleans up easily. It only takes one wipe for the entire tray to look fresh as new.
Any Deficiencies?
The construction is decent enough, but the material doesn't feel strong enough for the long haul. If you're the type of family that goes on many road trips per year, you may have to buy more than one unit of this. Regardless, it's an excellent tray that fits on planes and car seats, including booster seats.
---
Kenley Toddler Busy Board
Do you want your toddler to master essential dressing skills from a young age? This is the perfect gift for that kind of learning. It's an entire set with a buckle, buttons, lace, zipper, and a few other items that are used in fastening clothes. A few days with this board and your little one will be a champ in getting ready for school.
Best Features
It's a learn-to-dress board: the whole concept behind this piece is to teach your kid how to dress properly but in a playful and low-stress environment. The baby places the board on his/her laps and learns how to tie laces, open & close zippers, fasten or loosen buckles, open buttons and close them and so on. There's a total of 9 learning items, all of which instill hands-on dressing skills.
Motor development: any skill that your toddler learns contributes to motor development. In this case, he/she masters astounding NINE skills. Every time your toddler uses this toy, he/she learns how to put on shoes, pants, shirts, coats, and any other clothes. Let them use it a few times in the car, and you may find them ready for school by the time you wake up.
Engaging: All the Kenley Toddler Busy Board items are great, but the buckles are arguably the best. Why? Because there are several of them, and each one has a varying level of difficulty. Once your child tries one, he/she can move to a more difficult one. Believe it or not, kids love such types of challenges. He/she will sit quietly, trying to solve the puzzle as you enjoy the drive. This alone makes it one of the best car seat toys for toddlers.
Comfortable: Montessori-inspired board is made of soft wool. Its surface is comfortable to the touch, even for the tender hand of a toddler. While you can't wash it with a machine, it's fairly easy to clean using a wet cloth.
Portable: with dimensions of 12.8 x 11 x 0.5 inches and weighing in at 0.4 pounds, this car seat toy is designed with toddlers in mind. You don't even have to carry it to the car for your child; he/she can manage to do that for him/herself. There's a removable strap to make the work easier.
Any Deficiencies?
Some people don't like that it's not foldable. If you force it, it will fold. But then it will wrinkle and can get damaged. It's not that big anyway that you will want to fold it.
---
Melissa & Doug Wooden Latches Board
The Melissa & Doug Wooden Latches Board makes a list of the many activities packed on one board. It has latches, rooms, shapes, colors, images, numbers, and lots more.
I have to admit; I love the Melissa & Doug range! They appear on many of my articles, including lock and key toys and garage toys for toddlers.
Best Features
Engaging activity board: when you look at this board, you will notice a set of 6 house designs. Each one has a different type of latch and color. They are all numbered from 1 to 6, and on the bottom row are 4 flowers. The simple process of identifying all these things will keep your toddler quite engaged in the car.
Learning toy: more importantly, everything that's included contributes to your child's learning process. When not opening latches, he/she will be looking at the various colors, counting numbers, or even observing architectural designs. Yep, your kid will learn a thing or two about house designs. Animals are there, too, behind the doors. 
Interactive play: this is yet another feature that makes the board one of the best car seat toys for toddlers. Two or even three kids can use it at a time. When one is opening the "house's" doors, the other will count the number of houses whose doors are still closed. This is the kind of play that improves a child's social skills and builds motor skills.
Solid construction: the entire board is made of solid wood, which is safe for kids. It doesn't have small parts that can cause choking hazards.
Perfect for travels: equally important is that the wood doesn't bend. Your toddler can place the board on the laps while in a car.
Any Deficiencies?
The latches are the biggest attractions for kids with their clicking sounds. Unfortunately, they are not named. If your toddler likes to ask questions like "what's this one called?" you may end up with a puzzler. Anyway, the board has a draw latch, sash lock, cabin hook, crossbar, door chain, and lock hasp in that order from 1 to 6.
---
Funtasit Kids Travel Tray
Why buy a work board, car seat organizer, and tablet holder separately when you can buy this travel tray and have them all in one package? Its vibrant colors and child-friendly design are designed to keep your toddler as calm as possible during a trip.
Best Features
Best when used as a travel tray: it's basically a travel tray with a hard surface on which your toddler can place his/her toys and play with them. He/she can even use it as a study tray while at it. If you don't mind your kid using a tablet, then you'll be pleased to know that this tray's cover doubles up as a tablet holder. You can actually remove the entire back and use it as a stand-alone tablet holder.
Puts safety first: in addition to the sturdy walls of the tray, its top part can be attached to the seat in front so that the whole thing doesn't fall.
Many pockets: one reason why this tray ranks among the top car seat toys for toddlers is that it has many pockets. Just beneath the tablet holder is a zippered pouch that holds fairly sized items. There are smaller pockets on either side of the tablet holder. These can store smaller items like pens, crayons, and pencils. If you have something bigger (like extra toys and snacks), you can put it in the tray's side pocket. On the top surface is a hole that holds a bottle (for water, juice, etc.)
Educational surface: the lap tray is more than just a work table. It has drawings of farm animals, vegetation, a house, flag, waterbody, boy, and lots of colorful stuff that your toddler can draw or trace. He/she can also use them to learn various animals, colors, and whatnots.
Cleans easily: the top surface is made of PVC. First, the material makes it easy for your kid to draw or trace things on the tray. Secondly, you can wipe off whatever the baby drew on the surface with ease using a piece of wet cloth.
Any Deficiencies?
Yes, the plastic smell! You may have to wait for a month or more before the smell finally goes away. Other than that, not much to complain about this toddler travel tray.
---
LeapFrog Scribble and Write Tablet
The idea behind this toddler toy is a brilliant one. It's designed to look like a tablet that's easy to hold for a child. The package includes an easy-grip stylus for tracing, writing, and scribbling numbers and letters on the screen. Now that's the kind of toy you need if you want your little one to learn and keep busy while in the car.
Best Features
Learning toy: this is one of the most brilliant car seat toys for toddlers, at least as far as learning. It allows your kid to trace lights and practice writing letters A to Z and numbers 1 to 10. Every time the child writes a letter or number correctly, the toy sounds to help with pronunciation. It's simply amazing.
Increasing difficulty: there's level 1, which basically involves scribbling letters and numbers, and then there's level two, which requires more accurate writing of letters and numbers. With this toy, your child gets a very nice pre-school learning toy that can teach him/her how to write numbers and letters accurately and handwriting development.
Motor control: Some people probably don't see where this toy develops the child's hand-eye coordination. He/she views, traces, and then hears the sounding of the word/letter. That's a huge part of overall motor control.
Attached stylus: the easy-grip stylus that comes with this tablet is attached so that the child doesn't lose it.
Easy to use: for starters, it's a lightweight toy. At only 12.8 ounces, a toddler can use it comfortably while placing it on the lap or table. Besides, it has rubberized sides for an easy grip.
Any Deficiencies?
It's safe to say that LeapFrog assumed that every kid who will use this toy is right-handed. The cord holding the stylus is rather short for a left-handed child. He/she will still be able to use it but may struggle at times. Overlooking that, the tablet is awesome for pre-kindergarten learning.
---
Conclusion
In case you're wondering, all these car seat toys for toddlers are surprisingly affordable. With such prices, you have every reason to get more than one, say, a travel tray and something like the Vtech Turn and Learn Driver or LeapFrog Scribble and Write Tablet.
That way your little one will have a variety of the best car seat toys for toddlers to play with while in the car.
Sometimes, a simple steering wheel toy is also fine for your toddler!
Good luck choosing!