Parenting is one of the most rewarding jobs in the world; there is no doubt about that!
That said, it is not easy and can sometimes be overwhelming and damn noisy!
As a parent looking after a toddler, it is vital to know which toys you can give them for calmer playtime.
While a parent's touch is easily the most comforting for kids, toys go a long way in getting your toddler into a sense of peace.
Here are my handpicked top 5 calming toys for toddlers.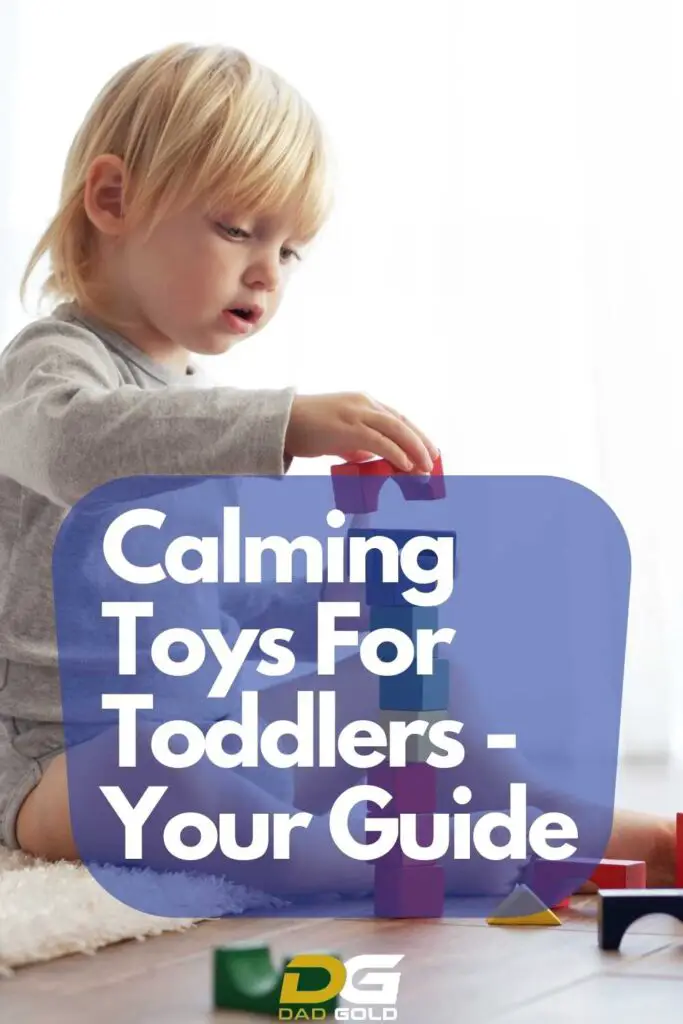 My 5 Top Toys For Keeping Your Toddler Calm
---
1. Mega Bloks – Big Building Bag
Building stuff (and breaking them) are some of the most common activities toddlers love doing. While LEGO might be the first name that pops into your mind when you think of building blocks, it isn't 100% safe for young toddlers.
The tiny LEGO units are a choking hazard, and you should never leave your toddler alone with them. Mega Blocks, however, are the perfect toy for your toddler to ensure they stay calm and collected during the day. It also encourages independent play.
The pack comes with 80 big building blocks to ensure that even if your infant chooses to bite on them (highly likely), it poses no health risk, given the size of each block. What makes this even better is the different shapes and their modularity.
Like Hot Wheels, these can be combined with other Mega Bloks toys to create more creative stuff as your toddler grows.
---
Benefits
It helps develop motor skills and creativity right from a young age
It helps keep the infant in a state of calmness
Bright colors help keep the infant engaged for hours of fun
The large size of the blocks prevents them from being a health risk
Easy storage with the help of a reusable bag (hence a calming toy even for you, parents)
---
2. Melissa & Doug Classic Bead Maze – Wooden Educational Toy
Mazes are fun for children and adults alike, but these are perfect calming toys for toddlers.
This particular wooden maze toy has everything to make your toddler's eyes go wide open.
The 18 colorful beads swoop in and out of the three multi-colored wires like a roller coaster. The toy has a sturdy base to prevent it from tipping over.
The different shapes, colors, and sizes included in this toy will keep your toddler peaceful and occupied for a decent amount of time.
And the best part is, unlike some other toys, almost all of these parts move, creating a whole new experience for your kid.
---
Benefits
It helps improve color and shape recognition
It helps improve motor skills
Poses no health risk even though it includes tiny moving parts
Frustration-free packaging
It makes a colorful addition to your infant's bedroom, adding a splash of color.
---
3. Emraw Scribble Pad for Toddlers
If there is anything toddlers love more than biting is drawing.
Sadly, infants don't put too much thought into what they use as their creative canvas, and if you have a toddler at home (I'm assuming you do), you'll find that the walls tend to become their usual canvas.
Here is where Emraw's Scribble Pad comes in handy. The pack has two pads, each with 50 pages, to fulfill all your child's scribbling desires.
Each sheet is 9″X12″ and gives ample real estate for drawing while remaining portable.
The sheets are of high quality, ensuring they don't tear even with aggressive scribbling. Anyone around the house can use this doodle pad for all your scribbling needs.
---
Benefits
It lets your infant scribble their heart out without damaging the walls, house, etc.
The 100 sheets in total give your child enough pages to doodle on.
---
4. Activity Cube Toy for Toddlers
---
This is to toddlers what the Swiss Knife is to adults. The Activity Cube is exactly what it says it is. This toy has 6 toys built into a single cube.
A play piano, a steering wheel, a dial phone, a shape sorter, a door game, and a shape sorter. What more could your kid possibly want? In its entirety, the toy is brightly colored and has cute faces imprinted on it to make sure your kid's focus is on the toy alone.
If you're looking for calming toys for toddlers, this is a treasure trove. And to make things more fun, the toy comes with in-built music that is battery-powered. All in all, a perfect toy to buy your toddlers.
If you could get just one toy, I highly recommend getting one of these.
---
Benefits
It helps improve motor skills
It helps stimulate your baby's thinking and creativity
Made of high-quality ABS plastic that is non-toxic and environmentally friendly.
It makes for a fun toy to play with your infant.
---
5. BunMo Sensory Toys – Textured Stretchy Strings
---
These make perfect toys for your infant with autism, ADD, or ADHD. This pack of six stretchy strings comes with different textures (bumps, ridges, etc.) to provide a profound sense of calmness and relief.
BunMo has also made sure that each string has a vibrant color to ensure your kid's attention is focused and they can receive the most out of these toys. The stretchiness of the toy makes it a huge stress-buster.
The toy design allows your infant to focus on a single sensation simultaneously.
---
Benefits
Perfect toy for children having ADHD, ADD, or autism
Bright colors help keep your child's attention.
The different textures and stretchiness allow for maximum stress relief.
Easy to clean and made out of non-toxic material.
---
Conclusion
Although I vouch for these calming toys for toddlers and guarantee joy and peace for your young one, this list is not the holy grail.
Feel free to expand your options if you feel you know what might pique your child's interest and keep them calm during particular situations.
If you have a particularly anxious toddler, check these toys out.
While I encourage toys, I also strongly recommend never substituting quality time with your kids with toys.
Both are equally important in keeping your child happy, especially in infancy.
Happy parenting!