If your toddler is anything like mine, they will have a fascination with an emergency service of any kind!
My son has been through the fire, police, and ambulance service, with the coastguard thrown in for good measure. Here, we look at some awesome fire station toys for toddlers.
DadGold recommends…
LEGO DUPLO Fire station Toy
LEGO DUPLO never lets me down! This fire station toy is perfect for little hands.
Fire safety is paramount, and allowing your toddler to play with a Fire Station toy, will also allow you to introduce the danger of fire to your toddler, but in a fun way!
Along with a fire station toy, you might also want to consider a Fire Chief outfit so that they can spark their imagination!
Best Fire Station Toys For Toddlers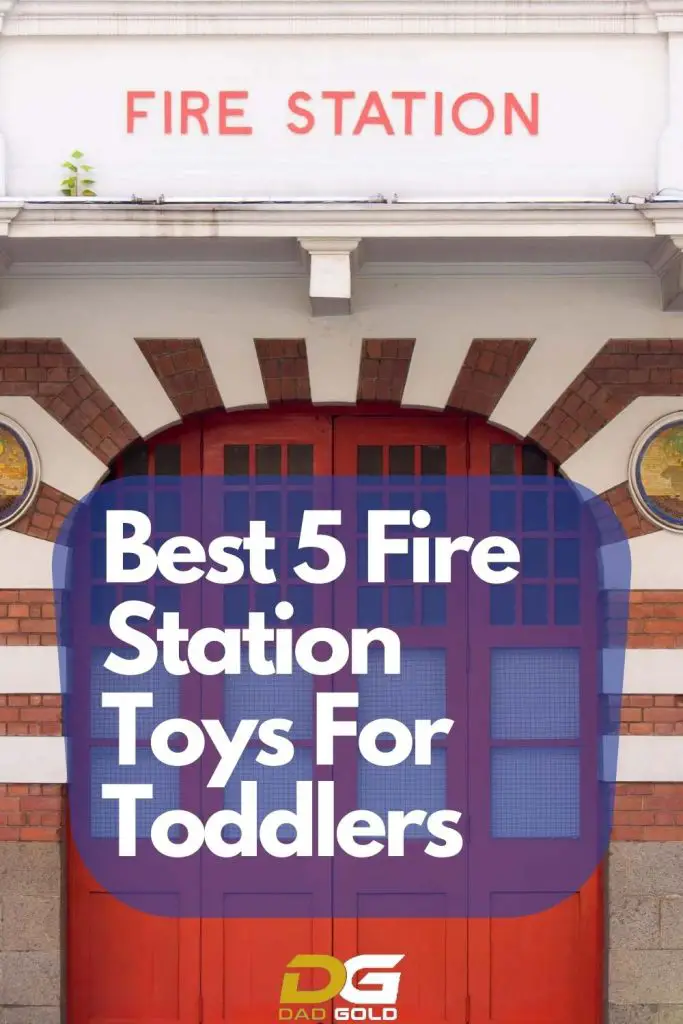 ---
Lego Duplo Fire Station Toy
The Lego Duplo Fire Station toy is awesome fun for a toddler! It comes with a Fire Truck, Station, and various other toys to enhance the fun!
The Duplo Town Fire Station is perfect for imaginative little heroes!
I love Duplo and Lego because it allows my son to build his toys and use his imagination while developing his motor skills.
Construction toys will present your toddler with the opportunity to develop essential life skills, such as spatial reasoning, creative thinking, and cognitive flexibility.
Anyway, onto the actual fire station toy! The Duplo Fire Station toy has some fascinating features:
Realistic flashing lights/siren
Fire Chief mini figures
Pop-up fire
Fire Truck rescue vehicle
The fire station is easy to build (being Duplo, it always is!) and is a great way to introduce your toddler to building and creating their toy.
Your toddler will spend hours popping up the fire in random places before rushing to the fire truck to be the hero and save the day!
Also included in this kit are an adjustable ladder and a dog figure.
Please remember to put the Duplo away if it is being stored! I have stood on too many pieces to neglect that rule!
Recommended Age: 2+
---
SainSmart Jr. Happkid Fire Station Toy
The Happkid Fire Station toy has realistic siren sounds to fully immerse your Toddler into play time!
Made of non-toxic ABS material, the Happkid Fire Station has realistic lights and sounds and some other emergency service toys that your toddler can enjoy.
With the Happkid Fire Station, you will receive:
Fire Station (with spinning pole)
Control Centre
Fire Truck
Police Motorcycle
Helicopter for air fire rescue
Figures
Fire Station Entrance
Ambulance
Right from the off, your toddler can immerse themselves in the roleplaying. As soon as the fire is reported, the fire chief can use the spinning pole to get to the fire truck or helicopter. After rushing to the fire scene, your toddler can use their imagination to bring in the rest of the emergency services to ensure the job is complete!
The Happkid Fire Station is an excellent opportunity for roleplaying, and may also drive your child's future career options!
Recommended Age: 3+
---
Toot-Toot Drivers Refresh Fire Station
The Toot-Tool First Station has a spinning pole, pop-up fire, and a fire truck with a movable ladder to keep your toddler entertained!
One thing I remember from my toys as a child is the classic road/toy sets, just like this Toot-Toot Fire Station toy from Vtech!
Your toddler can use the many vehicles to navigate through the roads putting out the pop-up fires scattered around the track.
There are options to play with the helicopter, ambulance, or fire truck rescue vehicles.
Many toys like this option are flimsy and break very easily, but you will be pleased to learn that the Vtech is exceptionally well built. The manufacturers understand just how destructive a toddler can be!
In terms of sounds (to keep your toddler entertained further), the Vtech has 2 sing-along songs and 6 melodies that are sure to get on your nerves!
The Vtech Fire Station can also be used to develop your toddlers motor skills as it comes with 6 interchangeable track pieces to spark their imagination.
Recommended Age: 1+
---
LEGO Duplo Town Fire Truck Building Kit
All Duplo toys are awesome, and this is one of the best fire truck toys for toddlers!
Although no fire station comes with this Duplo version, I had to put it on this list simply because it is Duplo! Let's not forget that your toddler has an incredible imagination, so anything can be the fire station!
This fire truck is straightforward to build, and I know I have mentioned it a few times in this post, but building this fire truck will help develop your toddler's motor skills.
The best thing about this fire truck is the crane on the back, which is adjustable and allows the Fire Chief to get to those hard-to-reach places when tackling a fire.
As the recommended age is 2+, I highly recommend this as an excellent fire truck toy for toddlers! They will have hours of play with this rescue vehicle.
Along with the fire truck, you will also receive a pop-up fire and a window. I am not sure why the window is included, but I am not the one with an incredible imagination!
Recommended Age: 2+
---
Melissa and Doug Lock and Roll
Develop your toddlers motor skills by giving them playtime with 3 emergency service vehicles!
I have covered this toy in my post about lock and key toys for toddlers, but it had to be on here, too, as it has a fire truck and fire station.
Toddlers love playing with locks and keys, almost as much as they love hiding the keys, so you will never find them again! Mental note – always put the key away when they have finished playing.
Melissa and Doug is renowned for creating fun, educational toys for toddlers.
Along with the fire station and truck, this toy comes with a police car and an ambulance. The toy has a sturdy carry handle that you can use to transport easily.
The vehicles are very well made and glide across the floor with ease (a huge plus for those who do not want their floor damaged!).
Recommended Age: 3+
---
Why a Toddler WILL LOVE Fire Station Toys
Toddlers love roleplay, especially when it comes to emergency services! Like pirate toys for toddlers, these fire station options open the door to some awesome roleplay fun!
Roleplaying an emergency service is very rewarding and allows your toddler to flex their troubleshooting muscle while also playing the hero. The same can be said for helicopter toys too.
A fire station toy, along with the additional items, will give a toddler many scenarios to play through; considering their imagination, they will never run out. Most of the toy options on this page include mini-figures, a fire truck, and a pop-up fire. Your toddler will spend hours pretending to respond to various fire emergencies.
Not only is a fire station an excellent toy from an imagination point of view, but it will also begin to teach your toddler to respect the services and the people working for them. It will also start to build cause-and-effect relationships.
---
Conclusion
If I were looking for a fire station toy for a toddler, then any of the options on this page are an excellent choice!
When looking for a new toy, always consider what your toddler is already into.
My son loves Lego/Duplo and spends a lot of time playing with figures. For this reason, I put the Lego Duplo Fire Station toy at the top. Your toddler might be different, so take a look through the options and decide which one is better suited.
My son keeps going back to many toys, time and time again. He loves rescue vehicle toys and digger toys too!
Good luck!