I know all the tricks when it comes to entertaining a toddler at home!
I've been there before, the time when your brain shuts down and you run out of playtime ideas. Your toddler is on your case, and stress levels rise!
Luckily, I stumbled upon a guaranteed way of keeping toddlers entertained. That way is to keep a toddler busy working with keys and locks.
DadGold Recommends…
Melissa and Doug Lock and Roll Rescue Garage
Melissa and Doug produce some awesome toys for toddlers! This lock and key toy will keep your toddler entertained.
Believe it or not, toddlers (especially mine) love locking and unlocking things. For that reason, I have scoured the internet for the best toddler toys with keys and locks to make your life as a parent just that little bit easier.
You're welcome!
It is worth mentioning that when your child plays with interactive toys, such as locks and keys, it helps develop their cognitive skills.
No other intro is needed, so let's crack on with the list.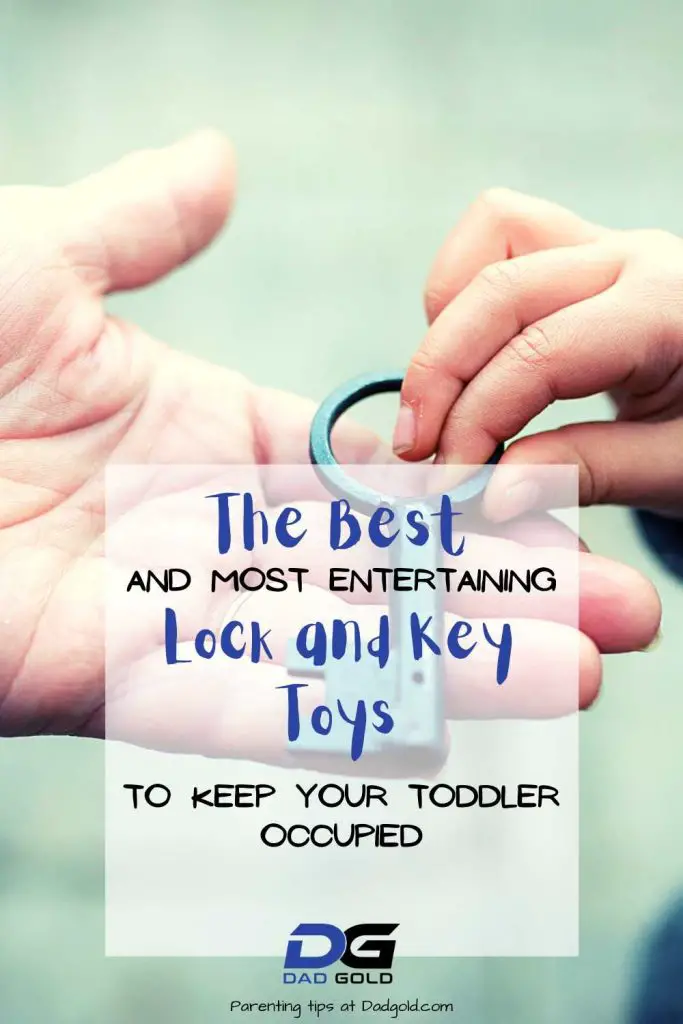 Best Toddler Toys With Keys And Locks
---
Melissa & Doug Lock and Roll
The Lock and Roll set by Mellisa and Doug is an excellent lock and key game that will keep your toddler happy for hours! It will help with learning colors too…
The Melissa and Doug Lock and Roll toy is awesome! Not only does it have locks and keys, but it also allows your toddler to use their troubleshooting skills to figure out which keys go to which locks.
As they grow older, you would think they will know which color key goes with which door, but it doesn't stop them from playing with it!
What I love most about this toy is that it is made of wood. Which means it is robust. Melissa and Doug built this Lock and Roll toy to last, and it is an excellent imaginative play toy!
You will enjoy watching your toddler lock and unlock each of the wooden units for hours!
---
Lock and Key Garage Toy For Toddlers from Battat
This Bettat lock and key toy is an awesome, fun toy that will keep your toddler interested!
This awesome lock and key toy from Battat slides neatly into 2nd place after discovering it during some research into the best garage toys for toddlers.
I simply had to add it to this post too!
It is easy to see why. It has 6 locks and 3 toy car keys easily stored on the toy's back.
Your toddler will love using the keys to unlock the garages, but it doesn't just keep Toddlers entertained with keys.
Each key is a different color for a start, and your toddler must match the colors for the keys to work. Also, the keys will only work in the correct lock, so they will need to familiarize themselves with the shapes for each key.
The best part is that the toy is built to be neatly packed away, and there is even a handle for your toddler to carry around with them!
---
A Padlock
A padlock is a cheap and easy lock and key toy for your toddler! Just keep an eye on where the key is!
*Do not leave your toddler alone with the lock or key! Ensure they do not put any part in their mouth.
It sounds pretty simple, but let me tell you about a game I play with my son, even when he has moved out of the toddler years.
I would give him a padlock, and he would secure it to something while I was not looking.
I would then have to search the house until I found it and unlock it. Then, it was my turn to secure the padlock onto something, and he would go looking for it.
Even now, whenever he finds the padlock in his vast mountain of other toys, he spends a bit of time locking and unlocking it!
All you need is a simple padlock, and you will be able to play plenty of toddler lock games and keep kids entertained for hours!
Here's a quick warning: always make sure you know where the key is! I know a padlock is cheap and easy to replace, but save yourself from buying them time and time again when your toddler throws the key in some random place in your home, never to be seen again!
Also – as the key is tiny, you must observe your toddler when playing with a padlock! The last thing you want is for your toddler to place the key in their mouth, so always watch them when they have the key in hand.
---
Pirate Treasure Box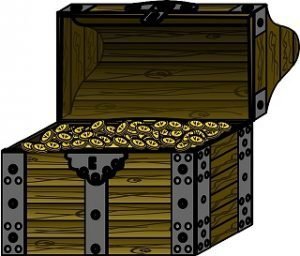 Yaaarrrrr! A Pirate box is an awesome lock and key game, and tons of fun for parents too!
So, you want a toddler toy with keys and locks? Well, this might not strictly be a toddler toy, but kids love unlocking things, and most kids love pirates (and pirate toys)! Why not combine both and get a pirate box that can be locked and unlocked?
Also, why not throw in some pirate gold coins to make the whole game a little more lifelike?
Honestly, this is hours of fun.
---
Melissa & Doug Lock and Latch Board
The Lock and Latch Board by Melissa and Doug is an awesome lock board for toddlers, with an added bonus that you will not lose the key!
Give your Toddler hours and hours of tremendous fun with the Melissa and Doug Lock and Latch Board!
Here we have a wooden skills activity board with 4 lots of doors for them to open and explore until their heart is content.
It is a pretty sturdy design, which is awesome because we all know that toddler has no self-control when they get excited, right?
Melissa and Doug have you covered from a learning perspective as far as lock and keys toys go, and they are very sturdy toys.
---
Toddler Handcuffs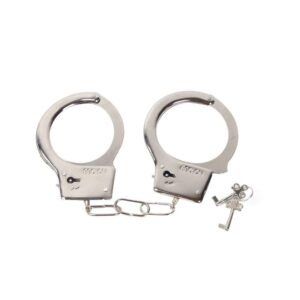 Handcuffs are a classic toddler toy, you will spend hours in a fake cell!
I have spent many hours locked in a cell! The cell is usually a different room or even an imaginary cell in the same room as my son.
One of the games he loves to play the most is the Police, and I am a bad guy. First, he gives me a few seconds' warning, then I have to run away, and he catches me. Then, the handcuffs are placed on my wrists, and I am marched over wherever he decides the cell is.
He takes the cuffs off my wrists and slams the imaginary cell door.
Repeat that sequence. Time…and time again.
It is awesome fun for him, and I get a bit of exercise, so everyone is a winner!
Similar to the padlock, you must ensure you follow the key.
Toddlers have a habit of putting things down and not remembering where they left them. If you lose the key, you take away a lot of the fun, and you will quickly find the handcuffs put to the back of the toy room, never to be seen again.
---
Why a Toddler WILL LOVE Toys With Locks and Keys
My son loves playing with his toys. What kid doesn't?
Toys come and go, especially when they are a toddler and are progressing very quickly.
During my son's years as a toddler, the toys that he would go back to, time and time again, were the toys with a lock. He still plays with them now!
Kids observe grownups and want to do everything that we do.
They want to grow up quick!
They see us unlocking the house and the car, and they find it interesting and want to copy us, which is cool! Unless they find your keys, then you will never see them again!
As I mentioned earlier in this article, lock and key toys for toddlers help develop fine motor skills in young children. Motor skills have been linked to improved school readiness, which is a huge reason why you should be encouraging it.
---
Conclusion
Personally, if I were looking for the best toddler toys with keys and locks, I would opt for both the padlock and the Pirate treasure chest.
The padlock will give your toddler hours of fun daily. As they get older and more trustworthy with the key, you can leave them to it and go about your daily chores while they pretend to lock things up.
My Son and I invented a fantastic game with a padlock! First, I would find a place to lock it, and my son would hunt for it. Then once he found the padlock, he would hide it, and it was my turn to hunt for it! It was hours of fun, mostly for him, but playtime with dad is essential for building a strong bond.
As for the Pirate treasure box, well that is just as much fun! Especially if you throw in some Pirate coins too.
If you have a yard, why not bury the box and search for Pirate treasure together? It is an excellent idea, which will bring you closer together too. Toddlers love pirate toys too.
Whichever one you choose, I am confident that your toddler will enjoy playing with any of these products!
Good luck!