It is quite natural for toddlers to find cars as well as tracks to be extremely interesting! With that in mind, I will take a look at some awesome options if you are looking for a toy garage for toddlers.
A toy garage will enable your little one to make their dreams of running vehicles come true!
DadGold Recommends…
Melissa & Doug Service Station Parking Garage
Melissa & Doug put out some awesome toys into the market! This is another one of their top toys, the Service Station Parking Garage.
At present, play garages are available in various sizes and shapes, and it is imperative to provide your toddler with playthings that will encourage them to be innovative in the long run.
The majority of these toys happen to be resilient as well as intriguing. Below, we will run through some popular garage toys for toddlers.
Toy Garage For Toddlers – Best 6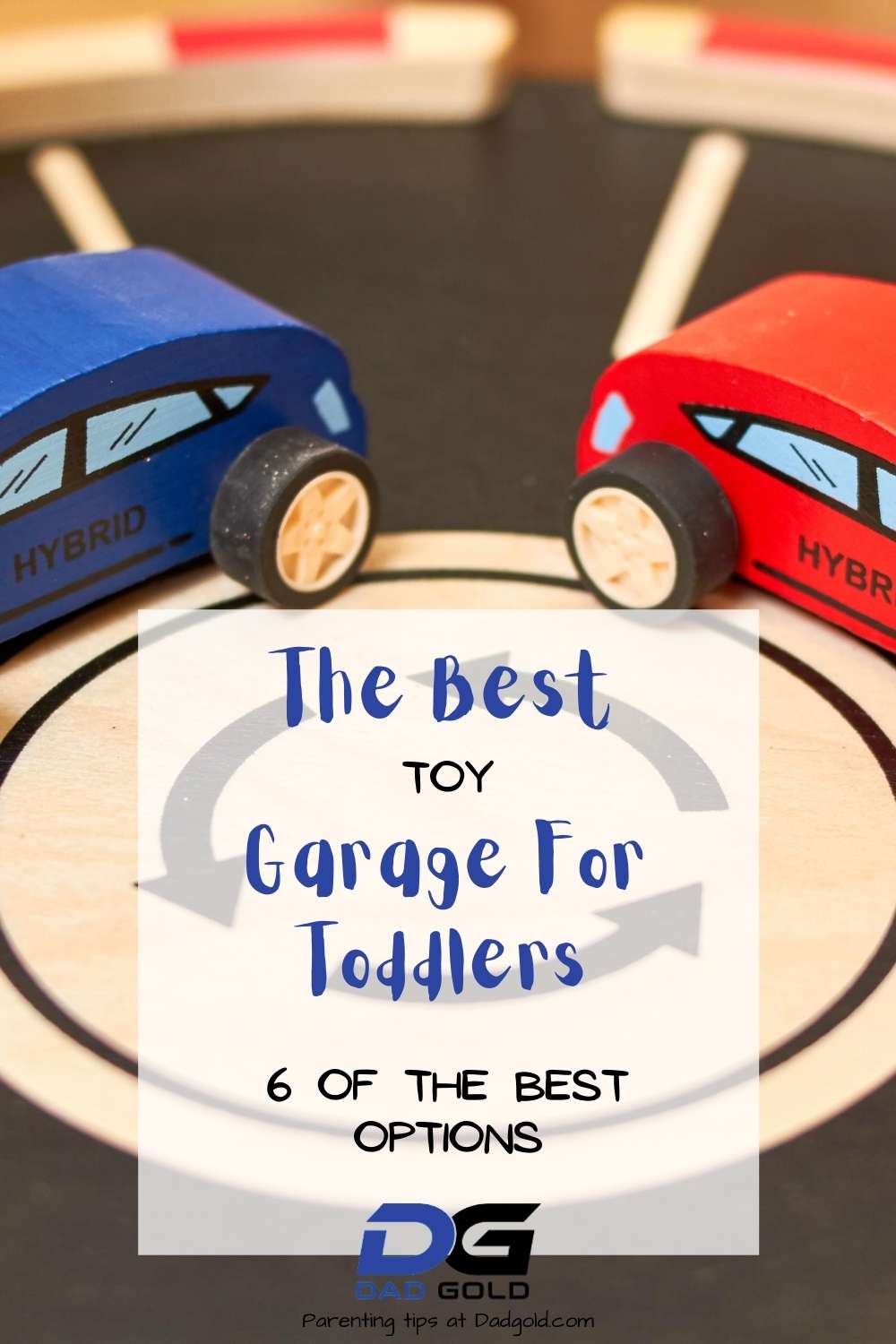 ---
1. Service Station Parking Garage Toy from Melissa & Doug
Melissa and Doug toys are geared towards the development of children, which is why this garage toy for toddlers is top of my list!
The best toddler car garage! This awesome product from Melissa & Doug features a two-level wooden service station which is an intriguing multi-purpose toy. It is the best toy garage, and I absolutely love all the toys by Melissa & Doug! Their mission is to:
Provide a launch pad to ignite imagination and a sense of wonder in all children so they can discover themselves, their passions, and their purpose.
…you can't argue with that, right?
Anyway, back to this toy… Your child will enjoy running the cars inside the carwash. After this, they will be driving around to the subsequent level parking deck.
Finally, they will reach the top using the elevator.
These toys are fantastic for creativity as well as tactile sensations. They are, in fact, more open-ended than those playthings that come with lights and sounds. This specific toy will provide your toddler with the opportunity to produce their personal sound effects and imagine conversations between the drivers without any distraction whatsoever.
There is likewise a compact-sized footprint with the product in case you do not have adequate space. It might be a problem if you have two or more children since it will be difficult for several children to play with this toy at any given time.
Reasons why I recommend this toddler garage toy
It comes with 2 toys in one
Features a gas pump for effortless hand-eye coordination
Comes with vehicles
Manufacturers recommended age: 36 months +
---
2. Lock and Key Garage Toy For Toddlers from Battat
This Battat garage toy is awesome, and it helps develop recognition of shapes and colors!
Battat is reputed for being a business that came into existence approximately 114 years back. We all know this company to produce some astounding playthings and toys for kids for over 40 years. The company markets their toys using methods that are more effective than advertising: they encourage conversation between parents on a one-to-one basis in playgrounds, classrooms, and any other place where children love to play.
Here, this amazing 3-car garage happens to be one of those remarkable products manufactured by the company that has captivated the hearts of numerous kids (and parents) across the globe.
After finding this toy, I had to add this one into my post for the best lock and key toys for toddlers too!
This innovative 3-car garage manufactured by Battat comes with as many as 3 colorful vehicles that include 3 differently-colored garage doors as well as 3 keys which are color-coded.
It is essential to match every single key to the appropriate colored carriage so that you can unlock the doors and you will observe the vehicles rolling out.
This garage is particularly designed for promoting color matching. They also assist in developing hand-eye coordination while encouraging the little ones to get some more knowledge regarding cause and effect.
Apart from this, the garage comes with a handy fold-down carry handle, allowing you to play with this fun vehicle in the best possible way. In fact, this garage is ideal for children who are above 18 months old.
The box consists of one single garage, as many as 3 vehicles, not to mention 3 keys. Toys with locks and keys will also keep your toddler entertained for hours, by the way!
Reasons why I recommend this toddler garage toy
Manufactured from top-quality materials.
Extremely resilient.
Teaches the children new skills regarding using colors and keys.
Perfect toy garage for kids over 18 months.
Manufacturers recommended age: 12 months +
---
3. 4-Level Garage Toy for Toddlers from Matchbox
Your toddler will spend hours of fun playing with this!
Here, you will come across one vehicle for every single mission. In fact, this playset is going to fulfill your toddler's requirements in case their vehicle requires a tune-up, a top-quality carwash, or anything similar. There are several levels of different types of creative adventures. A full-on toddler garage toy!
You can easily send your vehicles through as many as four activity levels, turning around the spiral ramp, halting for filling up the fuel tank at any gas pump or reaching the summit using riding a crane on an elevator.
What will you find inside each box?
Every single box is going to consist of the following things:
As many as 4 activity levels including a gas pump, track, a genuine working elevator, crane, not to mention a spiral ramp as well
A 4-level large-scale garage that comes with easily identifiable real-world features and activities
It comes with a top-quality car wash for all their Matchbox vehicles and trucks
Service station for repairing the Matchbox automobiles
It comes with one single tow truck from Matchbox, which will provide lots of fun to the kids once they open the box.
Reasons why I recommend this toddler garage toy
It is properly designed and features easy-to-understand assembly
It does not require any batteries
Reasonably priced
Manufacturers recommended age: 36 months +
---
4. Wooden Race Track from Top Bright
This toy is very sturdy and awesome fun to play with!
This garage toy includes 4 Wooden Cars, 1 Toy garage for vehicles, and 4 Car Ramps.
The vehicles can be collected by your toddler on their own while preventing any loss of vehicles and also enhancing the sense of storage.
Montessori toys for toddlers are intended for kids aged between 2 and 3 years and help enhance the coordination of the hands and eyes, intrinsic motor skills and sharing abilities, and problem-solving capabilities.
Outdoor Playthings for 18-month-old toddlers – Vibrantly colored racing track sets help to attract boys and girls and keep them engrossed for hours.
This toy will help children to be aware of colors too. They can likewise practice their skills of counting;
The recommended age is upwards of 3 years.
Reasons why I recommend this toddler garage toy
It helps to develop hand-eye coordination of your toddler
Ensures 100% safety (certified with CPC and ASTM)
Manufactured from the best material available
Remarkable customer support
Simple to store
It comes with sturdy wheels
Manufacturers recommended age: 24 + (adult supervision under 36 months)
---
5. Little People Take Turns Skyway from Fisher-Price
Fisher-Price knows how to make toys that kids will keep coming back to! Time and time again…
This particular product happens to be the tallest Wheelies track set on the market that comes with as many as 3 different types of tracks, including one that can launch the vehicles into the air.
This amazing garage toy for toddlers from Fisher-Price will provide your toddler with plenty of racing fun. Likewise, they will learn how playtime can be transformed simply by taking turns. Good luck with that!
It will be feasible for the children to send their Wheelies vehicles zooming down the racetrack one at any given time while some fun phrases will remind them to begin taking turns.
They will start observing how it is possible to enjoy the game by being patient and taking turns. It will be possible for the children to use their creative skills to develop stories while playing with the help of easy-to-handle cars out there.
Their little hands will receive a fantastic workout while they grasp the cars and send them down the racetracks at a tremendous speed.
Reasons why I recommend this toddler garage toy
Will teach the children fantastic social skills
Will enhance their creative power
Children will adore the different tracks and the various sounds produced while playing the game.
The track is tall and amongst the most attractive out there
The toy is straightforward to put together, and this can be done within 30 minutes
Manufacturers recommended age: 18 months +
---
6. Nesting & Sorting Cars & Garages from Melissa & Doug
Another option here from the fantastic Melissa and Doug range! This time, it is a garage playset!
There are various innovative ways to play with this breathtaking learning set. From zooming the wooden vehicles, building with the help of blocks, matching the vehicles to their respective garages, and so on.
There are as many as 7 graduated garages out there that you can organize according to one's preference. They can also be stacked to construct a lofty structure that will provide lots of learning opportunities.
Simple and neat storage is not a problem!
Above all, each one of them will match one of the 7 stackable cars by color, size, and number, thus opening up limitless opportunities in front of the kids.
These toy garages will aid in developing proper hand-eye coordination for your toddler, and they will be able to have a sound concept of color, numbers, and size.
At the same time, their problem-solving abilities are going to be improved significantly. They will become more creative in the long run. These toy garages will be a fantastic gift from any child between two and four years of age.
Reasons why I recommend this toddler garage toy
The colors of the cars are vibrant and fun
The garages are quite strong and thick
It Will help to enhance the counting abilities as well as creative powers of the children.
These are absolutely safe for the kids, and they can use them without any risk at all.
Manufacturers recommended age: 24 months +
---
How imaginative play helps with Toddler development
By the term "imaginative play," I mean playing freely that encourages your toddler's healthy development. Here, we have mentioned some essential benefits provided by imaginative play at present.
A garage toy for toddlers will enhance imaginative play and help your toddler through an important developmental stage!
1. Social development
While participating in imaginative play, kids are actually experimenting with life's social roles. In fact, imaginative play can affect the development of the essential skills of a child. While playing creatively along with their buddies, children learn how to compromise and cooperate (hopefully).
2. Language development
Imaginative play will help children to expand their vocabulary. Kids can also experiment freely with different words in their own time. There is no risk of feeling embarrassed in case they mispronounce these words.
3. Physical development
Children will be able to express themselves both verbally as well as non-verbally using imaginative play. They will be able to use their muscles as well as their senses to achieve this.
Working with different art materials will enhance their motor skills significantly along with their hand-eye coordination.
Moreover, their gross motor skills will be stimulated if they are encouraged to participate in dancing, large construction projects, or mutual painting.
4. Thinking abilities
The mental development of children is enhanced by imaginative play to a great extent, and they will learn how to think and solve problems effectively.
5. Emotional development
Last but not least, imaginative play will help your toddler to express positive as well as negative feelings. They will also be able to get the better of difficult emotions through their improved understanding.
---
Conclusion
In this post, we looked at 6 of the best garage toys for toddlers. Each one of the options is robust and enjoyable, built for toddlers!
It is essential that you provide your toddler with proper playthings that will keep them engrossed for hours.
The toy garages mentioned above will enable your toddler to develop in the best possible way. They will also enhance vital life skills!
Your toddler will have the opportunity to play with various models and imagine various scenarios like a race, a trip to the garage, a crash, and so forth.
Hopefully, the 6 best garage toys for kids mentioned above will help you pick the appropriate plaything for your toddler! One they can use for amusing themselves healthily and creatively.
Good luck!