Suddenly…it is the end of the pregnancy.
How did it happen this quickly! Hopefully, you've done all the dad prep work.
As dad realizes that the trip to the hospital is any minute now, it hits him, 'What do I put in my hospital survival kit???'
Mom has probably already organized hers. That is what moms do…
DadGold recommends…
Diaper Bag Backpack – Perfect for the hospital!
This backpack is a great choice for the hospital. Not only that, it will serve you well during the first few years too…
Everything that Mom needs will be covered, both for her and the Baby. But what about you, Dad? What do you need in your 'Dad hospital survival kit'?
My recommendation is, instead of wedging your stuff into mom's hospital bag, you should smash childbirth like a boss and take your own!
As soon as you pack your hospital bag, put it next to Mom's, and you are ready for the call.
It doesn't matter what time of the night or day!
It is worth doubling up on a few things, such as clothing! I spent 3 days waiting for my Son to appear.
As soon as you have your kit ready, you can settle down and prepare for the childbirth!
Hospital Bag Checklist For Dad – The Survival Kit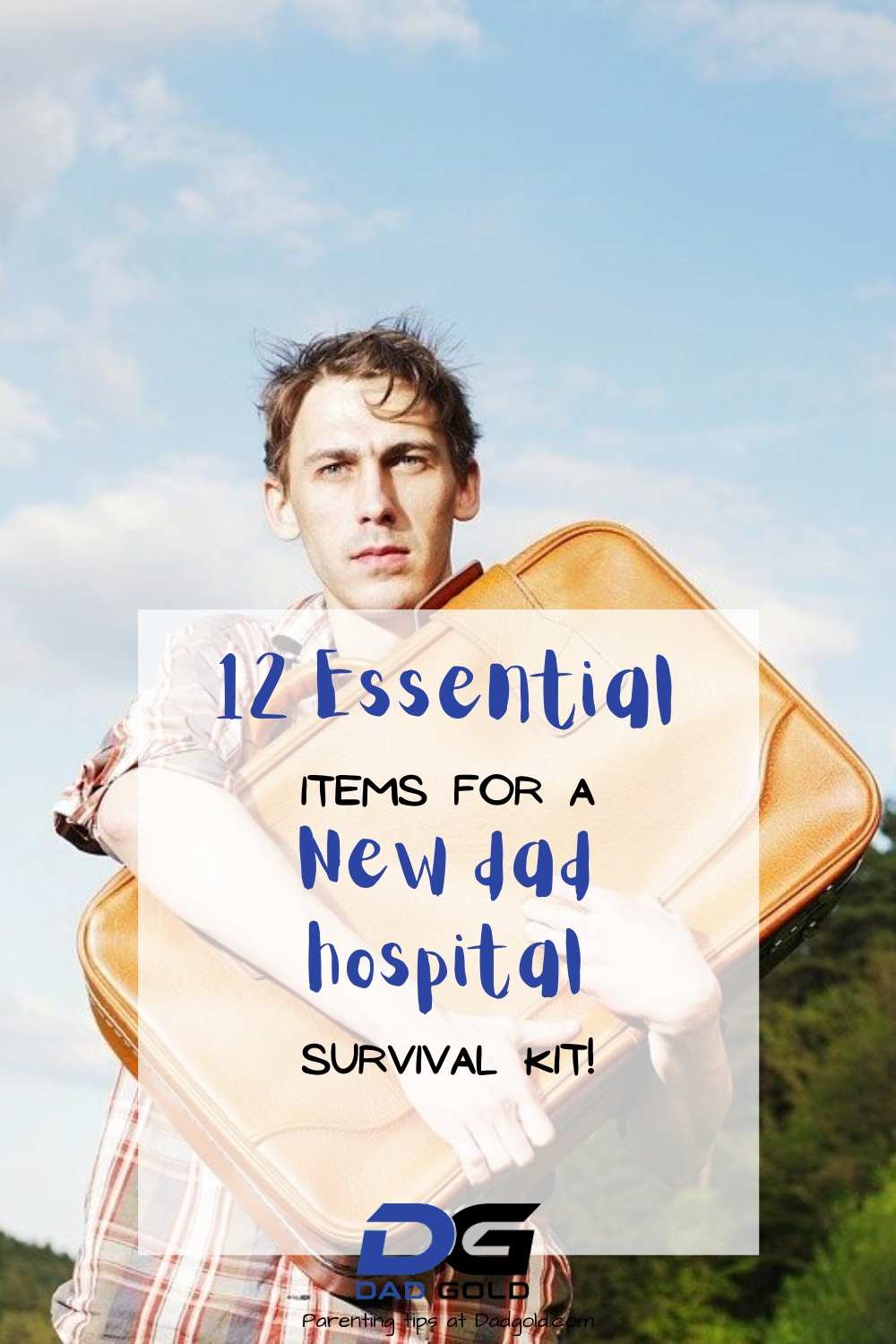 ---
Hospital Survival Kit – The Bag
First up, Dads, if you don't have a bag for your hospital survival kit, you need one.
My recommendation is actually a laptop backpack! This Diaper Backpack is perfect for a Dad hospital bag!
This is my recommendation because of how it is sectioned, and more importantly, it has a padded section for more protection of your technology!
It is high quality, secure from pickpockets(With hidden pockets for valuable), and is fully waterproof, just in case it is raining on your way in…..
What Dad Needs In His Hospital Survival Kit
---
1. Headphones
Use your headphones sparingly. The following reasons for listening to music or catching up on your favorite TV shows are frowned upon:
Because your partner is making too much noise due to the pain.
To drown out the noise, the heartbeat machine is making.
Because you are bored.
You are there to make sure your partner is as comfortable as she can be during childbirth, so get involved and buy into the job role!
The only time I listened to music was when the pain from childbirth had subsided, and my wife was getting some well-earned shut-eye. Although I only managed 2 or 3 songs, the break was magic.
Sometimes, there is a lot of sitting around, waiting. Having some music or TV to watch on your phone or tablet is a great time killer.
Also, after the birth, your partner and child might be asleep, but you are still buzzing from the adrenaline! You will need something to do.
Headphones also need to be in your partner's bag too!
---
2. Food
We are MEN. We need to eat!
There are some food choices in most hospitals. They may have a restaurant, and they may have a shop….or even a few snack machines scattered about.
If birth is 'not far away now,' you want to be right where the action is. Imagine it, you pop over to the restaurant for a bite to eat, and it all happens when you are away!
I would be devastated.
A recent study has linked tiredness to bad eating. Basically, when your body and mind are tired, it craves the worst kind of food. My advice is to listen to your body. It knows what it needs, so feed it.
Every hospital bag MUST have Chocolate or candy in it. The sugar is your friend! Unless you have diabetes, of course.
You will pay a small fortune in the snack machines if you are at the hospital for 3 days with limited sleep!
Other good food options for your hospital bag are Protein Bars, water, and some gel recovery sachets. These are fantastic for a quick energy boost.
---
3. Change Of Clothes
For me, I needed 3 lots of clothing to change into! For some Dads, you won't even need another pair of underpants…
You never know how long you will be in the hospital for, and it is best to be prepared.
Unless you live pretty close to the hospital, you will want to take at least 2 days' worth of clothes with you.
Some births take a while, and some are quick. Although they are quick, some births may be difficult, and your baby and/or partners need to stay in the hospital for a few days after childbirth.
That is a good time for you to disappear to get more clothing….and to get a good night's sleep!
I mentioned above; I needed 3 days' worth. That was just for the ACTUAL birth. They both had to stay back for 8 days before being released.
Luckily, as I lived only a few miles from the hospital, I could go and get some rest and a change of clothing, knowing I wasn't going to miss the birth.
---
4. Swimming Gear – For a Pool Birth
If you are going for a water birth, you will need clothing for it!
Stepping into the birthing pool in your underwear is frowned upon.
While we are with swimming gear, how much do you want to see? Is it worth taking a pair of goggles or a full-on face mask so you can see whatever you need to?
Leave the snorkel, flippers, and wet-suit at home though that is taking it a bit too far!
---
5. Painkillers For You
Why do people pay a lot for painkillers? You have branded pain relief and non-branded pain relief.
IT IS THE SAME INGREDIENT!
On the first day of my wife's childbirth session, I developed a heavy cold. The symptoms were; a sore throat, blocked nose, headache.
I needed some pain relief….and they wouldn't give me an epidural for my head, despite my begging for one!
I took a stroll to the shop – what was the only option? Branded tablets, awesome. Not only that, the mark up was even higher than the supermarkets. Even still, I needed them, so I bought them.
It isn't a great deal of money, but you can still save some cash by packing some in your hospital bag. That way, you can keep the change for the snack machine!
---
6. Chargers
If your house is anything like mine, there will be at least 4 cables in each room, including the toilet….and at least 2 plugs!
If you do not have any spare, then order some more in preparation. Here are the two most common cables:
USB-C – For newer phones, such as Google Pixel 3 and the latest Samsung phones.
iPhone/iPad – For iPhones and iPads, obviously!
Micro USB – The generic cable for most Android phones/tablets.
What is the difference between Micro USB and USB-C? If you can only fit the cable in one way, you have a Micro USB. If you can turn the end of the cable over and it still goes in, that is a USB-C.
In the build-up to the big day, slip a couple of cables and a couple of charging plugs into your hospital bag. While you are at it, slip a couple into your partner's hospital bag too!
What about other chargers? Do you have a smartwatch? Are you taking a laptop? Do you need a charger for your camera?
Make a checklist for chargers, and make sure you have one of each in the bag before the waters break, and you need to rush off quickly.
Do not rely on having ANY time to prepare for the day.
---
7. Camera
Although most mobile phones and tablets have excellent cameras, you may like me, have an entry-level DSLR prepped, ready to record any special (or funny) moments in better quality.
Make sure it is packed, and make sure you have packed enough memory cards and spare batteries (including chargers!).
If I were to find myself with the need to prepare a hospital bag again, I would take my laptop with me, along with my DSLR. Why? Because I would like to back the photos up, or maybe edit them on the fly to send them off to family members!
You might not have a lot of time when you get home, so take advantage of any downtime you have in the hospital.
---
8. Neck Support
This is totally for comfort! The 15 minutes sleep I got during childbirth was on a hard leather seat. I had nothing to support my neck!
Thinking back, it was lucky that I only managed 15 minutes of sleep! Any more than that, and I may have woken up with a sore neck….take one of these support pillows with you. They are small and cheap.
You could go full-on and take a blanket with you too, but I just stole one from my wife's bed. She had plenty.
---
9. Money
When I say money, I am talking about change more than notes. You may need change for the:
When you are hungry and run out of the food you already packed, the options are the restaurant or the snack machine.
A snack machine will be closer, and you don't want to miss out on any of the action!
Car parks can be a spare change draining machine. Seriously, if you spend long enough at the hospital, the money will be hemorrhaging out of your pocket!
Ensure you have enough change, or better still, invest in a day ticket if your hospital does them. Then you will have more coins for the snack machine!
---
10. A Present
I made a HUGE error when my Son was born.
This is something I SHOULD have put in my Dad hospital survival kit FIRST!
I never bought my wife a gift – called a Push Present – for when the baby arrived!
Worst. Husband. Ever.
To make matters worse, I suggested my Son was enough of a present. Why should she need anything else?
Looking back on it now, and as I remember her laying on the bed, looking like she has gone through 12 rounds with Mike Tyson, followed by a 6-year stint in World War 3 (on the front line), I may be……possibly…….potentially should have bought her a push present.
I truly hope my wife isn't reading this.
I was very tempted to write an article on the best push present gifts to buy a new mother, but she would actually castrate me.
So I thought I would sneak it onto the back of these tips hoping she will never read this far down the page.
---
11. Technology
You have headphones….it is the first on this list….now you need something to plug them into.
In reality, this is probably the first thing you think of putting into a hospital bag for Men! Just…..because we are Men!
Your phone is likely to be in your pocket, so there is no need to put that in the bag, but you will need to put your tablet in there!
If you do not already have a tablet, I thoroughly recommend you buy one! Not only will it be handy at the hospital, where you can both relax and watch a movie (if you have time), it is the perfect time to buy a tablet.
Let me explain:
Buy a tablet for the hospital bag, and then in 1 1/2 to 2 years, you will want another one….how do you convince your partner that you need another tablet? Simple….you give this tablet to your Son or Daughter!
They will absolutely love it.
When you eventually give your Toddler the tablet, make sure their time is limited on it. Although it is an excellent tool to teach your kids technology, counting, reading, and conversational skills (It is amazing what they pick up from YouTube!), they need to be spending more time with manual toys, like building bricks. Toys that are going to use their imagination.
Anyway, I digress…..put a tablet in your hospital bag!
---
12. Toiletries
Your child's first impressions of this world are crucial. Once they get past the look of the midwife, he might get passed over to dear old Dad!
You don't want their first smells of this world to be from your armpits, sir!
Be clean and fresh! Make sure you load your bag up with the essentials:
The basics, but they are needed…..
Conclusion
So there you have it, those are the 12 things I would add to a Dad hospital survival kit.
I have been through it, and I know the kind of things you need to keep you entertained, relaxed, and maintained throughout the birth, as your partner screams in agony.
I'll repeat it. It is imperative to remember number 10 on this list! It scores you some serious relationship points!
Can you think of anything else that should be in this bag? Did you take something that really helped you out during childbirth? If so, please contact us, or leave a reply below, and we may even add it in!
Good luck with the birth! Look after each other.