Dad is nervous.
He doesn't know what is about to hit him. But it will hit him like a steam train of noise, emotions, and cost. He is in the midst of prepping for fatherhood…
He needs a gift, big time. With that in mind, in this post, I am going to take a look at 10 awesome expectant father gifts!
I've been there before, the expectant father. And although I was pretty cool and laid back about the whole thing (sure), I still wanted to be showered with gifts.
I am only human!
---
Gifts Ideas For An Expectant Father
---
Expectant Father = Stressful Times
You have to look at the situation they are in and then find gifts to help them out.
I have already covered a few gifts in the new dad's survival kit. The gift ideas in that post and more for AFTER the birth. This is specifically for a man who is just about to be promoted from being a man to being a Father!
---
What is an expectant Father going to need?
Before you say it, time machines do not exist. Nor do buttons that when you press them, time is paused, and you can go to sleep for hours without affecting 'normal' time. I know it sucks, but I am dealing with reality here—a harsh reality.
---
What has an expectant father got to deal with?
Emotional Wife? False alarms? Shopping for baby stuff? Worry?
When you buy a gift for a soon-to-be father, you need to bear the above in mind. Having been there, done that…I believe I am in the best position to pass on some advice!
Let's crack on with the list…..here are the 10 items that I would love to receive when I was an expectant dad!
10 Awesome Expectant Father Gifts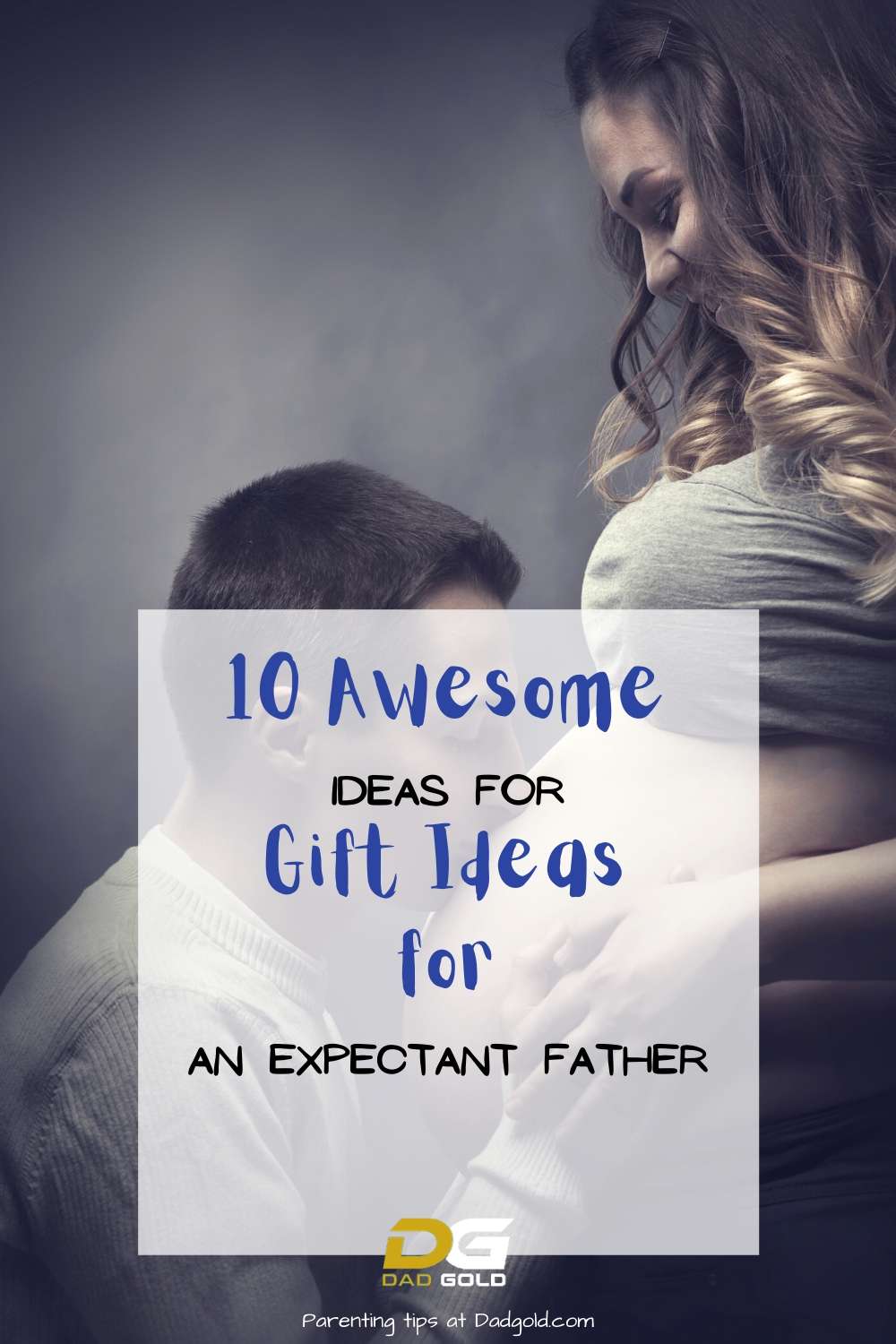 ---
1. Learning Material
Make sure he gets some reading in before the big day!
I mention the following book in my new dad survival kit post, and it also mentions in my post about surviving the terrible two's.
It gets so many mentions because it truly is a fantastic book for preparing yourself for being a dad!
The book is called Pocket Commando Dad, and it is written with dads in mind. The writing style resonates with me and my daily challenges of not messing up.
Neil Sinclair (The Author) also has a book out to help prepare new dads for the build-up to the birth. This book is called Commando Dad: Advice for Raw Recruits: From pregnancy to birth. I must admit, I have not read this book, but if Pocket Commando Dad is anything to go by, it is well worth a read!
Also – you should consider giving dad a gift to read to his baby while still in the womb!
---
2. Vouchers
The only time I love shopping is when I am buying something for myself. Selfish, I know!
Even then, I know what I want, and I know where to go to get it. I'm in the shop; I pick it up, I pay for it, I leave the shop. It is too easy.
When shopping for baby things, none of the above applies.
You kind of know what you want, you kind of know where to get it. When you get there, there are too many options. Not only that but the marketing material is also designed to pull at the heartstrings! You've lost the battle before you get in the car.
Give him a hand and get him some vouchers. Pick a store where you can buy items for babies and get some vouchers.
At least then he knows where he is going, and he knows that he has to spend them in that shop.
Even online, check out stores that sell equipment for babies (strollers, monitors, thermometers, etc.) and get him some vouchers for that. Then he will not have to spend days looking around baby shops, AND he can buy what he needs from home!
---
3. A Neck Pillow
During childbirth, I spent around 15 minutes asleep on a hospital chair. It was not the most comfortable or the most refreshing sleep that I have ever had!
It was uncomfortable, it was too short….and all I could hear was my wife dragging away on the Nitrous Oxide!
After the childbirth, my wife and son spent 8 days in the hospital. I spent my nights swapping between the chair and the cold, hard floor.
A neck pillow would have made it so much easier!
Not only for the birth itself but afterward, when we were back at home. When you have a newborn baby, you will need to sleep when and where you can. A neck pillow will be the reason why he wakes up without a sore neck!
---
4. Medication
Yeh, OK, it may sound strange but trust a dad!
He will need to be stocking up on medication for home when the new baby is here.
Lack of sleep and a little additional stress might result in a few more headaches for him. The next 2 years of his life will also be full of colds/sick bugs; you name it!
The type of medication I am talking about here is regular, over-the-counter painkillers. The type you take if you have a headache or the flu, not the strong stuff that can be addictive!
---
5. Multi-Vitamins
Keep him topped up with essential vitamins because having a newborn baby can result in erratic eating patterns and even skipping a meal! In terms of picking gifts for soon-to-be dads, you should be thinking about his health too.
It is really important to keep him functioning and keep him healthy because now he has a baby to bring up!
By giving him a long supply of multi-vitamins, he will not be missing out on his daily dosage of important vitamins, like:
Vitamin C – for a healthy immune system.
Zinc – for improved memory.
Magnesium – for a healthy heart.
---
6. Tools
The build-up of having a baby is a flat-pack, DIY nightmare!
I absolutely hate putting furniture up, but having the right tools would have made the job a hell of a lot easier!
Sure, you can blame me for having a screwdriver set that my dad gave me (probably from the '70s), but it would have been an awesome gift to receive a brand new electric screwdriver.
A cordless drill is also worth considering, but not as much as the electric screwdriver.
If it means he can get the furniture up quickly, it will result in a much happier partner too, so everyone is a winner!
---
7. Coffee Maker
My coffee maker is one of my very best friends!
It greets me in the AM with a fresh coffee and keeps me topped up until I leave for work.
I am a bit of a coffee snob and ensure I prep only fresh coffee…. which includes grinding the coffee beans right before it brews!
All he needs is a basic coffee maker! One can take ground coffee beans, take the water, and brew enough to last him the morning.
If he is a coffee snob like me, then you might want to get him a Bialetti Stovetop Espresso Maker. It is cheaper than the machine options, and it is the correct way to make a decent coffee….when you have time!
---
8. Baby Carrier FOR DAD
We are Men! I find that regular baby carriers are OK, but they are not that manly.
We love spending time with the kids, even when they are babies….they need to feel close to us too.
Kids need to have a close bond with their dad.
So many times, I have heard Mothers complaining that their baby 'only wants me, not their dad,' and I personally think that bonding with the baby when they are small will mean you can share the load between both parents.
Having a baby carrier that Dad likes will mean he doesn't feel emasculated, and it means his partner can take a break while they go for a walk together.
Win-win!
---
9. Alcohol Bottled This Year
A bottle of something alcoholic!
If you can get a bottle of his favorite alcohol bottled the year his child will be born, he can keep that for a special occasion (marriage, graduation).
Bear in mind, some alcohol will not keep for that long, but the best ones do!
Find out what his favorite alcohol is (spirits or Champagne works best for this) and get him a bottle.
---
10. Man Bag
Again, like the baby carrier, it will be cool if we could get a baby bag that doesn't make us want to leave it at home….the bag, not the baby!
Think functional, think man.
A baby bag with various pockets and definitely one that has a built-in or additional changing pad!
Seriously, I cannot emphasize enough how important it is to take a changing pad wherever you go with the baby. You never know when they are going to spring am emergency change on you!
If you can get a baby bag with changing pad, then it is a perfect choice and one that he will be grateful for, even if he doesn't know it yet!
---
Conclusion
So, there are the 10 gift ideas for the expectant father! There are some options in there that suit all budgets.
I urge you again to think of the situation he is just about to find himself in and think about what you can buy to help him out as soon as he becomes a dad.
He may not know it yet, but the gift ideas above will definitely help him in his journey.
By the way, I am not suggesting here that he has the most difficult job in the parental partnership! We know that giving birth is easily the worst bit, and we certainly appreciate that it isn't us that has to do it!
During my time as an expectant father, I had a vague idea of what to expect from being a dad, but nothing can really prepare you 100% for when it happens.
It is a journey and a learning curve that only experience will give you the answers for.
I am sure you will find some inspiration on this list, but you can always ask him what he needs if you are still stuck.
I am sure he can whip up a quick list of a hundred things he needs to buy!
Make sure you check with him first if you decide to buy something like a baby monitor, medical devices (If you need some inspiration for the best digital ear thermometer, check here.), strollers, or car seats.
When I was looking for these items, I wanted to only buy the ones my wife and I wanted.
Also – the build-up to becoming a new dad will definitely come with added pressure, both financially and mentally.
Please keep an eye on BOTH parents in the build-up to the childbirth (and after). If they look like they are struggling, please offer some help. Gifts for expecting dad are cool and all, but looking out for them is a lot more useful than any gift you can buy.
If you can think of anything on this list or have had a good or bad experience with any of the gifts above, please get in touch!
Good luck to you, and good luck to all of you 'expecting dads'!