Mom deserves most of the adulation, right?
After all, she has just been through the ordeal of childbirth, so you have to respect that.
BUT Dads have been through it too, albeit in a much, much less painful way.
What better way of showing Dad how great life is going to be now by kicking the next chapter off with a new Dad gift basket!
During my wife's childbirth, she definitely went through a whole world of pain and suffering.
For a start, she didn't get any sleep for 3 days. Then, right at the end, she had to push a baby through erm…well, if you don't know by now, I guess you never will.
But what about me?
No, I did not have to squeeze a baby out, BUT I also did not sleep for 3 days. I WAS there all of the time, at Mom's disposal for anything.
Time for Dad treats, surely!
Becoming a Father for the first time is tough, so let's take a look at the must-have items for a new Dad gift basket…
---
10 Items for a new Dad gift basket
Let's have a closer look at these 10 dad gift basket ideas…
---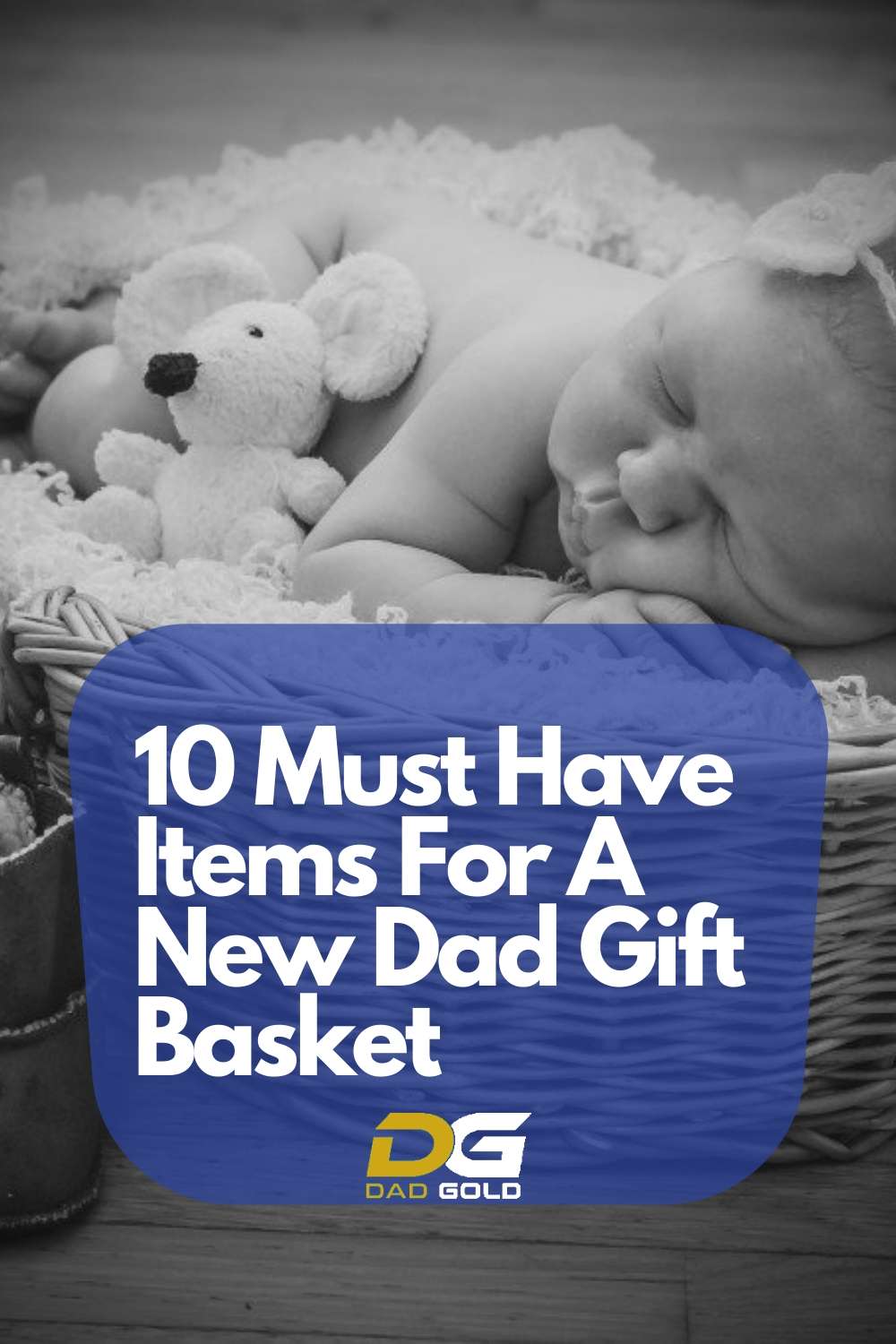 ---
A Card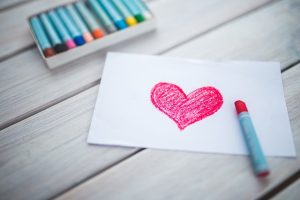 Yes – the card! Do not forget the card!
A card is the first item that should be in a new Dad gift basket because if he is like me, he will keep this card because of the sentimental value it holds.
The type of card depends entirely on the type of person he is. Does he like to have a joke (who doesn't!). Is he straight-laced?
Think about the type of person that Dad is and buy a card that reflects his personality.
If you have a photograph of the baby scan, then why not stick that in his card too? It is the first of many photographs.
---
Candy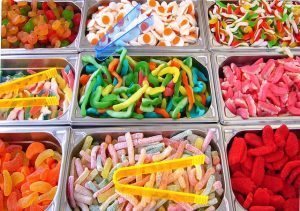 God yes, candy!
For a start, we need the sugar hit. After potential sleep deprivation (if the birth is anything like my son's) and knowing that he is heading straight into MORE sleep deprivation, sugar can be a friend.
What is his favorite candy?
It is such a simple present, but you know us Dads – we do love our candy…unless we are diabetic, of course!
---
Soft Toy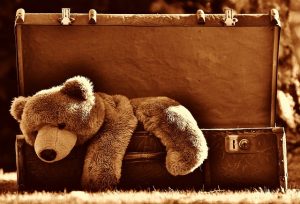 When you become a Dad, the bond between baby and Dad is immediate and sometimes overwhelming. Suddenly, you are responsible for a new person. It is your job to keep them safe, and you will do anything on this planet to protect them. All of that for someone you have literally just met!
A soft toy is a great gift that Dad has been given that now belongs to the baby. It will strengthen the bond. Bonding has shown significant benefits for long-term mental health, so Dad needs to begin creating and strengthening the bond with his new baby even before birth!
What is Dad's favorite animal? Think and get a toy the reflects him as a person.
---
Book For Dad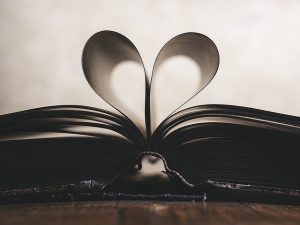 A Dad instruction manual goes a long, long way! I have already put together a list of top books for first-time Dads, so feel free to head on over there and take a look.
The top option in that post is called We Are Pregnant! the First Time Dads Pregnancy Handbook, and it also covers surviving pregnancy, so if you are looking for a good book AFTER becoming a Dad, then I would go for Pocket Commando Dad: Advice for New Recruits to Fatherhood: From Birth to 12 months.
Being a Dad can be overwhelming, and it is a good idea to give him a helping hand to help to lower his stress levels.
Knowledge is power, so arm him with the right advice straight off the bat!
---
Book For Baby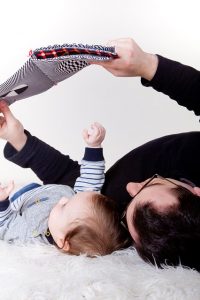 Now that you have sorted the book that will give him all the advice he needs as a new Dad, it is time for more Dad bonding material.
Reading to your newborn baby is a great way to strengthen an already tight bond. Add it to the fact that Dad is reading a story written ABOUT Dad will increase the bond even more!
There are many books available that tell a story about Dad, so why not choose one that you think he will love to read to his new son or daughter.
Oh, and a study by the clever folks at Harvard has shown that your child will develop a better imagination if Dad reads to them at night. You can't argue with that.
---
Letter From Baby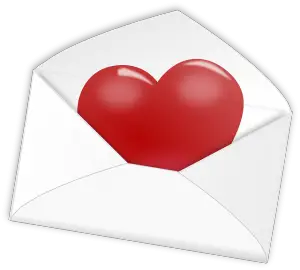 This item is going to be a tearjerker in an already emotional time for Dad!
Before birth, write a letter to Dad from the baby letting him know how important and loved he will be when they enter the world. Not only will this strengthen the bond between Dad and baby, but it will also reduce the possibility of Dad feeling useless when the baby arrives.
Tell him what the baby is looking forward to doing with Dad, let him know that the baby will be testing his patience. Use this letter to apologize for keeping him awake and making him go to work too tired to stand up straight. Tell him how much your baby already adores him and is looking forward to meeting him.
At the end of the letter, apologize for spending his money for the next 30 years too.
A letter from the baby is one of the best (and free) items you can add to a new Dad gift basket!
---
Photo Frame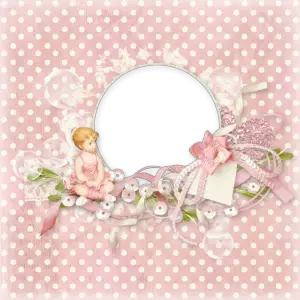 When I went back to work after my son was born, it was tough!
I was tired, I couldn't think straight, but most of all, I wanted to be back home caring for my son.
Before my son was born, I went to work to cover the bill payments at home. After my son was born, I went to work to buy him the things that he needed.
Every time I lost motivation at work, I would glance over at the picture frame present that my wife bought for me. Immediately, I would regain focus and carry on until I could leave!
When Dad is at work and he misses his newborn, it is awesome to have a picture at his desk.
---
Dad Baby Outfit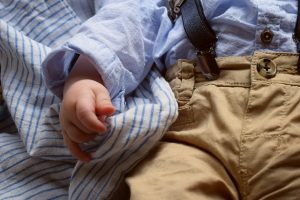 Does Dad like sports? Who is his favorite music artist/band? There are many choices when looking at new baby clothes, which is fantastic!
Buy a piece of baby clothing with one of Dad's favorite things, or buy an item that lets Dad know how much he is cared for.
There are so many options available! While I am on clothing, why not add in matching clothes for Dad and the baby? This is an awesome gift that will also help to build a bond.
---
Multi-Vitamins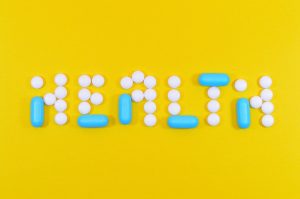 Lack of sleep can lead to a reduction in certain minerals and vitamins inside your body, and Dad's body is no different.
Not only that, but a lack of certain vitamins and minerals can cause insomnia, and when you have time to sleep, you need to get straight down to it!
Sometimes, when you are busy looking after a new baby, your eating habits descend into chaos, eating whatever you can whenever you can. This can lead to some poor eating choices. Before, you may have carefully considered what you are eating; you are now on the hunt for convenience food! This can impact the Dad's intake of the important vitamins and minerals that he needs to function well.
Why not add some multi-vitamins to a new Dad gift basket?
A good multi-vitamin will keep him loaded with everything that he needs to function. Dad needs to keep healthy and alert, especially if he has already returned to work!
---
Alcohol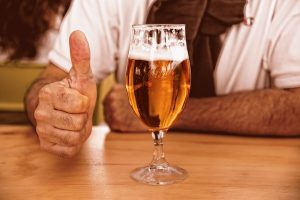 If Dad likes to have a drink to relax, then why not treat him to a bottle of his favorite tipple.
Mine's a JD please!
You have two options here: you could either buy him a favorite alcoholic drink or buy him a bottle of something bottled that year. That way, he can keep it for a special occasion, like graduation.
Personally, I pretty much stopped drinking when my son was born. All of a sudden, I realized that I needed to remain active.
If Dad does not drink much alcohol, then buy a bottle of his favorite non-alcoholic drink. I would have happily settled for a few bottles of root beer in my new Dad gift basket!
---
Conclusion
Like a survival kit, a new Dad gift basket is a very welcoming sight when you return home after becoming a new dad!
The 10 items on this page are awesome dad gift basket ideas that you should consider!
One of the most important things about becoming a Father is that your time is no longer your own. Having a newborn is very tiring for both parents, and time is a gift that we can give for free.
Think about what you can do to help the parents of a newborn settle into a new life as parents. Really think about what you can do for them that will help.
Finally, look out for both new parents in the early stages. As I said above, it can be tough, but it can be too tough for some. If you think that Mom or Dad is finding the task of being new parents too tough, then do not feel bad about discussing it with them and helping them to seek guidance and assistance.
Oh, and do not forget the basket to put the perfect gifts in!
Good luck!