Sharing is caring, so they say.
Does that extend to toys? Maybe not…
Although, if you are selective about the toys you buy, there is an excellent chance that you will find something that everyone loves playing with at the same time!
DadGold recommends…
Crazy Forts – Build You Own Den
This Crazy Forts den building kit is an awesome gift for kids to share! The den will give them hours of fun and will take teamwork to put it together too.
Finding toys for kids to share can be a challenge, so I took it upon myself to take a look and find several gifts for siblings to play together.
That way, they can enjoy each other's company, and you can reap the benefits of spending less cash and having fewer toys to trip over!
---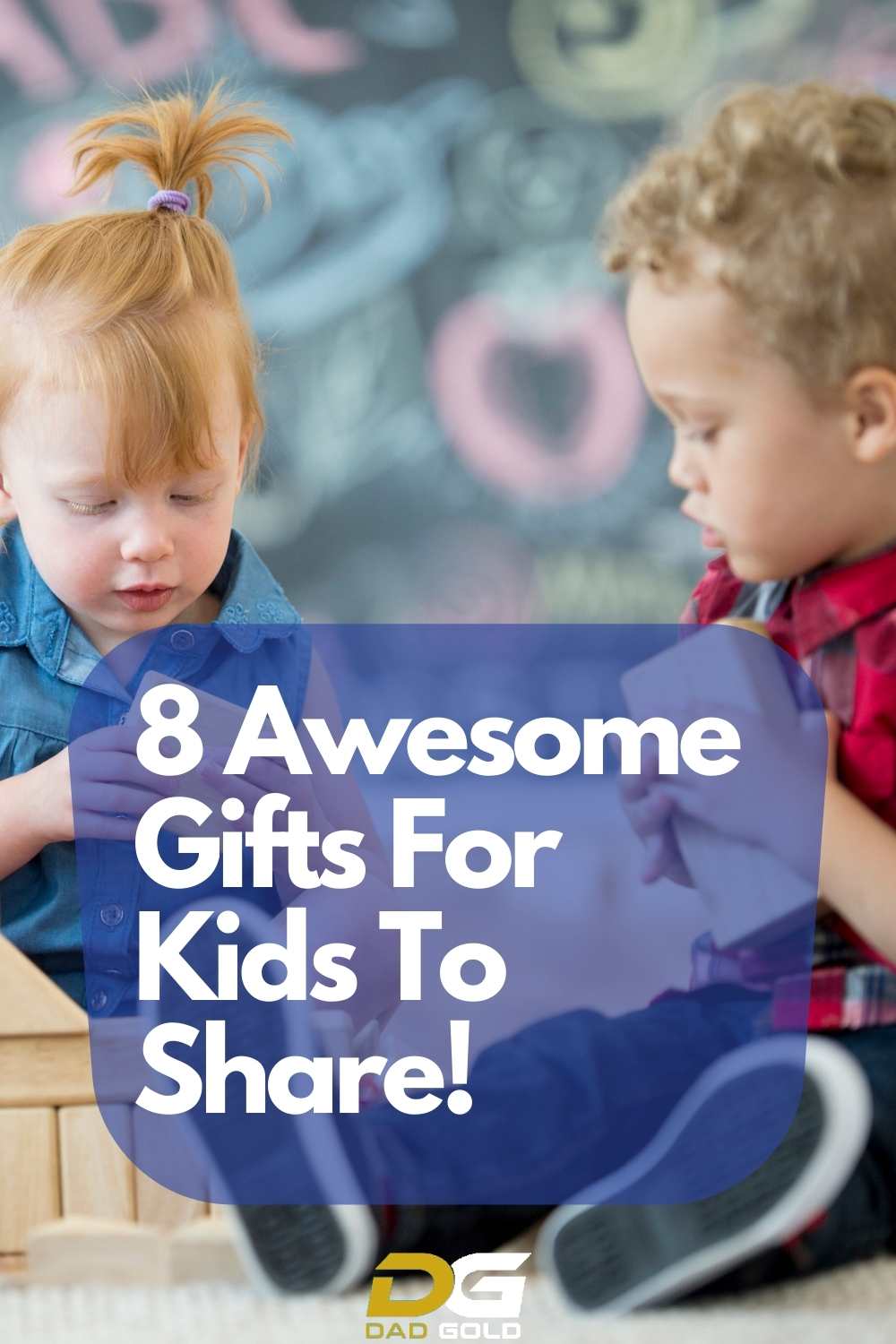 This list of ideas would make great gifts for kids, and each gift will help them develop strategies to share and encourage them to like spending time with their brother or sister or even their friends.
We ensured that every gift we offer as an idea to you would create the best sharing gifts your little ones could wish for and provide open-ended fun for a long time after opening!
---
1. Build Your Own Den
The fun thing with forts is that you cannot only build it together but also play in it together!
You can have hours of fun not only designing your own structure but by camping in it, eating your snacks in it, or for general role-playing.
One of the most fun gifts!
Crazy Forts is a perfect and affordable example of a sharing gift that will quash the sibling rivalry in toy-related arguments.
---
2. Lego
What can I say about Lego Classic?! For generations, Lego is still gaining in popularity and is one of the best engineering toys for kids.
Yes, many extensions of the Classic – Star Wars, Disney, and Marvel have all hopped on board, and many children can agree on those, but with these original bricks, it is hard to dispute how diverse they are.
What usually happens is not just a sibling sharing moment, but ever popularly, the whole family can become involved with building houses, towns, shop.. the list is endless.
And with over 700 pieces, there is bound to be minimal squabbling!
Of all the gifts, Lego is completely timeless and is one of the most awesome gifts for kids to share.
---
3. Crayola Art Set
With a Crayola tub like this, you are giving kids the possibility to create anything they wish. These crayons seem to last forever, and the beauty is, you can never have too many.
Remember – the more your kids have – the more they get to share!
With 240 in this tub, your kids can be using the same color with no problem at all.
If they aren't fans of coloring in pictures, they could use them freely, which is another reason kids love them.
A great way to also learn colors, count, and even learn some basic math!
---
4. Play-Doh
Play-Doh is the ultimate kid's creative experience. The possibilities really are endless, and they are safe to squish and roll to your heart's content!
These make a great gift for pre-schoolers and older children, so siblings are free to share and play together.
This set of 36 provides much fun to any day, rain, or sun! A great way to aid motor development and imagination as your kids squash, squish and squeeze their way through each color!
---
5. Basketball Set
Little Tikes has created a genius basketball set that creates hours of fun! The balls are smaller, lighter, and softer than usual basketballs, so very child-friendly, and siblings can join in too.
Kids love to play outside and this set is great for both fun and exercise.
It all encourages team sports and winning and losing, so it may earn them 'Cup Winner' status in your house after a game or two! I guarantee they will love this game!
---
6. Explorer Kit
This UTTORA Explorer Kit has something for everyone. Smaller siblings can use the magnifying glass and catch the bugs, whilst the older ones can work the compass and use the binoculars.
I love this kit because it can be taken on an adventure or used in the garden.
There are just enough pieces to keep the kids happy, but also, it is great for taking turns. 'You can use it for ten minutes, then we swap.'
Also fantastic for working together, and is a very reasonable price!
---
7. Play Tent
Show me anyone who doesn't love a space tent! What a fun way to link play with learning as well.
This particular play tent has an incredibly magical feeling.
One of the most innovative gift ideas out there, your little ones are bound to like it as soon as it pops up, and I feel is one of the best toys for siblings.
This makes for one of the best holiday gifts because winter is a dark time of year, so light up the tent and talk about our stars and planets!
---
8. Walkie Talkies
Walkie Talkies are one of the most fun toys you can buy your kids to share. They are a fantastic pass time for hiding in the house or garden, playing detective games, or for hide-and-seek!
What's not to love?!
You can take them to the beach or on vacation and are actually a fun alternative to mobile phones if you are out on a day's adventure and the children have these (as long as you stay within range).
---
Benefits Of Sharing Toys Between Siblings
Sharing is a vital life skill. The earlier it is learned, the more susceptible kids become to the art of giving and taking in a way that benefits all.
Children learn fairness and patience, not to mention how to play together, as siblings should be able to do with ease.
Environmentally, sharing presents helps reduce waste, consumption, and energy use. Less space in the house is consumed, and it will do wonders for your carbon footprint.
Help your children build strong relationships and spend less cash too!
---
What Research Says About Sharing Toys
Research has been proven to suggest that fewer toys lead to children having a more enriched experience in their play, having more time to explore each toy they have in-depth.
This is a fantastic tool for developing imagination and compassion for what they have.
Quite often, what too many toys can do is blur a child's ability to focus on one thing for longer than a few minutes before being lured by something else in their near vicinity.
By taking away so much choice and leaving them with valuable and diverse toys, they will more often than not be able to concentrate fully, promoting a very healthy way to play and share with their siblings.
---
Conclusion – Toys To Please All
When it comes to sharing toys, basic is better. Stick to non-gender toys that both siblings can share, love, and have fun with and toys or activities with more than one way of doing them.
Whether they be gifts for brothers to share, gifts for sisters to share, or for both genders to enjoy – you cannot go wrong with this foolproof, kid-friendly list!
If you can, try to stick with roleplaying options, such as pirate toys for toddlers… they love these toys!
Good luck.