If you are a wife looking for gift ideas for a new dad then you have come to the right place!
Before writing this article, I took a little while to think about the gifts I would have liked to have received from my wife when I was a new dad, and I am confident that each of these would have been extremely useful.
When putting this list together, I thought about the importance of creating a solid bond between the new dad and his baby. So it is vital for the baby's development and the new dad's sanity that the bond is strong!
Some of the items on this list are purely to build a bond, and some of the items are just TOO useful to leave off.
10 Awesome Dad To Be Gifts From Wife
---
Photo Frame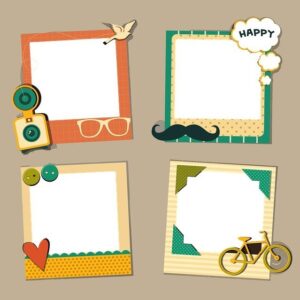 When my son was born, I was lucky enough to receive a frame with his photo.
During those tough times at work, I would look at the picture and realize who I was doing this for. The photo gave me some focus and encouragement when things got busy at work.
It will give dad some focus, but it will also act as a conversation point for other parents at his place of work. Other parents in the workplace will provide advice and support because they have been there before.
A photo frame is a very simple, low-cost gift for a new dad from his wife, or from anyone in fact.
Always ensure that you take plenty of photographs during the pregnancy and after birth. Use these photographs to create a montage for his photo frame.
---
Learning Material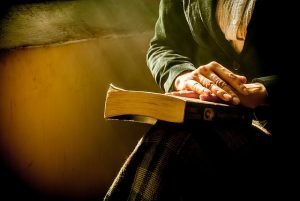 It can be overwhelming when a new dad is handed his baby for the first time. Here is a brand new person you need to look after and keep safe. Without knowledge, dad may struggle at first.
If a new dad begins to struggle, he can learn to withdraw from fatherly duties, making him feel useless or left out.
Arm the new sad with some knowledge BEFORE the baby is handed to him.
Preparation is vital!
Before my son was born, I attended first aid and birthing classes. I also read several books to arm myself with knowledge. Of all the books I read, I recommend Commando Dad. The reason I liked Commando Dad is that I love the way it reads.
Us dads are pretty practical, and it is much easier for us to learn when there is an element of comedy in what we are reading.
Commando Dad has both!
Check out these excellent books for a new dad if you need more inspiration.
---
Kids Book About Dad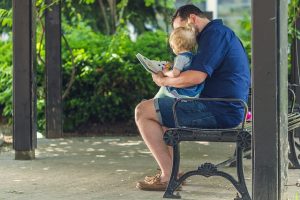 A bond between dad and child is essential and needs to be in place from the beginning. There are quite a few items in this post that will kick start the bond between a new dad and his baby, and a book is one of them!
Studies have shown that a dad reading to his baby has a vast developmental benefit (sorry, moms). So why not help dad build a bond with his new baby by getting him a book that he can read at bedtime?
A strong bond between dad and baby will stop dad from feeling useless and help avoid paternal postpartum depression.
Make it a funny story, like the Dinosaur That Pooped Daddy!
---
Baby Carrier For Dad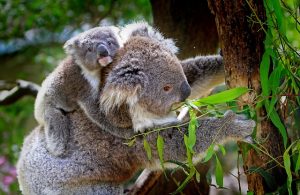 A baby carrier is an item that will strengthen the bond between new dad and baby and will also stop dad feeling left out! Buying dad a baby carrier just for him means that mom can take a break when you are out for a walk.
You may already have a baby carrier in mind, which is also an excellent option for dad. BUT, if you want dad to feel important, then why not buy him his carrier?
A personal favorite of mine is the BabyBjorn Original Baby Carrier.
A baby carrier has some excellent benefits! They help build a strong bond between parent and child, but they also get dad and his new baby out in the fresh air.
If dad has a bad back, there are some baby carrier options too!
---
Baby Changing Kit For Dad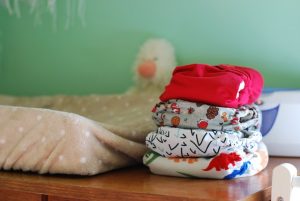 When my wife was pregnant, we looked at various items to buy, making our lives easier when we were out of the home. A baby changing kit was right at the top of the list.
Unfortunately, I left my wife in charge of ordering whichever one she wanted. I was a little disappointed to see a flowery baby changing kit; it was not very manly!
In hindsight, I should have been more involved in choosing the baby changing kit, but hey, I am not precious, and I used it every time I took my son out.
A manly baby changing kit is an excellent new dad gift from his wife!
---
Dads Own Baby Bag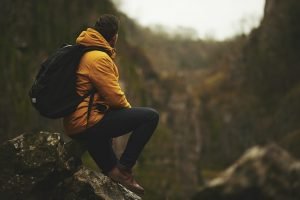 You can go one step further from the baby changing kit above and get dad his baby bag!
Baby bags are very functional and vital if traveling with a child. But, what if you are a dad and the only option is a baby bag designed with a woman in mind?
I have witnessed poor dads carrying designer handbag-style baby bags! So do him a favor and buy a baby bag that has been designed with men in mind.
The baby bag needs to be functional, comfortable, and big enough to carry everything a new dad needs when looking after his baby.
A personal favorite of mine is this functional baby bag.
---
T-Shirt
A new dad T-shirt is an excellent gift that his wife can buy him!
There are so many options available, and some of them are very funny, and some are pretty crude too!
Take a look at some of the new dad T-shirts available and pick one that suits his style and sense of humor.
---
Matching Clothes
While a T-shirt is an excellent gift, you could go one further and buy matching clothes for him and his new baby!
Again, it is best to look out for some matching clothes that fit his style and sense of humor.
---
Tools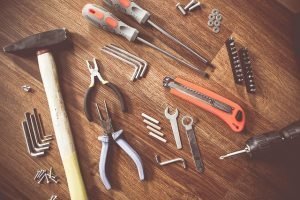 Toys, swings, furniture. Suddenly, dad's life will be full of things to build.
It begins in the buildup to childbirth when dad will need to build all of the furniture required to host a new baby, but it does not stop there either.
As they grow, dad will need to build and fix many items around the home!
Christmas changes completely! Now, dad will spend much of Christmas morning putting together a host of new toys. Prepare him now by ensuring he has the correct tools to complete the jobs.
I would cover the following items:
Another terrific option is a magnetic wristband. I was halfway through writing this article when I was called away to build a breakfast bar! I dropped a screw 4 times before searching for the answer; a magnetic wristband!
---
A Break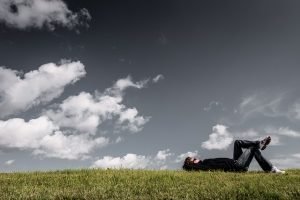 Hey, this one is free too! Give him a break!
I do not mean a break away from home.
During the pregnancy, he has probably been through a lot. Your fluctuating hormone levels have driven him crazy. He has been swamped preparing the home for the new baby's arrival, and he is tired. Mentally and physically.
Before I carry on, I know that mom is going through something much worse than poor old dad. Carrying a baby for 9 months before the agony of childbirth has been through, and we are eternally grateful!
Dad needs to let off some steam to stop him from becoming overly stressed. If you are the wife of a new dad, check in with him to see if he has had time for his hobbies. If not, help him to make time.
A less stressed Dad will be much more helpful than a dad who is overwhelmed and stressed out.
There is a danger that extra stress for dad could lead to paternal postpartum depression, making mom's job much more difficult.
---
Conclusion
I am confident that the 10 items above are fantastic gift ideas for a new dad from his wife!
As I mentioned at the beginning of this post, before I started writing this post, I thought of the 10 items that I would like to have received from my wife when I was a dad.
Every one of them would have been beneficial to me, and I can guarantee that.
The most important thing that a wife can do for a new dad (It is not what you are thinking, by the way!) is to keep an eye on him. He will (or should be) keeping an eye on you. You must keep an eye on each other to spot the early warning signs of postpartum depression!
Good luck with choosing your gift!