Have you introduced your little one to ABCs yet?
Now is the perfect time to do so, and we have the best ABC toys for toddlers to help you with that.
Believe it or not, at that young age, your toddler is already a knowledge sponge. At any given time, his/her mind is soaking up lots of information from the environment.
And while that's a good thing, it would be even better if you introduced some meaningful learning in the form of ABCs and probably 123s.
DadGold recommends…
LeapFrog Dino's Delightful Day Alphabet Book
Help your toddler to learn their ABCs with the educational toy from LeapFrog!
Those two are the building blocks of language and literacy.
We're talking about introduction here, not classroom teaching or lecturing. So make it as fun and enjoyable as possible. How? By using ABC toys for toddlers.
These invaluable playthings offer toddlers alphabetical letters that they can see, touch and feel. They are often colorful and come in varying sizes and shapes. That's how they manage to build interest and encourage the child to play (and learn) for several minutes or even hours. An awesome learning toy!
At the end of the day, your little learner will have a solid foundation for reading and writing. Perhaps more importantly, he/she will master the skill of proper communication from a very young age, including letter sound!
If you want to have the most fun out of the whole process, make sure you only choose the best ABC toys for toddlers. Here are the top picks to keep in mind as you shop for educational toys:
---
5 Best ABC Toys For Toddlers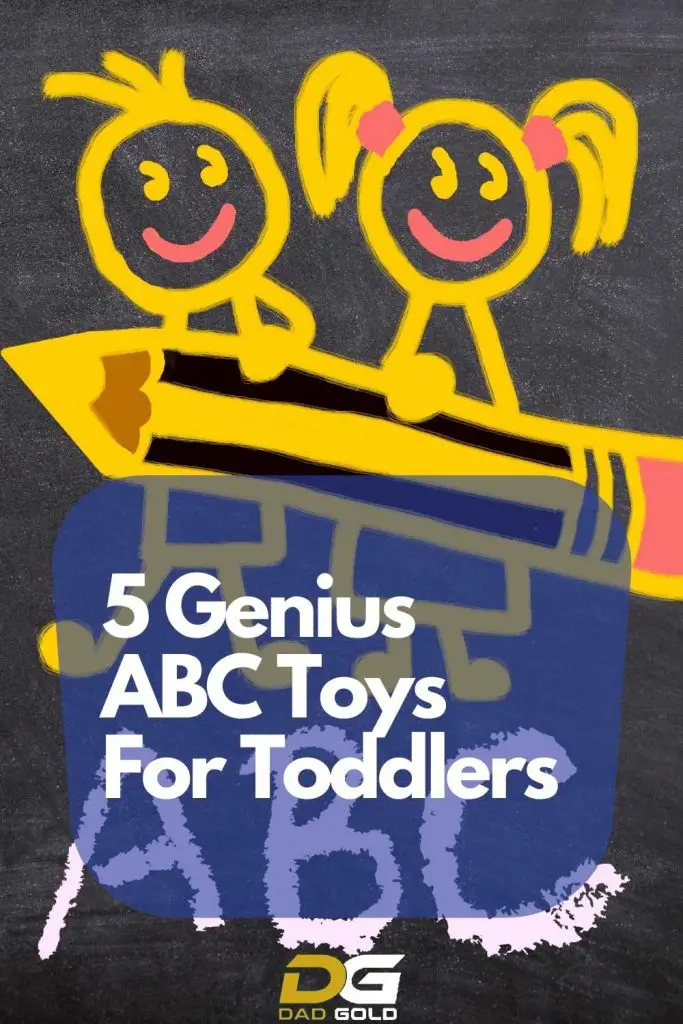 1. LeapFrog Dino's Delightful Day Alphabet Book
This is one of the most awesome ABC toys for toddlers! We all know that toddlers don't have the longest attention span. The good folks at LeapFrog understand that more than anyone else. It's no surprise that their Dino's Delightful Day Alphabet Book is one of the most colorful and interesting ABC toys for toddlers.
In addition to letters and words, this 16-page book has numbers as well, albeit only 10. Still, your little champ will learn how to recite the alphabet, pronounce some basic words and count from 1 to 10.
Reasons to buy the Delightful Day Alphabet Book.
The ABCs: over its 16 pages, this colorful book covers all the alphabet letters alongside their phonic associations. So, in addition to identifying letters, your toddler will learn how to pronounce things like apple, banana, cup, and so forth.
Numbers: it's never a bad time to introduce your toddler to counting. You can do that easily with this ABC toy because it has numbers as well. They run from 1 to 10, which is pretty much enough for 2 years or younger kids.
Story: the entire book is a story that you can read out loud to your child. Storytime is bonding time with your little one. And you can do that while teaching him/her a few things about Dino and other illustrations in the book. For example, it provides the perfect opportunity to teach your baby that apples and bananas are healthier than sweets and chocolates.
Music and sounds: when letters and words start to get boring, you can switch to music and sounds. There are tons of catchy and memorable tunes in the toy's "Music Mode."
Durable: Dino's pages are made of cardboard that's covered with a glossy coating. They're not only pleasing to the eye but durable as well. Your only task will be replacing the 2AA batteries when they run dry.
---
2. Battat Hide & Seek Alphabet Pop-Up
As far as alphabet toys go, the Bettat Hide and Seek is one of the best!
In addition to the usual A to Z (with their phonic illustrations), the Battat Hide & Seek Alphabet Pop-Up board has numbers, shapes, colors, and images of some common and basic things.
The design is simply genius. Each flap is a pop-up with something educational on the other side. For example, when your toddler pops up a letter, he/she will see its lowercase on the other side. When he/she opens the flap with 6 apples, he/she will see the number 6 (which is their total count) on the other side. It's pretty comprehensive, I must say.
Reasons to buy the Bettat Hide & Seek Alphabet Pop-Up.
Alphabet: it's an ABC toy because it has the entire alphabet from A to Z. Each letter has a phonic. You can have some fun singing "A for apple, B for a bird, C for cat" with your toddler.
Numbers: the numbers run from 1 to 10. But they're hidden under the flaps, so you and your young learner can pop the flaps to reveal. On top of the number-flaps are images of some common and basic things like trees and kittens. Once you count the 4 kittens, you can pop the flap to unveil the number 4. That's how your toddler learns how to count and identify numbers at the same time.
Shapes: there are 4 basic shapes – circle, square, rectangle, and triangle. You can introduce your toddler to these when he/she reaches 2 years. The knowledge of shapes will help the child identify, organize, and process visual information over his/her life.
Colors: on the fourth row of the board is a list of 10 colors. They include red, blue, green, yellow, grey, and several others. Needless to say, there's so much that your child can learn from these, apart from simply identifying each color from knowing a thing or two about traffic lights to be able to identify which color bin is for recyclable garbage and which one is for compostable stuff.
---
3. CozyBomB Magnetic Wooden Fishing Game
Not many ABC toys can match the CozyBomB Magnetic Wooden Fishing Game Toy for Toddlers in terms of pure creativity. Here you get a combo of pretend play and learning.
How so? It's basically a find-the-fish game where your child tries to pick up a fish from the "pool," except instead of actual fish, he/she gets to play with alphabet fish. It's a complete set with 26 letters of the alphabet, a wooden imitation of a pool, and two fishing rods with magnets for picking up letters.
Up to two kids can play with this ABC toy simultaneously. And when they're tired of picking up letters or spelling words, they can identify the various colors used to make the pieces.
This is one of the most fun ABC toys for toddlers!
Reasons to buy the CozyBomB ABC Game.
A fun way to learn ABCs: you can tell your little one to "fish" a particular letter, pick letters in a certain order or pick letters that spell a certain word. Either way, he/she will enjoy the "catch a fish" game, and don't be surprised every time he/she yells out the letter that he/she picks.
Make-believe: this is one of the best ABC toys for toddlers who enjoy pretend play. All of them do, but if you notice that your little one goes bananas over role-playing, then you absolutely need to get him/her this toy. You can spend time playing with him/her, or you can let him/her enjoy it with other kids. Regardless, he/she will learn the alphabet as he/she "fishes" for letters under the iced wooden lake.
Motor skills: there's the obvious part where this toy enhances cognitive development through the teaching of the alphabet. In addition, it also helps with motor development and coordination as the child learns to pick up pieces using the fake fishing rod.
Solid construction: the magnetic pieces are wooden, and so is the board (or the "pool"). Besides being completely safe for kids, they are very durable.
---
4. Melissa & Doug Self-Correcting Alphabet Letter Puzzles
This ABC toy for toddlers makes an awesome gift for your developing puzzle-solving champ.
This particular puzzle game works because your child has to match a letter with its corresponding image. For example, he will take the wood with A printed on it and match it with the wood with Apple to make it A for Apple. The same goes for B for Butterfly, C for Car, D for Dog, and so on.
The best part is that it's self-correcting. That means each piece can only match with one other piece. For example, A can only match with Apple, so if the toddler tries to match A and Butterfly, the pieces won't fit.
Reasons to buy the Melissa & Doug Self-Correcting Alphabet Letter Puzzles.
Alphabet: there are 52 wooden pieces, 26 of which are alphabet letters from A to Z in upper and lower cases. The other 26 are their phonic illustrations like apple, butterfly, car, and dog.
Puzzle: you really want to have this in your toddler's toy chest because puzzles improve cognitive skills, problem-solving skills, motor development, hand-eye coordination, and confidence, to name a few.
Images: toddlers do well when images are incorporated into their learning materials. Melissa & Doug did exactly that in this set. The piece that matches the letter A has the image of an apple and the word "apple" also written on it. So, when you say A for apple, the child can actually see the A, the apple, and how to write apple. That's comprehensive learning right there.
Wooden: all the 52 pieces and the storage box are made of wood. It's a safe material for kids' toys.
---
5. Melissa & Doug Classic Wooden Peg Puzzles
If you think that the LeapFrog Dino's Alphabet Book or Battat Hide & Seek Alphabet Pop-Up are cool because they combine ABCs and 123s, or that the CozyBomB Game Toy for toddlers is awesome because it mimics fishing, then you're in for a real treat with the Melissa & Doug Classic Wooden Peg Puzzles. It has all three – letters, numbers, and fish!
Melissa & Doug create some very, very good toys! This is on this page because it is their best ABC toys for toddlers option.
Reasons to buy the Melissa & Doug Classic Wooden Peg Puzzles.
Letters, numbers, and colors: the letters (A to Z) are for learning the alphabet, while the numbers (0 to 9) are for counting. The 10 fish figures are for learning colors. You can teach your little one a few things about various colors and how to identify them. It makes it a perfect toy for teaching him/her that when he/she sees the red light on a pedestrian crosswalk, then it means "STOP." Yep, you can start teaching them vital life skills from an early age.
Puzzle play: the letters, numbers, and fish come in various colors, which allow you and your toddler to play several puzzle games. One that springs to mind is matching colors; "match a green letter with a green number and green fish." By doing so, your child will gain invaluable problem-solving skills, not to mention hand-eye coordination and fine motor skills.
Wooden pieces: all the pieces are made of wood which, as mentioned, is the perfect material for kids' toys. It's non-hazardous and lasts for a long time.
---
Conclusion
Want to keep your child away from electronic gadgets? Get him/her these ABC toys for toddlers. At least three will do so that when he/she gets tired of one, he/she can play with the next.
While playing with these ABC toys, your child will learn alphabet letters before they begin school.
That will give him/her an excellent foundation for literacy and proper communication.