Are you looking for the best flash cards for toddlers?
Congratulations, you're on course to implementing the best arithmetic and language learning method for your little one(s).
Don't get it wrong. Blackboards and learning apps are excellent, but they are nowhere near as good as flash cards.
There's a whole set of scientific studies that back these humble cards. We can't get into that right now, but I'll give you a summary anyway.
Toddlers usually benefit significantly from mental stimulation, especially the kind (of stimulation) that focuses on the right side of the brain. This is the subconscious and intuitive part of the brain.
It takes in information quicker than the left side of the brain, and you don't need repetition for it to learn. The same can't be said about old leftie!
Guess which side is stimulated when you use flash cards? The right! Every time you flash a card, your little one will learn and retain whatever word or phrase is on that card, thanks to the right side of the brain.
You may want to keep the sessions exciting, relaxed and brief because you're dealing with a toddler, and toddlers have a short attention span.
And equally important, make sure you have the right set of cards. Here's a review of the best flash cards for toddlers to give you an idea of what to buy.
---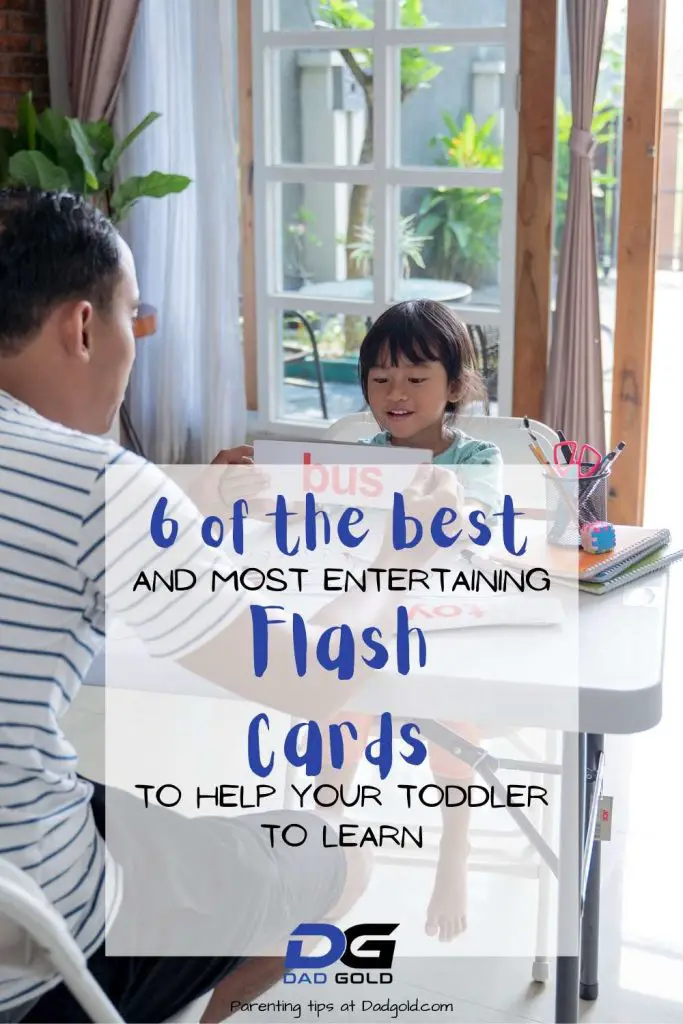 Best Flash Cards for Toddlers – Quick View
1. Carson Dellosa Words Flash Cards by Brighter Child – best flash cards for toddlers to learn first words and phonetics
Even though Brighter Child recommends these cards for toddlers at least 4 years old, you can use them for 1 to 7-year-olds. The pack has 54 cards with "starter" words like apple, ant, ball, leaf, nest, sock, and many more.
Besides, there are images of common animals and objects like foxes, bikes, buttons, ducks, and bananas, to name a few.
They are also pretty colorful, and you can bet that your little ones will have their undivided attention on them.
Quite a good way to keep him/her away from the TV, isn't it?
Reasons to Buy Carson Dellosa Words Flash Cards
apart from the fact that these are the best flash cards for toddlers, here are some more reasons:
Excellent for learning first words. Printed with simple and basic words, this set will introduce your toddler to pronunciation, reading, and phonics. Most words have 6 letters or fewer, making the deck perfect for early education.
Your kid will learn best with images. On one side of these cards is a word. You get the same word with its picture cue when you turn it around. This is the first step to teaching your little one about visual-spatial learning.
Colorful design to keep the child's interest up. While the words are printed in black, the images are in full color. The cards feature a red frame and rounded corners. These combinations make each card have some appeal to kids.
Thick material. You want your flashcards to be durable, so the Carson Dellosa deck features thick cards for longevity.
---
2. My First Touch and Feel Picture Cards by DK – best flash cards for toddlers to develop tactile learning
If you're looking for the best flash cards for 2-year-olds, then DK's may have the perfect solution.
This set of 16 cards takes toddler learning beyond phonics. In addition to words and picture cues, each card in this deck has a tactile that the child can touch and know exactly how the object feels in real.
If these aren't the best flash cards for toddlers whose sense of touch is developing, I don't know which cards are!
Reasons to Buy My First Touch and Feel Picture Cards
Language development. The flash cards are printed with sweaters, dogs, teddy bears, keys, cars, fire trucks, and other simple stuff. All these will go a long way in developing your toddler's phonetics and basic sentence construction.
Translations. While the main word on a card is given in English, it's also translated into French, German, Spanish, and Chinese. In other words, this deck gives you the perfect foundation to teach your little one at least two languages. Don't forget that multilingual people have better concentration, problem-solving, memory, critical thinking, and listening skills.
Touch and feel area. This is the one feature that makes this set one of the best flash cards for 2-year-olds. Each card has an area that your toddler can touch and feel. By doing so, they will know how that drawn object feels in real life. Keep in mind that kids usually use all their senses, including touch, to learn at that age. So this is like a step into kindergarten or pre-school already.
---
3. Counting Ring Flash Cards by Mudpuppy – best flash cards for toddlers to learn to count
Use this set of flash cards to introduce your little one to counting and basic arithmetic. Each of the 26 cards measures just 5 x 2.75 inches, which is a perfect size for the small hands of your toddler.
20 of the cards have numbers on one side and illustrative objects on the other. The number of objects corresponds to the number printed on the other side.
Makes it fun to ask your child, "how many apples are these?" And when they say "two," you turn the card to show them how the number two is written.
Reasons to Buy Counting Ring Flash Cards
Excellent cards for counting. The numbers run from 1 through 20, so your child can use this deck to learn the first 20 numbers.
Includes arithmetic. 20 cards are for counting, and 6 cards cover basic addition. Besides preparing your toddler for school math yet to come, such basic arithmetic boosts creativity, critical thinking, and passion for math. And, your kid will be able to socialize properly with others in contexts that require some arithmetic knowledge, like counting toys.
Colorful images. Kids are visual learners, duh! They can easily forget if you just put a number on a card. But adding some art makes them remember the number. Over time they will recognize the number without having to see the images. Counting Ring Flash Cards use this concept superbly by combining numbers and artsy images. They may look too artsy (and less realistic), but they do the trick nonetheless.
Cardboard material. The cards are made with laminated cardboard for durability. You can bet on them to last for so many years.
---
4. School Zone Numbers Flash Cards – best flash cards for toddlers to learn simple arithmetic
Still not sold on Mudpuppy's Counting Ring Flash Cards? Perhaps this deck by School Zone will do the trick.
It has a total of 28 cards that are designed to teach your child counting and simple arithmetic. Like the Counting Ring cards above, these cards are printed with numbers and images to make sessions more interesting.
Take the number 5, for example. The number "5" symbol on the flashcard, the number "five" word, and 5 cars as picture representations.
So, every time your little one sees the symbol 5, they will associate it with the word "five."
That's associative learning at its best!
Reasons to Buy School Zone Numbers Flash Cards
Great for counting 0 to 25. The numbers are printed on each card alongside their spellings and picture representations.
Introduction to basic arithmetic. In addition to the numbers, there are three extra cards. One is for addition (+), the other one is for subtraction (-), and the third one is an equal sign (=). Well, you get what the makers had in mind. Hold out the number 2 card, followed by the + card, then the number 5 card, and the = card, and finish the equation with the number 7 card. Just like that, your toddler will learn that 2 + 5 = 7.
Colorful images. It's not just about numbers; there are images to make each lesson as fun as possible. From tractors to cars and even a whale, there's plenty that you can teach your child with these creative flash cards.
---
5. School Zone Alphabet Flash Cards – best flash cards for toddlers to learn the alphabet
This is yet another great set of flash cards for 2-year-olds or toddlers in that age range.
School Zone recommends this deck for 3+ year-olds, but you won't lose anything in introducing your enthusiastic learner to these flash cards when they are 2 years old. There may be more to gain because, at that age, they can already associate things.
Your toddler will look at an image and associate it with the corresponding letter. You can go the extra mile and teach them a few things about pronouncing the letters and basic phonetics.
That's how helpful these flash cards can be in language development.
Reasons to Buy the School Zone Alphabet Flash Cards
Teaches alphabet. The deck has 26 letters in uppercase and 26 letters in lowercase. Each letter has a phonic association, like A for apple, B for bee, and C for crab. Using the cards, you can further introduce your young champ to spelling by forming simple words (like an ace, bee, do and eat).
Perfect size for toddlers. Each of the cards measures 3 x 5.5 inches. They are not too small for the child to lose or swallow, but they are not too large to feel bulky.
Makes an excellent toy. How about using this deck in card games? Try the matching game with your child. Let him/her match the uppercase and lowercase letters to win. Or you can start by picking out one letter and let him/her pick the one to follow in alphabetical order. There's just so much you can do with these.
---
6. Carson Dellosa Alphabet Flash Cards – best flash cards for toddlers to learn phonics songs of the alphabet
The main difference between these flash cards and the School Zone Alphabet Flash Cards is that this set has the same image for uppercase and lowercase letters.
For example, the uppercase letter "D" is for a dog, just as the lowercase letter "d" is for a dog. This consistency is what makes it a perfect set for phonics songs.
Otherwise, these two decks of cards are mostly similar.
Reasons to Buy the Carson Dellosa Alphabet Flash Cards
Good for mastering the English alphabet. You will find uppercase letters from A to Z and lowercase letters from A to Z. Each has a phonic association in the deck.
Picture cues. Phonic associations are pictured cues that also act as learning tools. When your child is tired of learning the alphabet, you can switch to the images and let him/her identify an apple, dog, zebra, elephant, fox, lion, and every image they can.
Good quality cards. The glossy card stock used to make these flash cards makes them eye-catching and durable. 
---
Conclusion
We may be in the age of technology, but the humble flash card remains the champion of teaching alphabets, numbers, and basic arithmetic.
If you have a child, you must introduce them to this learning as early as possible.
You will give them the much-needed boost in language development, problem-solving, counting, arithmetic, and many other skills. And yes, you need the best flash cards for toddlers.
Any of the six above will do the job. Better yet, you can pick two; say one for alphabets and one for numbers.
Good luck!