Toddlers.. love opening and closing things, don't they?
Doors, cupboards, draws, nothing is off-limits. If your toddler is anything like mine, then they will look at you as they close the door for the hundredth time, just because they know it annoys you.
Luckily, several toys are available that cater to toddlers who are hungry for opening and closing things!
In this post, I will give you 5 of the best opening and closing toys for toddlers.
Let's take a look…
---
5 Toddler Toy Options That Open And Close
Here are my top 5 favorite toys that your toddler can use to satisfy their need to open and close things all day!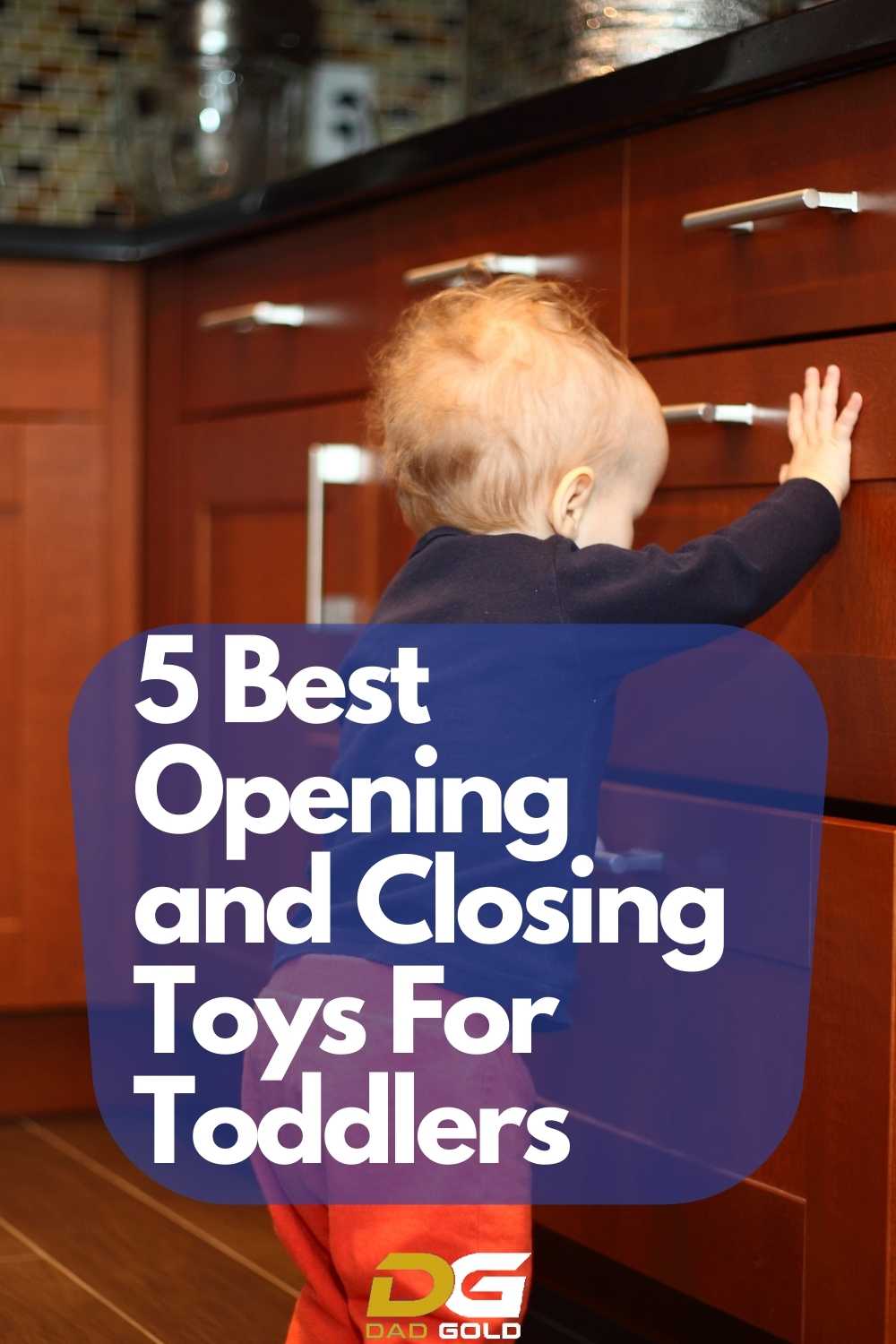 ---
1. Battat Pop-Up Pals
The very first toy on my list is Battat Pop-Up Pals. It is a color sorting animal push and pop-up toy for kids up to 18 months.
The best part is, it has a picture of animals that helps kids understand about animals. Also, every animal has a different color that will help to recognize the color too.
Not only does the Pop-Up Pals toy have opening and closing parts (the 4 animals), but it also has a bit of a cause and effect element, too, as each will pop up whenever your toddler pushes the buttons and twists the dials.
Now, the question must be why you should consider buying this toy. The answer is quite simple: the toy stimulates different things simultaneously and offers a learning experience.
Ensure you properly clean the toy, as most toddlers have a habit of putting everything in their mouth.
---
2. B. Critter Clinic Toy
The next on our list is B. Critter Clinic Toy, an adorable portable pet hospital that features six colorful room doors with matching keys.
You guessed it too… it has one lid that opens and closes, plus 6 'containers' too.
The set has a thermometer, mirror, syringe, stethoscope, and much more. This toy will help your toddler sort colors and matching keys to open the door. Toddlers love a lock and key toy, right?
The toy helps in enhancing hand-eye coordination and cognitive skills. It will keep your toddler busy.
Why will your toddler love this toy? Because it will help boost their cognitive skills and give a better understanding of colors, elements used by vets and animals.
---
3. Hide & Seek Learning Treehouse
Further, we have Hide & Seek Learning Treehouse, a learning treehouse for toddlers up to 18 months and has 5 doors to open and close until your toddler is content.
This cool educational toy for toddlers is shaped like a large leafy tree and comes with a range of activities for pre-schoolers, including number games.
The set contains 5 colors, shapes, apples with numbers on them, 1-bushel basket, and 1 treehouse. It helps in improving the matching and sorting skills of your toddlers.
Also, it will enhance the color recognition power of your toddler, which is a good reason to give it a try.
---
4. Doctor Kit by Battat
Next up is the Doctor Kit by Bettat is a doctor set for kids of age 2+. Sure, it's not a classic 'open and close' toy, but it does have 4 doors that your toddler can open and close.
The toy also comes up with a series of keys that your toddler can use to open the marked lock.
It will keep your toddler busy for a long time, no doubt!
The set contains 2 tiny stuffed toys, 1 pharmacy, 1 keyring with 5 keys, 4 Doctor equipment, and 1 keyring with 5 keys. The toy is worth a purchase if you want to improve their imagination and social skills.
Using all of the tools in this package, from the keys to the thermometer, your child's fine motor skills will be improved.
They will also develop their hand-eye coordination.
Also, the set is made from durable plastic, so you don't have to worry about it getting broken while playing.
---
5. Melissa & Doug Magnetic Hide & Seek Board
Lastly, we have Melissa & Doug Magnetic Hide & Seek Board for kids age 3 to 5 years old, so it is for toddlers who are a little older… almost into school age.
It's a fun magnetic puzzle board with mounted doors and magnets that includes 9 doors for your toddler to open and close. It is a game that is full of surprises. Whenever your toddler opens the gate, they will be surprised to see a cow, cookies, and much more.
It is another great option to distract kids from the screen and engage in games that improve their skills.
This toy promotes fine motor skills, cognitive abilities, and creativity.
The material used for building the toy is durable and reliable… basically toddler-proof!
---
Why These Toys Are Good for Toddlers
As I mentioned right at the start of this article, toddlers love opening and closing things. Most of the time, it is because they enjoy doing it… but sometimes it is to rile you up!
If your toddler loves opening and closing things, then these toys are what you need.
Not only do they teach your toddler a little cause and effect, but they also work to improve cognitive skills, fine motor skills (holding the door to open and close), and also decision making (problem-solving), for those toys that also have a few keys.
---
Conclusion
So there you go… 5 toys that your toddler will love playing with if they like to open and close doors and other objects.
The good thing is they are cheap too!
If your toddler wants something a little bigger to open and close, you should look at kitchen toys with cupboards and draws. These are more life-size… but are naturally bigger and noisier, so it is entirely up to you.
Problem-solving, fine motor skills, and cognitive ability are improved by these functional toys, and some offer a bit of education too!
Whatever you do, always make sure that you follow the recommended minimum age for whatever toy you go for.
Good luck!