Are you a travel enthusiast new parent who can't wait to take your little one outside and experience the world together?
Do you feel like you'd be out the door yesterday if you could?
If you've said yes, what's probably stopping you is that traveling with a baby poses a few challenges and many questions.
You're probably thinking how long you should wait before traveling with a baby. How do you go on an aircraft with an infant? What are the requirements for flying with a baby? What if your youngster despises the flight and begins sobbing uncontrollably?
While these issues and potential problems may make you reconsider traveling with your kid, remember that it is quite possible.
Continue reading for some helpful advice about flying with a baby for the first time.
I've also made you a list of things you need to take with you, all from my experience!
Let's get right into it, shall we?
---
25 Tips For When You Travel With A Baby
Here are 25 tried and tested travel tips to travel comfortably with a baby.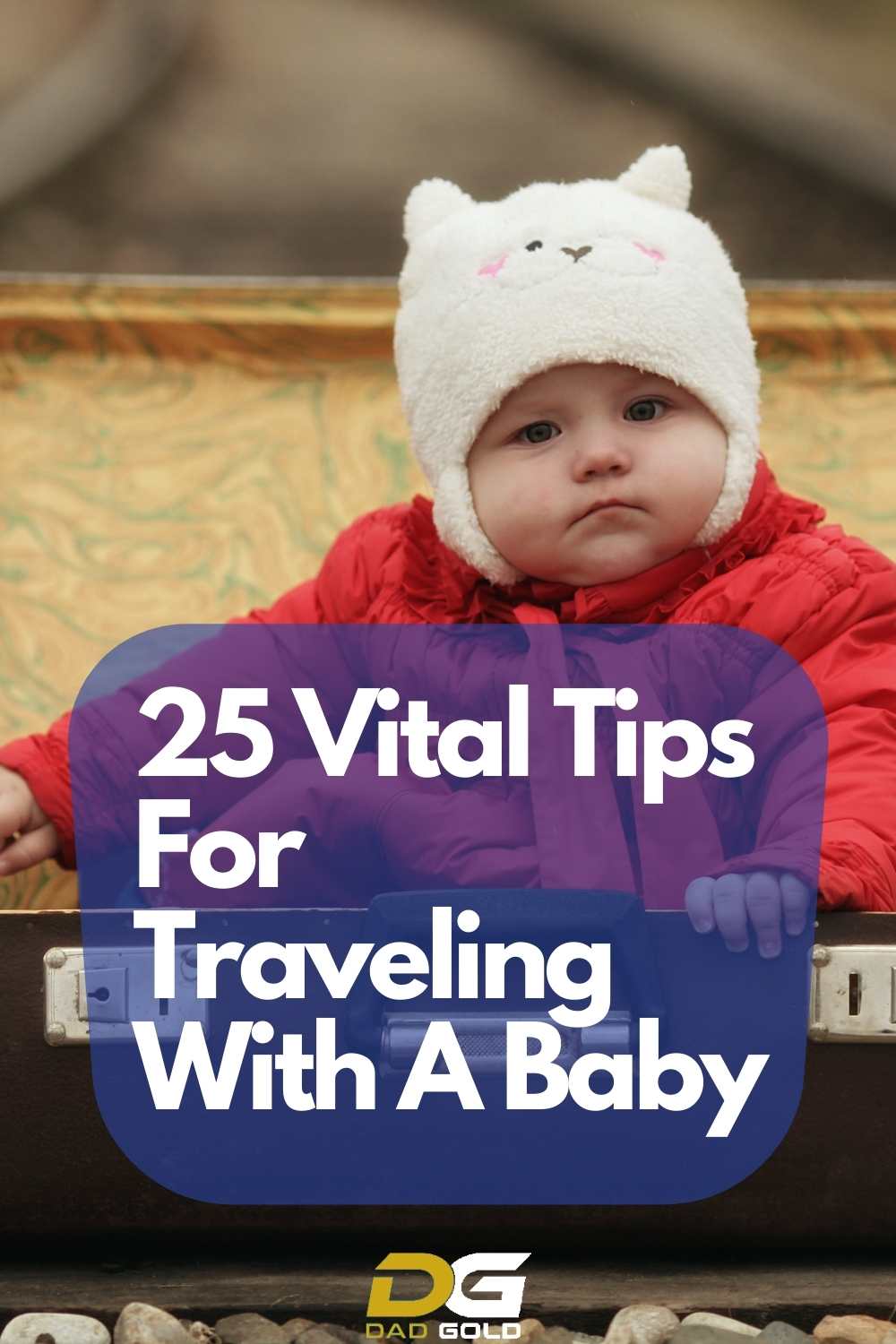 ---
Consider Your Baby's Age First
How old is your child? Are you traveling within the country or abroad?
Whether it's a cross-country road trip or an international flight, consider your baby's age and physical fitness before getting in the car/train/bus/plane.
According to the US Federal Aviation Administration(FAA) and the American Academy of Pediatrics (AAP), your child needs to be at least 1-week-old to board the plane.
Doctors recommend you wait until your baby's at least 3-month-old and their immune system starts to fight viruses or bacteria.
---
Choose Your Seat Wisely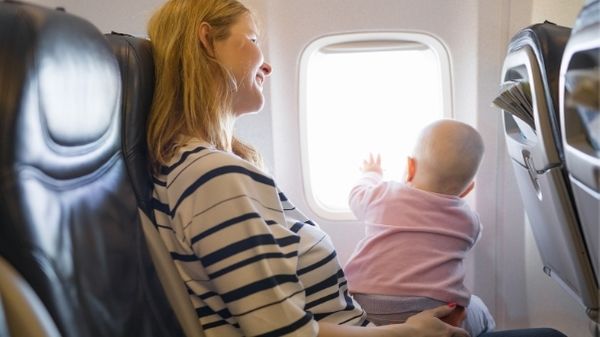 It's usual for new parents to have difficulty picking between a window or aisle seat, a front seat, or a seat in the back.
If you're flying alone with an infant on your lap, a window seat will provide you with a bit more privacy and a spot to rest your head if you grow tired.
But, an aisle seat will give you the freedom to move around easily. Ever been a fan of those last-row seats? No, right?
But, if you're traveling with your partner, getting one aisle and one window seat in the back might get you the middle seat (for free) if the plane isn't full!
Leave for the airport early to grab those seats.
The downside is that it gets pretty noisy back there and is not the best place for you if your baby is a light sleeper.
---
Get a Separate Seat for Your Baby
Do you need to buy a separate seat for the baby? Well, that depends on the airlines.
As for most world airlines, babies under 2 years of age don't need a separate seat. Instead, they can be on your lap or an FAA-approved child safety seat.
However, suppose you're looking for a safer option. In that case, the Federal Aviation Administration (FAA) strongly advises securing your child in a CRS(Child Restraint Systems) instead of carrying them on your lap.
So, I'd recommend you buy that seat, especially if you're flying long haul with your baby! Thank me later.
Also, try to get the bassinet, especially if you're traveling overseas.
---
Get to the Airport Early
You could leave for the airport at the last minute in your pre-baby days, and it was fine.
However, now that you're flying with a newborn, it's ideal to arrive at the airport a few hours before your flight so your child can get used to the hectic airport environment.
The gate check will be a breeze, which is especially crucial if this is your first travel with the baby.
Beat the crowd to snag an extra seat next to you or the last available bassinet. You usually get to board first if you're traveling with a kid.
Do this to assist your infant in settling down.
---
Keep Them Entertained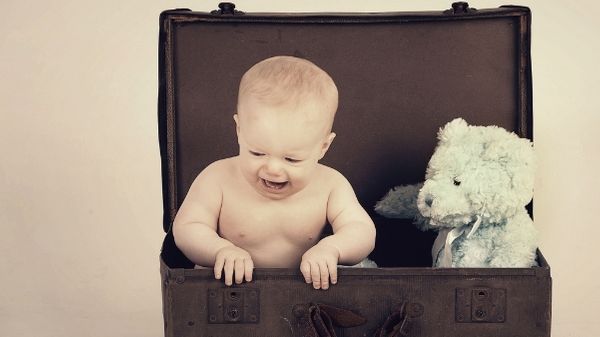 Keep your child entertained with moving objects outside the window, the in-flight entertainment screen, an iPad, or the toys you packed from home.
If they begin to create a fuss, have them stand up or stroll around so they can smile and make friends with other passengers.
---
Don't Shy Away From Breastfeeding.
Be prepared to breastfeed anyplace, even if it is uncomfortable at first. If necessary, you can use a nursing cover, but don't feel forced to do so if it is inconvenient.
Put on something comfy that allows for quick access when needed, and you're good to go.
---
Pack Extra Change of Clothes
Both for you and your child. I'm confident you'll remember to bring extra clothes for your child. Don't forget to bring along a backup shirt for yourself.
You won't have to get off the plane covered in spills and puke this way.
---
Bring Enough Snacks
Pack adequate snacks for your kid if they are old enough to try solids, so you don't have to deal with a grumpy infant.
Boiled eggs, cheese cubes, grapes, breadsticks, and crackers are good options. You are welcome to bring formula, juice, or even breast milk.
TSA (Transportation Security Administration) allows parents to bring these items as a carry-on.
You have to screen them separately. So pack enough to keep your baby full in case of delayed flights, gridlocked streets, or unforeseen circumstances.
---
Try to Avoid Layovers
Alternatively, select flights with more extended layovers. Of course, I didn't mean a multi-day layover (unless you intend to visit another city/country in the meanwhile).
It's incredibly frustrating when your connecting flight is less than an hour away, and you're still attempting to locate the stroller, car seat, and other baby equipment.
Book a direct flight or one with at least a 2-3 hours layover so that you don't have to worry about missing your connecting flight. Also, try to fly during your child's nap time if possible.
---
Bring Your Own Pharmacy
To avoid wandering the streets of an unknown city looking for medicine with a sick baby, pack a good supply of all the prescription and over-the-counter medication your child might need.
Bring baby Benadryl, ibuprofen, antihistamine, cold and fever medicine, and their daily medication in your travel medicine kit (if they take any).
---
Don't Overpack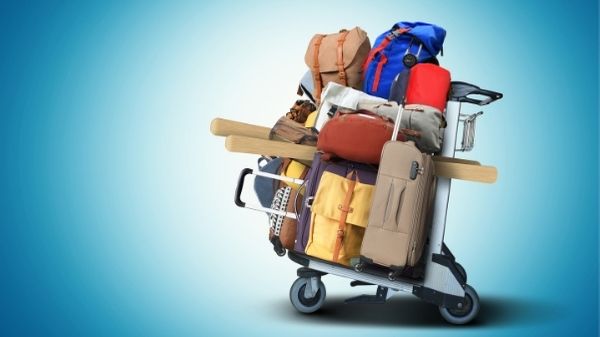 When traveling with a toddler, you might feel like flying with all the baby gears and toys you possibly can. Well, don't! Take enough diapers and wipes for the flight, not for the entire trip. Buy more when you land.
Make a baby travel checklist (I've listed everything you'll need below) and only pack the essentials.
You can easily buy or rent cribs, car seats, and other baby gear at your destination. That way, you get to travel light and save tons of space.
---
Gate Check Baby Gears
Did you know you can check your car seat and stroller for free at the airport? Are there any advantages to flying with young children?
You have to ask an attendant at the entrance for the tags and put them in your car seat and stroller.
You can protect the baby's belongings by purchasing a travel bag.
Check the gears at the bottom of the jetway before you board the plane.
---
Use Curbside Check-In
Use curbside check-in to get rid of all the baby gears and luggage you won't be needing during the flight.
Leave the stroller and car seat with the porters and relax.
Some airlines offer Curbside check-in at no additional charge, while others only charge the standard baggage fee.
---
Don't Overschedule Activities.
Once you reach your destination, you might feel like covering all the major tourist attractions at once.
But cramming that much into your itinerary will leave your little one exhausted.
To execute a stress-free vacation, don't try to see everything on one trip.
---
Ease Their Ear Pain
For young children, it's best if you nurse or bottle-feed them during takeoff and landing to ease off the ear pain caused by the change in air pressure.
Older kids can suck on a pacifier as well.
Sucking and swallowing during ascent or descent is a great way to relieve air pressure.
---
Plan Around Their Sleep Schedule
If you're flying to a different time zone, adjust your child's sleep schedule accordingly to prevent a baby jet lag.
To help them sleep better, ask your hotel for cribs or pack 'N play but bring crib bumpers with you.
---
Enjoy Traveling with Your Baby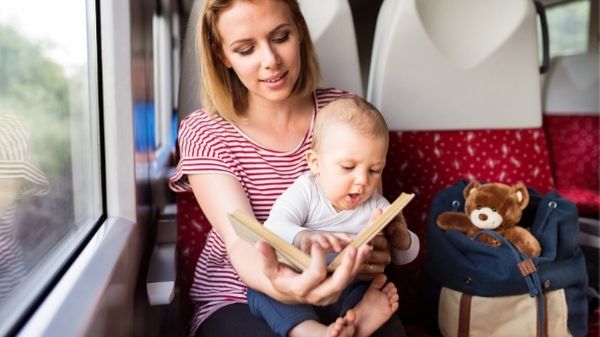 Traveling with a baby for the first time can feel overwhelming and stressful.
Stop getting too anxious about what other passengers on the plane think if your toddler starts having a meltdown.
Babies cry on airplanes for many reasons. Cultivate a positive mindset, and don't let minor issues piss you off.
A few more tips:
Don't hesitate to ask the flight attendant (or a stranger) for help.
It's worth paying a little extra for direct flights and family-friendly accommodation.
Book flights, accommodation, transportation, and tickets for tourist attractions ahead of time. But Leave room for a change of plans and have a flexible schedule.
Don't forget to ask for child discounts on tickets and tours.
Don't let small children go out of your sight! At 3 months old, babies don't run away, and you can always keep an eye on them. A 2-year-old? Watch them all the time!
Leave your contact information in your child's pockets or stick it in their clothing. Make older kids memorize your phone number, just in case.
Bringing a car seat is always a good idea, even if you hire the rest of the baby gear.
If available, opt for premium services like pre-check, priority boarding, curbside check-in, etc.
Don't forget to add your baby to any travel insurance, just if they need any medical assistance during your vacation or trip abroad.
---
Flying With A Baby – What You Should Take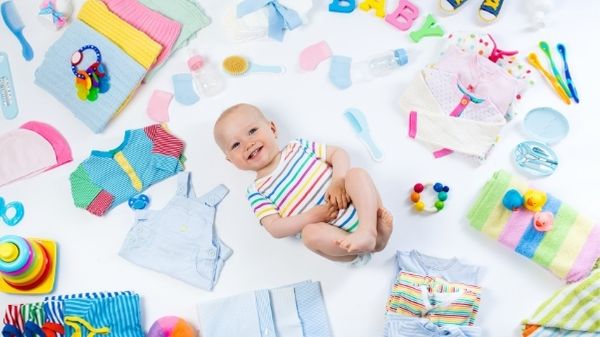 What should you take in your carry-on when you're flying with an infant for the first time? Here's a list of things you might need.
Passport(for international travel)
Travel insurance, child's birth certificate, and non-accompanying parent's consent letter (when one parent is taking the child out of the country)
Weather appropriate clothing for baby
Pacifier and teething toys
Diapers and wipes (lots of them)
Baby's medication
First aid kit
Toys
Cell phone or tablet filled with downloaded apps, TV shows, and movies
Portable charger for the electronic devices
Diaper bag
Diaper cream
Disinfecting wipes
Nursing cover
Baby food, drinks, and snacks
A small, portable cooler with ice packs
Burp cloth
Sling/ baby carrier
Car seat
Umbrella stroller
Socks (Tips for keeping baby socks on)
Sunscreen
Onesies
Bottles
Books
A little blanket(or two)
Ziplock bags for dirty diapers
Changes of clothes for yourself and your baby
---
Conclusion
Traveling with an infant or a toddler doesn't have to be an ordeal. Instead of worrying about what can go wrong (such as car sickness), start getting excited about the fantastic experience you will have as a family.
Instill a love for travel and adventure in your kids at a very young age.
Don't let the naysayers make you put it off. Instead, plan, prepare, and start traveling. Happy family travels!
Reference:
https://www.faa.gov/travelers/fly_children/
https://www.tsa.gov/travel/special-procedures/traveling-children