Are you struggling to get your child to settle for bedtime?
When the end of the day is here, all you want to do is chill out and unwind, right?
DadGold Recommends…
SOAIY Sleep Sound Machine
The best thing about the SOAIY Sleep Sound Machine is the fact that you can use Bluetooth to play any relaxing sounds your baby likes!
If you want an awesome tool that will get your baby to sleep quickly, you need to consider a light projector!
It worked for my Son!
You might also want to consider a white noise machine to help you get your baby to sleep.
In this post, I highlight the 5 best baby light projectors, so you can chill out when it is adult time!
Sometimes, getting my son to sleep was a difficult task. The feeling of FREEDOM you get when your child is asleep is within touching distance.
It is so close….all you need to do is get them to drift away into slumber. Easy, right?
Nope!
There were times when I thought he would never sleep again.
My eyes were dragging, my eyelids heavy. I needed some help.
Getting your baby or toddler to sleep and developing a good bedtime habit has some huge benefits for their development! It is time to take advantage.
It is time for you to consider a projector for baby sleep time!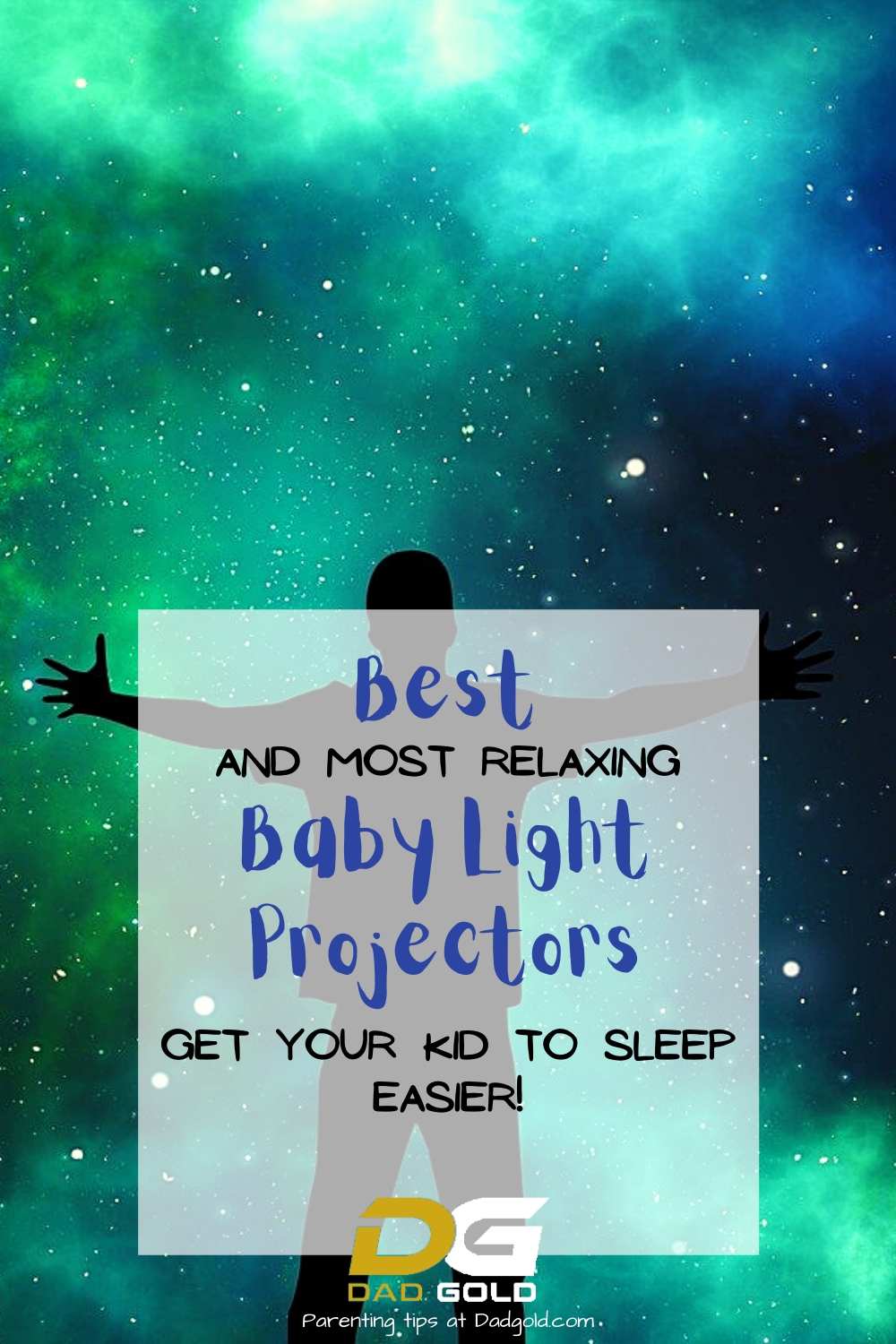 ---
Baby Ceiling Projectors, What Do They Do?
Some show a colorful display on the child's bedroom ceiling. This will give them something to focus on, and it is relaxing….kind of like staring at the waves crashing down on a beach.
The best baby light projectors also have relaxing music, which will help get them off to sleep. Honestly, if you are going to get one, get a baby night light projector with music. You will thank me for it.
Both of these features help to regulate Melatonin, which is the sleep hormone. When you regularly use a baby light projector, it becomes a routine for the child to sleep. The more you use it, the more it works!
Ultimately, you want to create the ultimate baby light show on their ceiling, so they can do nothing BUT gaze at it until their eyes are closed, and your life becomes so much more relaxed.
---
The Best Baby Light Projector – Top 5
The following baby light projectors are in the order that I recommend them. It is also worth noting that these are not just a projector for baby. These can also be used as awesome toddler night light projectors!
---
SOAIY Sleep Sound Machine
The SOAIY Sleep Sound Machine is the best baby light projector!
The SOAIY Sleep Sound Machine is a great choice for a baby light projector!
Check this out: Bluetooth speaker, remote control, adjustable brightness and timer, and psychedelic light show!
This is the ultimate Baby ceiling projector.
You have a choice of colors, which are Red, Green, Yellow, and Blue. You also choose in-built relaxing sounds: White Noise, Thunder, Brook, Ocean Sounds, Summer Night (not Summer Lovin), and Rain. Don't like the options? Well….it is a Bluetooth speaker, so hook up your phone and play whatever you want!
All of this is easily controlled using the remote, and the rotating light show will have them staring at the ceiling for hours.
There is no doubt from me that this projector for baby will help YOU get some sleep too!
---
Ocean Wave Night Light Projector
The Ocean Wave Night Light Projector is an awesome baby projector, with tons of color choices, and great music!
The Ocean Wave has some excellent features that make it one of the best choices for a baby ceiling projector!
7 colors, 4 sounds, remote control, 12 bright LED's, a timer function, and a built-in speaker.
Let's take a look at the sounds:
Seagulls and Ocean Wave, Forest Insects, Generic Nature, and Flowing Water featuring some Birds. Some very nice and very relaxing sounds in there. Sure…Seagulls are relaxing to listen to, but make sure there is no food in the room. I am sure they will go for it!
The built-in speaker is pretty cool, it has a slot for a TF card, and you can also hook up your phone to play whatever music you want…..more whatever music your CHILD wants!
The timer option is there too, and you can set the baby light projector to turn off after 1 hour, 2 hours, or 4 hours.
With features like these, it is easy to see why the Ocean Wave is a top baby light projector.
---
SOAIY Soothing Aurora LED
The SOAIY baby night light projector is a great looking tool to get your little one to sleep!
The SOAIY Soothing Aurora LED is very similar to the option in 1st place, although it does have two big differences…..
Built-in speaker – which is not Bluetooth.
No built-in sounds – you have to plug a device in to play music or sounds.
The SOAIY Soothing Aurora LED is a 2-in-1 baby night light projector acting as both a night light and a star projector.
Like the option in 1st place, you can control it using the remote controller, and you can set the timer to turn the lap off at whichever interval you choose. The choices: 1 hour, 2 hours, or 4 hours.
This awesome piece of equipment will help your Baby fall asleep in minutes!
---
Wood Grain Star Projector Night Light
This wood grain baby projector looks awesome, and has some excellent features for calm and soothe your baby.
Wood Grain Star Projector Night Light deserves a place on this list on pure looks alone!
How stylish is a Wood Night Light?? Send them off to sleep in STYLE!
It is actually a 2-in-1 star night light projector. The Wood Grain Star Projector Night Light has an outer casing that, when used, creates a simple night light.
Removing the cover gives you something very similar to the option below, which is a starry ceiling!
You can put this on a flat surface, or you can also use the hanging strap to hang from a ceiling…..or a tent…wherever!
Light modes: Warm White Light and multiple/single color.
Oh, and it also has a timer feature – nice touch!
There is a USB cable included (please use what is included in the kit, do not use a fast charge plug), but you can also use 4 x AAA batteries to power it.
---
Baby Star Projector Night Light
This is a classic night light projector with thousands of happy customers!
This option is available in Blue, Pink, or Purple, and it is the Starry Night Light Projector.
Make sure you take off the cover before you use it!
The night light projector projects a night-time starry sky onto a wall or ceiling, creating a relaxing atmosphere that is perfect for sending your child to sleep!
It has 3 modes, Warm Light, Colorful Light, and Rotating. The colors are Red, Yellow, Blue, and Green.
You can power this with either the USB cable (please use what is included in the kit, do not use a fast charge plug) or 4 AAA batteries.
---
Rainbow Night Light Projector
This rainbow night light projector does not have any sounds, but it does have an awesome light show!
It may not be a star night light projector, but this rainbow night light projector deserves a special mention here.
Ok, so it does not have Bluetooth or music, but displaying a rainbow on your Baby's ceiling works wonders if you are trying to get them to sleep.
Sometimes, relaxing music might have the opposite effect on your child and may keep them awake. Settle them down for bed with a wonderful rainbow light show.
Along with a night light projector (with music), I have used one of these in the past. In fact, it is still in my son's bedroom and now acts as a night light to help him drift off to sleep. He lays in bed, and his eyes are transfixed on the ceiling until they are too heavy to keep open.
It is powered by USB and can even work without it, charge the unit up. It only takes 2 hours.
---
Features To Consider When Buying A Baby Ceiling Projector
There are several things you should take into consideration before buying a sleep-inducing light projector:
Where are you going to put it?
Some of the light projectors are dual powered and will take batteries as well as having the ability to be powered by a USB cable. If you choose to go for the USB cable, you will need to ensure you place the light projector in a space close to a wall socket.
I know it sounds obvious, but it is something I forget about ALL of the time!
If power sockets are limited, go for a battery-powered option.
How loud does is the max volume?
As I have previously mentioned in this post, if you want your baby to relax truly, you need a baby night light projector with music.
If the only power socket you have available is far away from the baby, then you will want the ability to increase the volume loud enough so your child can hear the soothing, relaxing sounds.
The SOAIY Sleep Sound Machine has an in-built Bluetooth speaker. This option gives you the ability to control at least some of the volume from your phone.
It is the best baby light projector for a reason!
Color choice
This is not just down to personal preference. When your child is transfixed on the ceiling, you need to keep them interested, and the changing colors will increase their interest in this fantastic light show!
Having a rotating light project will make the different colors 'dance' on the walls and ceiling, creating a relaxing wave of colors that is sure to send your child off to sleep…..and you if you stay in the room long enough! Trust me; I have been there.
---
Conclusion
So there you have it, my collection of the best baby projectors! The ultimate baby ceiling projector tool so they can sleep and you can relax!
I have lost count of the times I have been in the position where I will literally do anything to get them to sleep so that I can capture those precious peaceful hours! Buying a baby light projector was one of the best things I did to improve my sleeping.
It comes with a warning, though. I got into the habit of lying down with my son to reassure him. I would take him to his room, lay him down, switch on the light projector, and lay down with him, fantasizing about watching something on TV without interruption. 2 hours later, I woke up.
Do you have any good or bad experiences with any of the baby projectors on this page? Do you recommend any others? What about other sleeping aids for your child? Please get in touch; I would love to know about them!
Check this out if you need more tips on getting your child to sleep – tips from my own experience!
Good luck!