Where do you start? You have a baby on the way, and even though you have brushed up on some newborn baby tips, you still have no idea what to buy first!
What are the essential things a newborn baby needs?
In this post, I will give you a rundown of each item, so you can chill out, relax, and wait for the birth!
…if only it were that easy, right?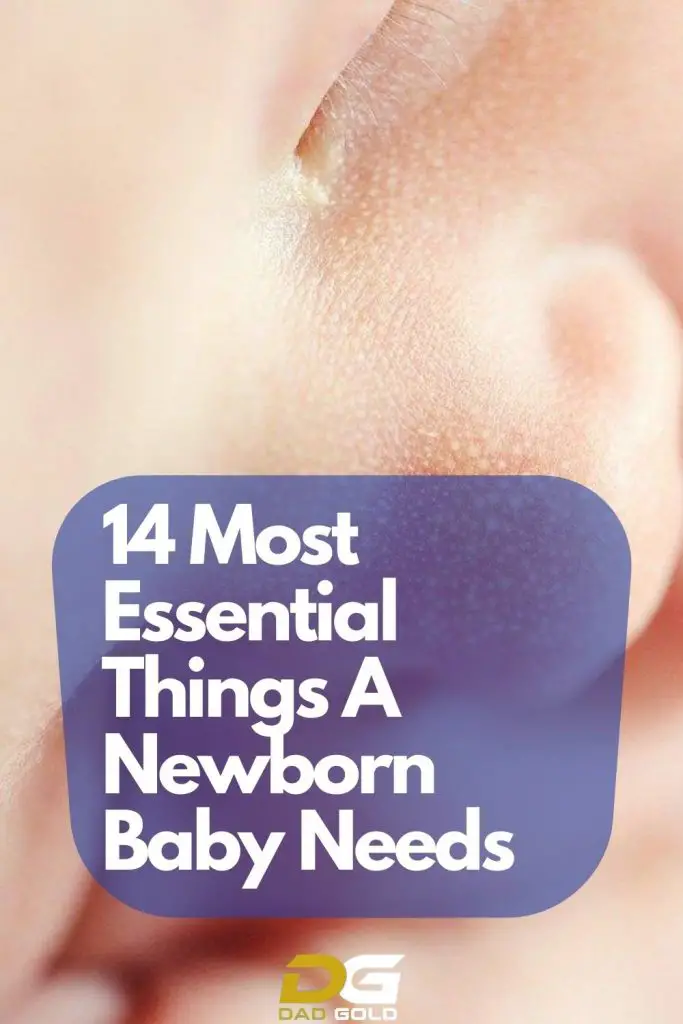 ---
14 Most Essential Things A Newborn Baby Needs – Checklist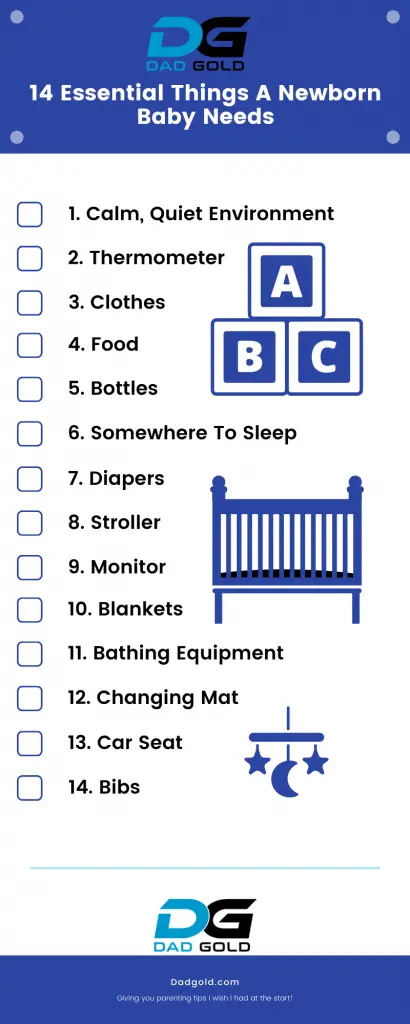 ---
Calm, Quiet Environment
First, an essential item that your baby will need is to come home to a calm and quiet environment.
I know it is a challenge, especially if you have other children, but you still need to think about the environment they will be arriving in.
Babies are brand new. Although I have never got much sense from a baby when asked, I imagine the world is pretty scary.
Imagine coming home to lots of noise, stress, and arguments? Put some measures in place to ensure your new baby is not disturbed too much.
---
Thermometer
There are 2 types of thermometers that I recommend you purchase before the baby is born.
---
Clothes
You need to consider the climate where your new baby will be taken out.
If your baby is due in Summer, there is no need to purchase big coats for a newborn! If it is a Winter baby, I am sure you will not need shorts or a Summer dress.
You will need to cover the basics, and I recommend the following items:
In terms of how many of each item? Let me tell you that babies need a change of clothing at least 4 times daily! Now you can make your mind up.
---
Food
Food is truly one of the essential things a newborn baby needs!
If you breastfeed your baby, you are pretty much sorted for the next few months (although you might want a breast pump).
Should you choose to use a milk formula for your newborn, you will need to buy a few tins of the formula of your choice. I would not stock up on formulas right at the start. Always ensure your baby is happy with the formula before bulk buying.
Babies have very sensitive stomachs and your choice of formula might not agree with them.
---
Bottles (If formula-fed or using a breast pump)
Load up on bottles, seriously!
I recommend you get in at least 12 bottles for the baby food. These are essential items that a newborn needs! Whether you are planning to breastfeed or bottle-feed, you need bottles.
The bottles will also need to be sterilized before use, so a sterilizer is also an excellent idea. I used the Philips AVENT Microwave Steam Sterilizer simply because it is cheap and easy to use.
---
Somewhere To Sleep
Your baby must have somewhere to sleep when not feeding and pooping.
You can find sleeping recommendations from the American Academy of Pediatrics here.
Ultimately, you should not co-sleep with your newborn, and their crib should be bare.
A bassinet is my choice when it comes to baby sleeping arrangements. Simply because they are much easier to pick up and move to whichever room you are in!
Oh, and don't forget the sheets and blankets.
---
Diapers
If I can give you one tip, load up on diapers before your baby is born.
Babies need a diaper change up to 12 times per day at the start, so you can easily go through a packet of them in no time!
If you have friends who want to buy you a gift for the newborn, the answer is always diapers! Everytime.
Don't forget a diaper bag too, oh, and diaper wipes! A diaper bag is essential when traveling with a baby. These are 2 important baby items.
---
Stroller
When you consider the essential things a newborn baby needs, many people go straight to the stroller.
I think it is because they cannot wait to go and show their newborn off, right? And who can blame them?
Yes – a stroller is essential. When you are shopping for a stroller, ensure that you purchase one that can take the car seat. Because it is so much easier to pick your Baby out of the car and put the seat on the stroller… especially if they are asleep!
---
Monitor
For me, I would not recommend anything other than a baby monitor that detects movement or breathing.
Too many babies are lost due to SIDS, and as a dad to a newborn, I don't mind admitting that scared the hell out of me!
I truly believe that have a baby movement monitor allowed me to get some good quality sleep during the early stages of being a dad.
---
Blankets
You can never have enough blankets!
Baby blankets are comforting, and my son still has his!
One of the essential items that a newborn needs are burping clothes. They are not simply for burping; they are great to have on hand to clear up baby-related spillages.
---
Bathing Equipment
Babies poop, pee, and puke. Everywhere. Anytime. Without warning.
After a while, they begin to kick up a stink!
Bathtime can be enjoyable for a baby, but it can also be scary.
A baby bath is essential if you want a sweet-smelling baby. It is also essential that you take great care when bathing your baby!
---
Changing Mat
A changing mat is an excellent friend to you!
I used a portable baby changing mat simply because it was easy to roll out and use anywhere I needed.
I loved that I could roll it up and take it out.
---
Car Seat
When choosing an infant car seat, I only recommend that it passes all the required safety tests and that you can easily fit it onto the top of your stroller.
Many choices are available when looking for a car seat, so choose wisely.
---
Bibs
You will need a small number of bibs for your newborn; these are also essential.
When shopping for bibs, always go for waterproof bibs that can be wiped down and used again without running them through a full wash!
---
Conclusion
When considering the essential things a newborn baby needs, I found the first few easy, but then, as the list progressed, I found it challenging.
Babies need so much equipment when they are born because they rely on you for everything.
The items on this page would be the first items on my shopping list to prepare for the arrival of a newborn; there is no doubt about that!
Now you know the equipment needed, all you need to give your new baby is a huge dose of love and affection. Even when they are crying. I know, it is tough!
Good luck.