Every new dad needs a treat. Right?
Whilst I have put together a new daddy survival kit which gives you some ideas on what to buy a new dad, what about must-haves that will help dad longer term?
DadGold recommends…
LÍLLÉbaby Complete
The LÍLLÉbaby Complete in black is my number 1 choice! A baby carrier is definitely a must-have item!
What are the new dad must-haves that will help him well into the first few months of Fatherhood?
There are some things that a new dad wants, and then there are things that a new dad NEEDS.
When I thought about this list, I thought about gift ideas that help him be a dad, not help him survive.
Let's take a look!
---
New Dad Must-Haves – The 7 Items
---
Baby Carrier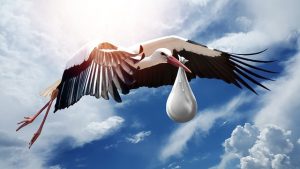 Getting a baby to sleep is also a challenge that new dads need to master. For those nights where they simply will not settle, those nights where everything you do is not working, let an awesome baby carrier take the strain.
Babies and toddlers love movement. It settles them and sends them to sleep.
With a baby carrier, you get two things:
Movement
As I mentioned above, the movement of a baby being carried is your best friend when settling a baby or toddler.
Snugness 
Babies love to be as snug as a bug. You have heard of swaddling. Some baby carriers are wrapped around the baby, naturally swaddling the baby, which makes them comfortable.
---
Digital Thermometer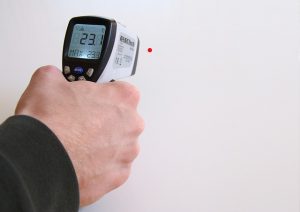 As if having a baby is not tough enough! Add is a baby that is not well, and it can be a huge challenge.
If the new Dad is anything like me, he will not sleep if he knows his son/daughter is not well. Whenever my son is sick, he has his temperature read regularly.
There are a few different ways to read a baby's temperature, but without a digital thermometer, I would be lost!
Digital thermometers are so easy to use, and with the memory function that some models have, it is so easy to keep track of the ever-moving temperature.
After working my way through multiple in-ear thermometers, I can confidently tell you which one is the best!
---
Baby Bag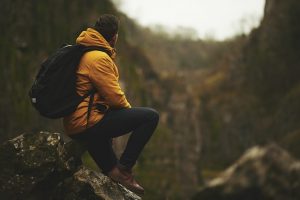 A baby bag is a 100% must-have! Whilst there are a ton of options for Moms, the baby bag options for dads are lower. Personally, I did not really care what the baby bag looked like. I just saw it as a piece of functional equipment.
As long as it has separate compartments for everything you need when taking your baby out, that is all you need.
Take this dad's baby bag as an example. It has multi pockets, functional, and is pretty plain looking. Perfect for dad! Boy or girl, dad, will not be worried about taking this out with him.
As an added bonus, he can use it even when he is not out with the new baby!
---
Portable Baby Changing Mat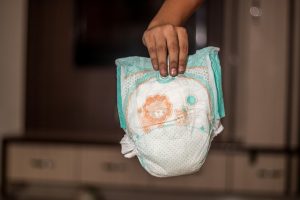 If you are at home, out visiting friends/family, or you are just simply outside because fresh air is good for you, it is so much easier to change a baby if you have a changing mat.
I am not talking about a regular rectangle changing mat here; I am talking about a roll-up, easy to store, and has everything you need changing mat.
Take this portable baby changing mat, for example. It has a section for wipes, a section for diapers, and a section for the disposable bags that you need to use.
When my wife approached me about buying a portable changing mat, I was skeptical. Not because I do not like spending money, I did not see any real benefit. After all, you can change your baby anywhere.
I was wrong.
The portable baby changing mat was one of the first items in the bag when I took my son out when he was a baby! It was instrumental, and without it, I would have struggled several times.
---
Baby Night Projector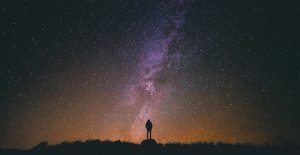 As a new dad, it is awesome to spend some time with your new child! It is also VERY awesome when they are settled, in bed, and fast asleep.
For those times when they are laid down for a nap, and they simply will NOT fall asleep, a baby night projector will keep them entertained until they are too tired to stay awake!
Night light projectors do not only work with babies, but they also work for toddlers too. I have also been known to fall asleep whilst staring at the wonderful light show on the ceiling!
Sleep is vital for your childs development. So ensure they are getting enough good quality sleep.
My son went through a stage where it was a challenge to get him to sleep. I took him out for many rides in the car to get him to sleep! It was hurting my wallet! I needed another option.
After searching for ideas, I thought I would try a night light projector, and boy, I was happy that I did!
The change was immediate. As soon as I switched it on, my son's eyes were transfixed to the ceiling until he was too tired to keep them open.
---
Medicine Dispenser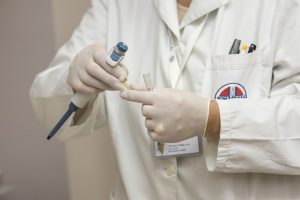 This goes hand in hand with the digital thermometer. When your baby is sick, they may need medicine, and getting a baby to take medicine can be a challenge.
It is even MORE of a challenge when they hit the toddler years!
What you need is a pacifier-style medicine dispenser.
If your baby uses a pacifier, you can use a pacifier medicine dispenser to use when you need to give your baby medicine.
These are easy because the natural sucking is already there, and the pacifier applicator passes the medicine.
---
Baby Movement Monitor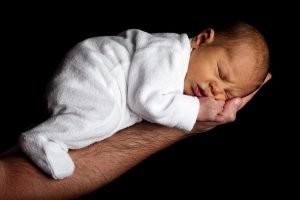 No kidding…I bought a baby movement monitor when my son was born, and I am CONVINCED it enabled me to have some awesome night's sleep.
See, I am a bit of a worrier and spent some time listening to my son sleep after being born. Obviously, I couldn't keep that up all night every night, so I needed some help.
I decided to get a top baby movement monitor to take the strain. It was amazing to know that if there were any issues with my son's breathing during the night, I would be woken up so I can deal with it.
---
Conclusion
Obviously, dad needs much more than this! Support, time, and a good deal of sleep. However, these 7 items are certainly my top new dad must-haves!
These 7 items will definitely help the new dad enter the world of parenting for the first time (or even if it is his 2nd, 3rd, or 4th time).
It is essential to ensure dad has everything he needs for the first few months of the new baby's life.
Although there are some items on this page that he has already taken care of, I am sure there are some items that he has not.
It is true that during the later stages of pregnancy, mom can enter the 'nesting stage,' which includes arranging and cleaning the house.
It will also include ensuring the new baby has everything they need to enter the world.
While we are discussing these new dad must-haves, it is worth pointing out that being a new dad can take a toll on a person and a new mom.
If you know someone who is just about to become a parent, then the best thing you can do is keep an eye on them to ensure they keep it together under the extra stress.
Good luck!