Preparing for a vacation with a toddler can be a time-consuming and stressful experience at times.
The success of your vacation depends on how well you are prepared, and that includes creating a vacation checklist for your toddler when packing.
It's essential to go through the preparation process keenly, item by item, to avoid forgetting some valuable things.
Let's look at the 14 items that I consider to be the most important!
---
14 Items To Pack For A Vacation With A Toddler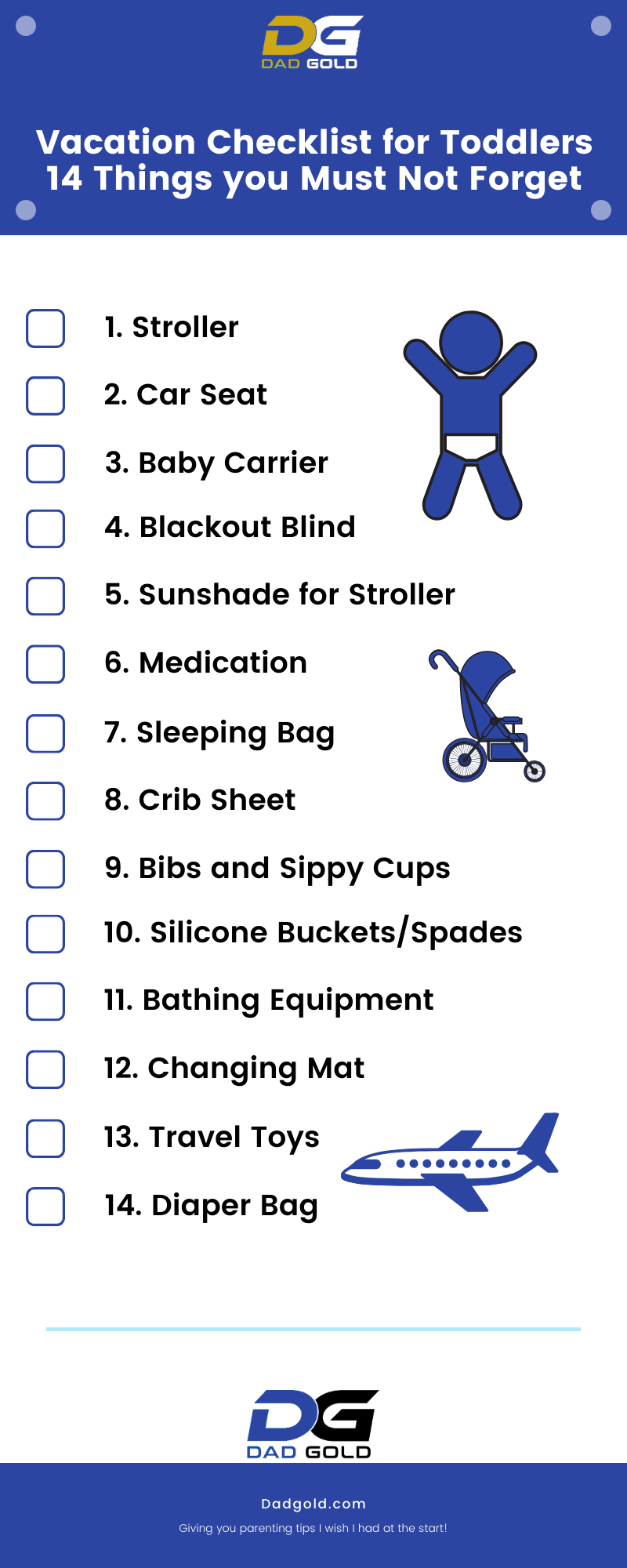 ---
1. Stroller
Toddlers require strollers for more effortless movement around the new locations. Even if your kid does not use the stroller at home, the chances are that you will still need one during the vacation.
You may be visiting quite a few places during your vacation, so you mustn't be carrying a toddler for most of it! Is it worth considering a hip carrier to help with carrying your toddler?
---
2. Car Seat
Hiring a car seat at some vacation destinations can be very expensive. Additionally, the quality of the car seat may not offer value for your money.
It is recommended to purchase your car seat prior to vacation or take one that you already have.
Different seats have different features and functionality, don't make an assumption. The last thing you need for your vacation is to be watching YouTube videos on "how to install a car seat."
Ensure that you purchase the best quality that serves the need and fits perfectly in your vacation car.
Oh, and don't forget some car seat toys for your toddler!
---
3. Baby Carrier
A baby carrier is essential if you are flying! If you are traveling by train or any other means of transport, it is still high on the list for me!
A baby carrier allows you to carry several items, and still move around with your baby safely.
Check whether the carrier's features, such as size, to ensure it fits your toddler. Notably, it should be foldable and flexible. This means it occupies a small space when not in use, thus easy to carry along.
---
4. Blackout Blind
Children often need extra hours to sleep. For example, a blackout blind allows kids to sleep comfortably after traveling for hours.
The blackout blind protects the child from the hot sunshine. Always ensure you get a quality one before you depart for your tourist destination.
---
5. Sunshade for Stroller
The heat from the sun can spoil what was meant to be a fulfilling experience for your child.
A sunshade is an excellent alternative to an umbrella and is ideal for keeping the stroller fresh and dark.
You need to find a well-ventilated one to offer your kid the best vacation experience.
---
6. Medication
Medication is vital for traveling with a toddler! Especially if you plan to go abroad with your toddler on this vacation. If your toddler gets sick, you know you have some medication that you can trust.
Don't forget a thermometer too! You may need to take their temperature to see if they are burning up.
---
7. Sleeping Bag
A sleeping bag is essential in ensuring your child gets enough sleep. A good sleeping bag should be spacious, durable, well-ventilated, and comfortable.
Ask your toddler to help choose it for maximum effect!
---
8. Crib Sheet
A peaceful sleep makes a difference in your child's life during vacation.
If you are going to book a hotel room for your vacation, then you need at least one crib sheet.
Find a high-quality crib sheet to keep your child comfortable.
---
9. Bibs and Sippy Cups
Did it occur to you when packing that your toddler needs to eat and drink?
Many parents forget this!
Toddlers learning to eat solid foods can be hard to handle during the vacation if you do not devise a way of feeding them.
A high-quality bib will make it easy to give the child food. Parents are advised to purchase silicone bibs to avoid coming home with stained and foggy items after the holiday.
Sippy cups can be used to reduce cases of overflows at the hotel rooms and planes, as well as restaurants.
---
10. Silicone Buckets/Spades
Silicone spades and buckets are the best for each toddler's vacation. Items made from silicone do not crack when subjected to pressure, making it easy to transport them.
Your child will have something to do while you are swimming or engaged with other activities. Kids love playing with sand and water!
This is not so important if you are not going to the beach; however, a bucket can be an awesome bath toy!
---
11. Bathing Equipment
If your toddler hates baths, bringing along some bathing equipment may help their enjoyment. For example, consider some bathing toys, but the most important thing is taking along the essentials like a sponge, a cloth, shampoo, etc.
---
12. Changing Mat
A changing mat is vital when traveling with a toddler!
If your toddler is dry during the day, replace this with a change of clothes or two, you may need it!
---
13. Travel Toys
Whether traveling in an airplane or traveling in the car with a toddler, they will need to be entertained!
Not only that, but some vacations include quite a bit of travel when you get to your destination. Travel toys will stop boredom and will prevent parent frustration!
---
14. Diaper Bag
Again, this is only needed if your toddler is not dry during the day.
The diaper bag should contain:
Diapers
Wipes
Disposable Bags (For the diapers/wipes)
---
Conclusion
Preparing for a vacation with your child doesn't have to be an uphill task, even for first-time parents. This vacation checklist for toddlers will give you everything you need to kick the vacation off nicely!
It ensures you have everything you need to give you and the toddler a fun-filled experience during the vacation. The essential items to crosscheck are used for feeding, swimming, sleeping, and traveling.
Ensuring you have everything planned out gives you peace of mind.
Also, you can focus on having fun rather than worrying about items you forgot to bring along.
Lastly, preparing a vacation checklist for toddlers prevents incurring extra costs during the vacation.
Good luck, and have a great vacation!